開始內容
紀朗達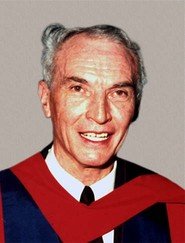 The year 1956 was eventful for young Norman Gillanders. As Acting Bursar when the Shek Kip Mei Riots rocked Hong Kong's very foundation, our colleague not only attended to University business, but also contributed to peace keeping in the Western district while serving in the Special Constabulary. Duties aside, he nevertheless found comfort in discussing University finances with a fellow constable, Michael, later Sir Michael, Turner, who was none other than the University's Treasurer.
Our colleague from Ulster came to Hong Kong in 1953 and received rigorous training in minding dollars and cents under Arthur Wilson, who served the University as Bursar from 1945 to 1971. Armed with an LL.B. from the University of London and professional qualifications in Accountancy and Company Secretaryship, he assisted an historian Vice-Chancellor and a hard-nosed Bursar in negotiating with the Government for an equitable funding formula. Success came in 1965 when the University Grants Committee was established, and funding for tertiary education on a four year basis became the norm, providing flexibility and confidence in planning and respect for academic freedom.
As the University moved into its sixth and seventh decades, Norman Gillanders became Bursar, Secretary and then Registrar. He was made member of the Most Excellent Order of the British Empire in 1991. A comprehensive range of curricula became available in nine faculties and the oldest tertiary institution in Hong
Kong could claim to be the equal of universities of international standing. Norman makes no apology for believing that favourable conditions of service are vital to a thriving University and takes pride in being instrumental in securing the Criteria Agreement for Salaries Revision in 1971, which basically identified a common point between the professorial average and the Administrative Officer grade in the Government. From then on, salary revision for University staff became automatic without the need to put forward a case every single time. Having worked with two scientists, two historians and a Taipan as Vice-Chancellors, Norman is in the best position to answer that mystical question where does power lie? I did not quite get an answer, but here are some pointers. First, there is definitely a kitchen cabinet. Second, an effective Registrar working closely with a Vice-Chancellor may be seen by academics to be an interventionist. Third, the Senate often relies on good will and tolerance in reaching the right decisions. At other times, mistakes are made. To him, the answer lies in changes in the structure of committees that matter.
Norman Gillanders' contribution to the University is aptly reflected in the following from the Doctrine of the Mean:
'The superior man honors his virtuous nature, and maintains constant inquiry and study, seeking to carry it out to its breadth and greatness, so as to omit none of the more exquisite and minute points which it embraces. He cherishes his old knowledge, and is continually acquiring new. He exerts an honest, generous earnestness, in the esteem and practice of all propriety.'
Mr. Chancellor, I respectfully present to you Norman John Gillanders, for the award of the Degree of Doctor of Laws, Honoris Causa.
Citation written and delivered by Professor Lee Ngok, the Public Orator.