開始內容
馮紹波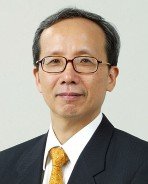 Mr Lawrence Fung Siu Por, another alumnus of this University, is both an exceptional business leader and social advocate who has energetically devoted himself to the enhancement of the interests of Hong Kong and Mainland China.
Lawrence was educated at King's College and entered this University in 1969 to read social sciences. During his time as a student, he enthusiastically involved himself in student affairs and was elected President of the Student Union in 1971. His period of office coincided with the emergence of several controversial issues and he tells me that he was involved in the first student "Lily Pond" demonstrations, including those relating to the disputed Diaoyu Islands. Coming from a poor home he could not afford to take the conventional year off his studies to devote his time solely to his work as President of the Students' Union and he missed many classes but, thanks to the assistance he received from many supportive classmates, he graduated with a Bachelor of Social Sciences degree in 1972. He continued his studies in England and received a Master of Arts degree in Economics from Manchester University in 1977.
He looks back upon his time at HKU with great affection for three reasons in particular. First, he was the first member of his family to receive a university education; secondly, he had the opportunity to be heavily involved in student affairs and, finally, and perhaps most important of all, he met his wife to be, Alexandra Lee Suk Wai, in an economics class.
When his formal studies were completed Lawrence began his career as an entrepreneur and, together with several former fellow classmates, who are now his long-time business partners, he ventured into diverse business enterprises including acting as media representative of renowned overseas publications, involving himself in the China trade, publishing trade journals, offering trade exhibition services, providing securities brokerage, trading in computers and manufacturing toys and electronics. Their only common theme was the pursuit of business success. In some ventures, he says, he was successful; in others not so.
With a sound financial base, Lawrence and his partners then looked for a business that would be both challenging and financially rewarding and, by democratic vote, they decided to launch a new financial newspaper. This led, in 1988, to the founding of the Hong Kong Economic Times, with Lawrence becoming its Publisher and Chief Editor. As such he has been, and continues to be, responsible for its overall strategic planning, development, policy making and mission. Since then, of course, the Times has become the leading Chinese language financial newspaper in Hong Kong with a daily circulation in excess of 90,000 copies. He also led the group to diversify into four segments of the printed media, financial news, information and solutions, recruitment advertising and training, and lifestyle portals. Lawrence attributes the outstanding popularity of the Times to a successful blending of journalistic skills and business acumen.
One message continually permeating the Times' vision is the importance of the creation of links with the Mainland and the sharing of financial information between Hong Kong and the Mainland. Lawrence firmly subscribes to the goal of maintaining Hong Kong as a leading and vibrant international financial centre.
Despite his frenetic business life Lawrence has never lost his connection with his alma mater, which he has served with distinction. He was one of the earliest members of the Hong Kong University Graduates Association, Chairman of the 1972 Silver Jubilee Organising Committee and an Honorary Patron of the HKU Foundation. He served as a Court member from 2001 to 2003 and has been mentor to many students.
In 2006 Lawrence, together with his wife Alexandra, established the Azalea (1972) Endowment Fund with a very generous donation of 10% of the issued share capital of Hong Kong Economic Times Holdings to provide funding for important projects in which the University was involved. The fund has the designated purpose of benefiting the Hong Kong community and, in particular, benefiting the University, its undergraduates, postgraduates and alumni in fulfilling its vision and helping the University in achieving its Centenary Vision. Why was it named the "Azalea Fund"? Lawrence explains that, when he was a student at HKU, there were many azalea plants, known as "Teng Kai Flowers" (騰鷄花) on campus, which bloomed bright red and purple in March and April, a time when he and his fellow students nervously awaited the start of their examinations, behaving like "frightened chickens". Despite their scary association, he goes on to say that he formed very many lasting friendships beside those azaleas. His student days were indeed happy and fulfilling ones.
Lawrence says that he is a simple person who enjoys challenges. His philosophy of life is also simple: "Live for the moment and do what needs to be done (活在當下 應為則為), whilst always remembering that one lives not just for oneself but also for others".
In 2003 Lawrence was awarded a Gold Bauhinia Star by the Hong Kong SAR Government for his significant contributions to Hong Kong. He has clearly done what needs to be done and his contribution to society has been justly recognised. Today we wish to give further recognition to his outstanding achievements.
Mr Chancellor, it is my honour and privilege to present Mr Lawrence Fung Siu Por for the degree of Doctor of Social Sciences honoris causa.
Citation written and delivered by Professor Michael Wilkinson, the Public Orator of the University.