開始內容
楊鐵樑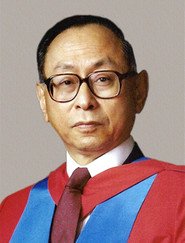 Sir Ti Liang has been the Chief Justice of Hong Kong since 1988. He is the first Chinese to hold this most senior post in the Judiciary, second only in status in the Territory to the Governor. Born in 1929, Sir Ti Liang was educated at Soochow University Law School in Shanghai and at University College, London where he was a Rockefeller Fellow in 1964. He was called to the Bar at Gray's Inn in 1954. He was appointed to the High Court in 1975, having previously served as a Magistrate and District Judge.
Sir Ti Liang has been actively involved in the work of many organizations concerned with community affairs in Hong Kong. He is President of the Hong Kong Scouts Association and the Society Against Child Abuse, Patron of the Hong Kong Society for the Rehabilitation of Offenders and Vice-Chairman of the Hong Kong Sea Cadet Corps. He served from 1981 to 1984 as Chairman of the University and Polytechnic Grants Committee, the body for the planning of higher education in Hong Kong and is currently the Chairman of the Council of the University of Hong Kong. He is also an honorary lecturer in the Faculty of Law of the University.
In his professional sphere Sir Ti Liang has been in the forefront of contributors to the development of the law in Hong Kong through his membership of the Law Reform Commission. In the course of the past quarter century he has chaired with distinction public inquiries commissioned by the Government into a number of complex and sensitive issues of concern to the community. He now leads the Territory's Judiciary in its preparations for the transfer in 1997 of its sovereignty to China and the implementation of the Basic Law, in the planning for which he has served as a member of the Basic Law Consultative Committee.
The contributions of Sir Ti Liang Yang to Hong Kong are to be found in fields ranging from the formulation of policy in law and order, through the development of tertiary education, to the welfare of the young people of the Territory. In recognition of his achievements in all of them the honorary degree of Doctor of Letters is conferred on him.
Citation written and delivered by Professor William Ian Rees Davies, the Public Orator.