開始內容
霍英東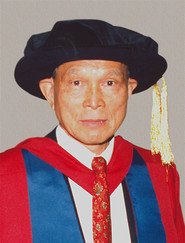 The Public Orator Professor Lee Ngok, M.A., PH.D., Dip.Ed., wrote and delivered the following citation:
Henry Fok Ying Tung is a true son of Guangdong. Educated in Queen's College in Hong Kong until war broke out in 1941, our native from the Panyu County joined the workforce in a time of austerity. His opportunity came in the 1950's when urban development was given a new lease of life. New legislation permitted land sales to be undertaken in a more liberal way. Fok Ying Tung seized upon the free market and converted dilapidated tenement buildings into six story blocks. There was but the remaining question of raising adequate capital. Fortune smiled on him when he secured a $1.5 million loan at a 6% interest rate from the Taipan of the Hong Kong and Shanghai Bank. Had he gone to a Chinese money lender who charged over 15% interest, he would not have been able to repay the loan. He then made history as the first developer to sell residential blocks by installments, coupling it with an aggressive marketing strategy. Since then, our entrepreneur has remained a pioneer and innovator in making contributions to China and Hong Kong. As Chairman of Yau Wing Co. Ltd., Henry Fok Estate Ltd. And National investments Co. Ltd., Henry Fok oversees a business empire that ranges from tourism and entertainment to real estate, construction, finance and transport.
The Open Door Policy and the emergence of the socialist market economy gave Fok Ying Tung the opportunity to introduce the entrepreneurial spirit into China. He pioneered joint venture projects like the White Swan Hotel in Guangzhou and the Spa Resort in Zhongshan which were eye-openers for China as the partners started to deal with difficulties in hotel and recreational management. What seemed to be near revisionist enterprises then are now accepted as everyday happenings. As a Member of the Standing Committee of the National People's Congress, Fok Ying Tung strives above all to enhance the market economy in Guangdong, a mission that is being undertaken in earnest. Indeed, his phenomenal Nansha project will contribute toward the integration of the Pearl River Delta and Hong Kong into a megalopolis embracing over 30 million people.
Nansha, equal in size to the Kowloon peninsula and situated west of the Bogus Tigris, was once captioned 'Panyu's Siberia'. The new Nansha under Fok's supervision will integrate the eastern and western parts of the Pearl River Delta and will become the pivot as it networks twelve towns and cities within a radius of 70 kilometers. Its commercial, recreational and residential assets will prove especially attractive to Hong Kong's citizens who will have become used to living in a borderless region in southern China.
It is indeed the future of Hong Kong and China that our entrepreneur from Panyu invests in as the Fok Ying Tung Foundation contributes significantly to education, sports and social welfare, including the Community Chest, of which he is a Director. His Education Foundation for Universities and Colleges in China awards 100 scholarships every year to 175 institutions and has made a significant impact on human capital investment in China. His support for the building of Graduate House in our University will also help to facilitate research work. In recognition of his contribution to China's modernization, the Zhongshan University conferred on him an honorary doctoral degree in 1987. As Vice-Chairman of the preliminary Working Committee of the Special Administrative Region and a Hong Kong Affairs Adviser, his mission is to ensure Hong Kong's smooth transition into the twenty-first century. Fok is a semi-retired footballer, but an active golfer and tennis player. His devotion to sports is world renowned and his support for first class sports facilities in China and Hong Kong, including the University of Hong Kong, is unsurpassed by any individual. His contribution to making the 1990 Asian Games in Beijing a success is worth a special mention. He has been for many years the President of the Hong Kong Football Association and takes a special interest in raising the standards of the sport in the region in his capacity as a member of the Federation Internationale de Football Associations. Mr. Chancellor, both Hong Kong and China benefit greatly from social architects like our philanthropist from Panyu. For his invaluable services to the communities of Hong Kong and the region, I present to you Fok Ying Tung, for the award of the Degree of Doctor of Social Sciences, honoris causa.