開始內容
梁愛詩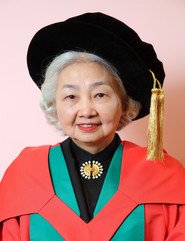 Mr Pro-Chancellor,
Dr Elsie Leung Oi Sie has pursued an exemplary career as a prominent member of Hong Kong's first generation of women lawyers. She has also played a pivotal role in supporting and facilitating legal exchanges between Hong Kong and the Mainland both before and after the Handover, serving as our first Secretary for Justice. In particular, we have very strong reason to be grateful to her for the prominent role she played in the largely seamless transition from British Colonial rule to Hong Kong's reversion of sovereignty to the People's Republic of China in 1997.
Elsie's family came to Hong Kong in the 1920s and Elsie is a third generation Hong Konger. She attended St Claire's Girls School and later Sacred Heart Canossian College. It was at school that she developed a strong sense of justice and decided to become a lawyer in pursuit of this goal.
It was the early 1960s and the only route available to Elsie to become a Hong Kong solicitor was to serve five years articles with a local law firm and pass the Law Society of England's examinations. This she achieved whilst articled in the firm of PH Sin & Co and she was admitted as a Hong Kong solicitor in 1968, being only the sixteenth woman to be admitted. She continued to work for PH Sin & Co even after that firm amalgamated with the firm of Iu, Lai and Li in 1993 and such is her loyalty that she is still a consultant with the same firm nearly fifty years later! Elsie happily became an alumna of this University when she completed her Masters degree here in 1988. This was the first cohort of Masters' students to study law at HKU but, sadly, I did not teach her!
Elsie has always been keenly interested in public service and politics and was first involved in the workings of Government by being retained by a number of non-governmental organisations and serving on a number of governmental and statutory boards. She recalls with particular affection the time she spent working with disadvantaged people for the Hong Kong Federation of Handicapped Youth and for the Family Welfare Society at a time when lawyers were rather distant figures to such people. She also served on the Equal Opportunities Commission and the Social Welfare Advisory Committee.
Her interest in politics led to her being one of the founding members of the Democratic Alliance for the Betterment and Progress of Hong Kong. Of course, in those early days it did not consider itself to be a political party. At the same time she began to forge close ties with the Mainland authorities through her service as a delegate to the Guangdong Provincial People's Congress from 1988 to 1993, as a delegate to the 8th National People's Congress from 1993 to 1997 and through her involvement in the Mainland as a China-Appointed Attesting Officer.
Elsie also warmly espoused the cause of women lawyers, playing a key role in the establishment of the Hong Kong Federation of Women Lawyers and serving as its Secretary General from 1975 to 1980.
She tells me that her motivation for assisting disadvantaged people and her support for women lawyers were inter-related as she firmly believed in the importance of women lawyers playing a significant role in aiding the disadvantaged. This was at a time before legal aid was first introduced into Hong Kong.
As the Handover approached, Elsie, who had forged a close and trusting relationship both with those serving within the Hong Kong Government and with the Mainland authorities, was ideally suited to play an important role in the transition of sovereignty and she was invited to advise the Chief Executive Designate, Mr Tung Chee-Hwa, on legal matters relating to the establishment of the Hong Kong Special Administrative Region. After much hard persuasion, on 1st July 1997 Elsie became the first Secretary for Justice of the HKSAR and an ex officio member of the Executive Council.
Elsie served as Secretary for Justice for the next eight years performing a most challenging and complex role. Time permits me to mention only a few of her many accomplishments. Elsie's major task following the Handover was to ensure the smooth transition of sovereignty and the implementation of the Basic Law, our mini-constitution, and the novel concept of "one country two systems". She and her dedicated team in the Department of Justice sought to ensure that all legislation in Hong Kong was compliant with the Basic Law and made strenuous efforts to ensure that, not only all Hong Kong residents understood the new legal regime, but also that its implications were appreciated overseas. She was an important advocate of the new legal and social order.
She also had the urgent responsibility for making numerous bilateral agreements where Hong Kong's severance from the United Kingdom left significant gaps to fill. It was a frenetic time for the Department of Justice and they were blessed with an inspirational and tireless leader.
Of course, during her tenure she was called upon to deal with many demanding and controversial issues, but she committed herself heart and soul to her task and dealt with these challenges with her customary determination and integrity.
Upon her retirement from her post as Secretary for Justice in 2005, Elsie was appointed Deputy Director of the HKSAR Basic Law Committee, a demanding position that she still holds. She returned to her practice as a consultant and continues to serve on a number of Non-Government Organisations.
In recognition of her exemplary career Elsie has received many awards including the Grand Bauhinia Medal in 2002.
Mr Pro-Chancellor, on a personal note I would like to add that I have known and worked with Elsie for many years and she has, at a time of need, given valuable assistance to our Law Faculty. She is devoted, loyal and kind. She merits our deep respect and gratitude.
Mr Pro-Chancellor, it is my honour and privilege to present to you Dr Elsie Leung Oi Sie for the award of Doctor of Social Sciences honoris causa.
Citation written and delivered by Professor Michael Wilkinson, the Public Orator of the University.