開始內容
許鞍華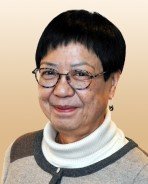 Mr Pro-Chancellor,
Dr Ann Hui On Wah is one of Hong Kong's most prominent filmmakers who has garnered a global reputation amongst cinema fans around the world. Indeed, she has been remarkably successful in putting Hong Kong culture on the international map. As a graduate of this University, we can rightly be very proud of her.
Ann was born in Liaoning Province in China to a Chinese father and Japanese mother. At the age of five she moved to Macau and then to Hong Kong, studying at St Paul's Convent School. She was admitted to this University in 1969, graduating three years later with a first class BA degree. She had developed a passionate interest in films as a teenager and encouragement from her teachers here led her to decide to pursue a career in films. After successfully completing her Master's degree in 1973 she went to London to pursue further studies at the London Film School, again graduating with first class honours. She returned to Hong Kong and became an assistant to veteran director King Hu.
She then joined TVB and RTHK making three episodes of Below the Lion Rock, depicting the lives of ordinary Hong Kong people, and seven episodes for an ICAC drama series based on true events. Two of the ICAC episodes which exposed corruption in the police force were banned from airing!
In 1970 Ann made her first film The Secret, a thriller which was acclaimed as one of the year's ten best films at the Golden Horse Awards in Taipei. Her next notable success was Boat People which won her the Best Director Award at the Hong Kong Film Awards. Boat People, filmed on Hainan Island in 1982 and dealing with the Vietnamese refugee problem, was the first Hong Kong movie made in Mainland China after the Cultural Revolution.
She went on to make many well known and much admired films including Love in a Fallen City (1984), Song of the Exile (a semi-autobiographical film), Summer Snow (1995), Ordinary Heroes (1999), July Rhapsody (2002), The Post-Modern Life of My Aunt (2007) and The Way We Are (2008). Her film A Simple Life (2011) about the life of an amah, calling for respect for long-forgotten values and traditions, collected the "Best Actress Prize" at the Venice International Film Festival. Ann's most recent film All About Love is a romantic comedy about the lesbian relationship of two bisexual women who are both pregnant.
Mr Pro-Chancellor, many of us in this Congregation will be familiar with Ann's film Starry is the Night (1988) which was set in this University and involves a love affair between a lecturer and a student. Indeed, many of the scenes were shot in this very building.
In all Ann has made 24 full-length films and appeared in cameo in 13 films including several of her own.
For her prodigious output and fearlessness in choosing highly controversial topics for her films Ann has won countless awards both in Hong Kong and internationally.
Her genres are truly diverse including TV dramas, documentaries, thrillers, ghost stories, comedy, semi-autobiographical material and romance. She most certainly does not seek to avoid controversial topics as her films deal with such issues as Vietnamese refugees, the isolation of the elderly, senile dementia, single mothers, student teacher romance and lesbian relationships. Many of her films also involve themes relating to emigration and cultural displacement which are, of course, highly relevant to Hong Kong people. In her works she has depicted the daily lives of ordinary people, showing a remarkable depth of sensitivity and compassion and a powerful sense of history. She has revealed the human face of Hong Kong without glamour or pretentiousness.
For her work Ann was deservedly awarded an Member of the Order of the British Empire (MBE) in 1997. She was given an Honorary Fellowship by this University in 2001 and has received honorary degrees from the Hong Kong Institute of Education and the Open University of Hong Kong.

Ann has made an indelible impression on her audiences through the social relevance of the themes she has tackled, the variety of genres in which she has worked, her bravery in tackling controversial themes, her deep sensitivity for the issues involved and the sheer excellence of her directing.
In 2008 she was awarded the Grand Prize at the Fukuoka Film Festival for her outstanding contribution to Asian culture.
I asked Ann whether she got emotionally involved with the characters and messages in her films and she gave me the surprising answer:
"I can put together a passionate message best by being dispassionate. I can shoot best without thinking of changing society".
She has the uncanny knack of exciting passion in her audiences whilst strictly controlling her own passion in the production process.
Ann's outstanding work has undoubtedly played a significant role in shaping Hong Kong's identity and presenting it to the outside world.
Mr Pro-Chancellor, it is my honour and privilege to present to you Dr Ann Hui On Wah for the award of Doctor of Social Sciences honoris causa.
Citation written and delivered by Professor Michael Wilkinson, the Public Orator of the University.