開始內容
關愛睿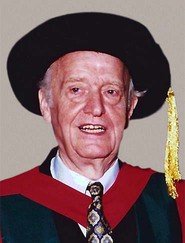 Erik Kvan values the education he received in Denmark, his home country, which was rooted in the liberal tradition of medieval Europe. Solid grounding in theology,philosophy and psychology has influenced his perception of learning and philosophy of life. He believes that his discipline, psychology, is not viable without proper grounding in philosophy, and continues to research on the making of Hellenistic and Chinese gods by humankind through the ages, delving into the close interplay between religion and psychology. Ordained in 1943, Erik came to Hong Kong soon after the war and began his career as a preacher of learning in the then department of Philosophy and Psychology in the University. Three decades of teaching have brought home one cardinal principle. Students must discuss and debate basic academic issues rather than accept what is prescribed in the texts. Many of Erik Kvan's students have benefited from his finesse in drawing the best out of them by asking the right questions and encouraging them to initiate. He urged doctoral students to use lucid and simple language. 'Write as though the thesis is for a five year old', a Ph.D. candidate was once told. On diligently applying himself to the task, the student received one comment from Erik. It read: 'Now write for a four year old'. They said of him that his office and apartment were stacked with books from floor to ceiling, on desks, on chairs, on the floor - no one could quite believe he had read them all but those (and there were several) who tried to catch him out with questions on particular dusty tomes invariably found that not only had Erik read them but he could cite chapter and verse - such was his breadth of knowledge. To the hundreds of psychologists, counsellors and social workers in Hong Kong, Erik Kvan will be remembered as the understanding head of department and learned scholar who genuinely enjoyed teaching.
Liberal thinking and innovative ideas influenced the academia world-wide in the late 1960s and early 1970s, and our University was no exception. As Dean of a young faculty for six years, Erik Kvan was proud that the Social Science curriculum arrived like fresh air for students who were taught rather traditional subjects in schools. It was a period of growth with exhilarating results as academics went about building a vibrant faculty. Our Danish dean's major task was to ensure that a broadly based curriculum continued to flourish irrespective of the preponderance of popular subjects. Today, the faculty continues to uphold this principle which it believes to be in the best interest of the new students. Enthusiasm in human communication and academic investigations firmly rooted in the ivory tower started to spill over as Erik Kvan found Hong Kong to be in dire need of support in the social services. Interest in the psychology of child development led to his management of the Boys and Girls Club whilst education in action turned him into a supervisor of unionist schools for the underprivileged. His long association with St. John's College and St. John's Cathedral also began in the 1950s. He pays tribute to Bishop Ronald Hall for his secular approach to education, social work and housing before government support was forthcoming, and to Lord Maclehose for the professionalisation of the social services. Today, the Spastics Association chaired by Erik Kvan employs 500 staff to take care of the physically and multiply handicapped.
Erik Kvan's lifelong work reveals that what we commit ourselves to is less important than how we do so. What matters in the words of the distinguished Danish philosopher Kierkegaard is: 'the energy, the earnestness, the feeling with which we choose'. Mr. Chancellor, I present to you Erik Kvan, a scholar-priest who serves the academy and the community in a most distinguished way, for the award of the Degree of Doctor of Social Sciences, Honoris Causa.
Citation written and delivered by Professor Lee Ngok, the Public Orator.