開始內容
譚益芳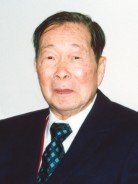 "Money is the root of all evil" so they say. This is certainly not true in the case of our next graduand, Mr Robert Tam Yik Fong. Mr Tam has shown that money can be the means of doing a good deal of good. As a young graduate from the University of Hong Kong, Mr Tam returned to the Chinese mainland to offer his services to his country in 1930, working in a number of regions in various capacities as government official or councillor. Robert Tam witnessed turbulent times for China, then a country torn asunder by warlords and devastated by the Japanese invasion. He was particularly moved by the plight of his countrymen suffering from dire poverty in regions like Guangxi and Guizhou.
It was during these years that Robert Tam came to a conclusion that was to guide his actions for the rest of his life: he saw that poverty was the result of lack of education. He had a dream to bring education to as many of his compatriots as possible. Giving money for education was a form of charity which to use John D Rockefeller's words help "the recipient to be independent of (charity)". He concluded that money would be needed to make his dream a reality. He had tried earlier to pursue a career as a teacher, but soon realised that his contribution would be much greater if he could make money in business and benefit the needy through donations.
He himself had been very poor as a young student in Queen's College, with little hope of being able to afford a university education. Fortunately he had won a Government scholarship to the University of Hong Kong, where he studied Arts and spent some of his happiest years and forged some of his most lasting friendships as a resident in May Hall. It was his ambition to give to as many deserving young people as possible the opportunity to enjoy the same experience of learning. He dedicated his life to the fulfilment of this ambition.
In 1945 he entered the Columbia Graduate School of Business in New York and completed his studies with the help of funds from the United States Government. He was then appointed Secretary-General to Dah Chong Hong Trading Corporation in New York, rising to become Assistant Vice-President and Director.
Returning to Hong Kong he joined the Hang Seng Bank in 1957. He was responsible for staff training and was able to combine banking with education as supervisor of the Bank's Elementary Programme on Banking Practice, which was open to the public. The number of Form Five students who went through this programme under his supervision numbered over 60,000. Robert Tam also ran an Education Advisory Service for Hang Seng, the function of which was to advise the bank's clientele who wanted to send their children to study abroad whether to England, Australia, Canada or the United States. The Service was able to furnish the most up-to-date information. Mr Tam was for some time Director of Studies for the Certificate Course in Banking Management organised in collaboration with the Chinese University of Hong Kong.
Four years before retirement from the bank he set up his own corporation, Robert Y F Tam Enterprises Ltd, which dealt with foreign investments.
Through shrewd investment Mr Tam built up his fortune through the years, and even as he was working as a businessman, he never lost sight of his vision: he wanted to contribute towards the betterment of his country through education. During his working years he provided help to countless young men and women of ability, enabling them to receive education, often abroad.
He donated the Hong Kong Room at the International House of Needy Students in New York. Moved by his desire to help Chinese students, he established the Tam Yik Fong Scholarship Fund at Columbia Business School solely for the benefit of scholars from the mainland. He has also contributed towards the building of a middle school in Tuen Mun, New Territories in memory of his mother. He speaks with pride of the beneficiaries of his Scholarship Fund, many of whom are now serving China as professors.
Throughout his long and successful career Robert Tam has been unswervingly loyal to his alma mater, the University of Hong Kong: he feels he owes a great deal to our institution. His younger sister, Ms Tam Wun Tsun, shares his altruism and belief in education. In making donations to the University Mr Tam and Ms Tam have given equal shares. The extent of their generosity is astounding: in 1985 they donated $5 million to establish the Robert Tam Library Endowment Fund, and in 1988 added another $6 million to the contribution. In recognition of their generosity, the University's Tam Villas and Pine Court were named after their family. Then in 1995, when the University of Hong Kong Foundation was launched they donated another $1 million and he became a Founding Director. More recently they pledged another $50 million to support the library, which, according to Mr Tam, holds a special place in his heart. Ms Tam Wun Tsun has given quietly and given generously, without trumpeting her philanthropy. The University would like to take this opportunity to thank her most sincerely.
Today Mr Tam is in his nineties, but still energetic and alert as he approaches his first century: he himself lives simply and frugally. He is imbued with a genuine love of learning and, surrounded by books and Chinese paintings and calligraphy, many his own works, he spends a great deal of his time reading.
He has never married, and has no children of his own, but he can boast of hundreds of "children" whom he has helped foster and educate. That he has decided to bequeath his entire fortune to our University is a moving testimony to his belief in the power of education and his confidence in his alma mater's ability to produce leaders who will work for the betterment of his country.
Mr Pro-Chancellor, in recognition of his services to the University of Hong Kong and to education, I request you to confer on Mr Robert Tam Yik Fong the degree of Doctor of Social Sciences honoris causa.
Citation written and delivered by Professor Mimi Chan Mei Mei, the Public Orator.