開始內容
米耀榮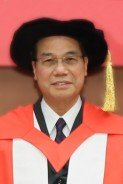 Mr Pro-Chancellor,
Professor Mai Yiu Wing is a highly distinguished scientist and mechanical engineer specialising in the field of materials science. The products of his research work have benefited mankind.
Mai's parents came from a working class background. His father, who was a carpenter working in the Kowloon Docks, believed it was very important for his son to acquire "trade skills" and young Mai attended the Kowloon Docks Memorial School in Hung Hom for his primary education and the Victoria Technical School in Wanchai for his secondary education. He tells me that he vividly recalls walking to school wearing his secondary school uniform which, unlike conventional school uniforms, comprised blue overalls which attracted many curious stares between the Jordan ferry pier and Wanchai. At school he learnt woodwork, metalwork, and geometrical and machine drawing, skills which, little did he know at the time, would provide the springboard to a stella career in mechanical engineering.
Mai was admitted to this University to study mechanical engineering and graduated with first class honours in 1969. He remained here to complete his doctorate before moving first to the University of Michigan and then Imperial College London to complete his post-doctoral work. In 1976 Mai was appointed to a lectureship at the University of Sydney, being promoted to a Personal Chair in 1987 and a University Chair in 2004.
Mai's major research interests lie in the fields of fracture mechanics and advanced engineering materials, including composites, polymers, ceramics, cementitious materials and thin films. He has also involved himself in the exciting field of nano-materials.
Probably his most important research achievement, measured by its impact upon the global community, was that which led to the development of asbestos-free cement as a building product. Many of you will recall that asbestos caused the deaths of many construction workers in Hong Kong before the 1980s. Mesothelioma is a well known asbestos-related cancer caused by exposure to asbestos fibres. In the late 1970s Mai, whilst working at the University of Sydney, was commissioned by James Hardie Company to find a replacement for asbestos fibre which could both endure high temperatures in the manufacturing process and equal, if not better, asbestos as a building material in cost and versatility. After many trials of different fibres, Mai discovered that certain cellulose fibres could be used to produce building materials which were not only equally efficacious, but were actually superior, to those manufactured from asbestos fibres. As a result of Mai's discovery James Hardie has successfully manufactured and marketed a new range of asbestos-free cement building materials which causes no hazard to our health.
Mai's work on cellulose fibre cements has also helped to pioneer a new research area called "quasi-brittle fracture mechanics", which brought about an important breakthrough in scientific knowledge.
Despite working in Sydney he has also maintained very close connections with Hong Kong, being a frequent academic visitor. He was appointed an Eminent Visiting Professor in Materials Science by the City University of Hong Kong and Visiting Chair Professor at the Hong Kong Polytechnic University. He has also held appointments at thirteen top-rank Mainland Universities including Peking University, Tsinghua University, Harbin Institute of Technology and Zhejiang University.
Mai has also maintained close ties with The University of Hong Kong, his alma mater. He was appointed a Distinguished Visiting Professor in 2003 and has served as an Honorary Professor in the Faculty of Engineering since 2005. In 2012 he accepted an invitation to give the William Mong Distinguished Lecture, which was very well received.
As a most distinguished scientist, there has naturally been keen competition between academic institutions in Hong Kong and Australia for his services. Indeed a cartoon published in the New Scientist in 2001 shows Mai in a small boat carrying his many inventions with him being the centre of a tug-of-war between Hong Kong and Australia, both trying to lure him to work for them with competing mouth-watering offers!
With his outstanding research achievements Mai has won numerous international awards including the Robert L'Hermite Medal. In 2008 he was elected to be a Fellow of the Royal Society of London, making him the first HKU engineering graduate to receive this honour. In 2010 he was awarded a Member of the Order of Australia in recognition of his outstanding achievements and service.
Mai has shared with me his personal philosophy of life. He says that his goal is to be happy and, in that regard, happiness scales inversely to expectations - in other words, do not expect too much and you will not be disappointed! Secondly, one should know when to take the back-stage - we all have a use-by date!
Mr Pro-Chancellor, I am sure that Professor Mai is indeed a happy man who has not reached his use-by date!

Mr Pro-Chancellor, it is my honour and privilege to present to you Professor Mai Yiu Wing for the award of Doctor of Science honoris causa.
Citation written and delivered by Professor Michael Wilkinson, the Public Orator of the University.