開始內容
田元灝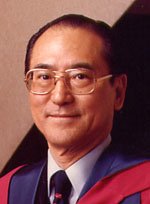 Mr Chancellor, I have the honour to present to you the Hon Francis Tien Yuan Hao for the degree of Doctor of Laws honoris causa.
Mr Tien was born in Soochow; a town situated about seventy-five km from Shanghai. His father originally came from Anhwei and settled in the Soochow region, which is significantly, for what is to follow, noted for textile production. Soochow is however noted for two other characteristics. By repute it has amongst the most beautiful girls in China, and in former times had the most successful government officials and highest grade mandarins. Francis Tien finished junior schooling in Soochow, then higher education in Shanghai, at which time his earliest inclination was towards the study of mechanical engineering.
In Shanghai was the Henry Lester Institute of Technical Education, from which Francis Tien graduated in 1942 with a diploma in mechanical engineering. At the same time, he undertook a very serious study of English, spending at least ten hours a week reading so that he might immerse himself in the relevant foreign literature in engineering. His method of studying English was indeed novel and instructive. He decided to master the best – and that is Shakespeare. For ten hours per week he studied English, acquiring in the process a thorough knowledge of the play "Julius Caesar". If one listens to his discourse on the subject, he might almost be a candidate for a DLitt, degree here today for his encyclopedic knowledge of the play.
Indeed it is well worth pausing at this point to recall the words of Shakespeare's Caesar: "There is a tide in the affairs of men, which taken at the flood, leads onto fortune".
Never was there a more appropriate passage composed, for Mr Tien has spent his life grappling with occasions. This is not mere opportunism, but a gift of inspired timing which, as we will see, has been generously put to the advantage of Hong Kong. I might also mention that he found in the reading of George Elliot's "Silas Marner", a further inspiration.
The war years, of course, intervened and found him at Chungking with an interest in power stations – so much so that if he was not today the Chairman of Manhattan, he might just conceivably be the Chairman of China, Light and Power. It was not to be. The war over, his interest in turbines took him to England - to Manchester.
He improved his knowledge of his profession of engineering by a period of further training at the world-famous concern of Metropolitan Vickers. He learned much in the late forties in Manchester and discovered opportunities for further study.
He took a course in industrial administration at the Manchester College of Technology and, as a bonus, became conversant with the Mancunian dialect and the mysteries of Lancastrian culture.
On his return to Hong Kong, now recovering from the years of occupation, Mr Tien turned to steel - the sinew of industry – and lent his skills to steel engineering. But in the early part of 1950, the Korean War broke out and steel became an essential raw material need in those troubled times. The development of steel, though challenging, soon began to lose its immediate appeal and he looked towards new opportunities. A wise man, Francis Bacon said, "makes more opportunities than he finds".
He found a new and vital interest in textiles. Few people could see what the development of textiles would mean to us - but Francis Tien saw.
Mr Chancellor, all societies at all times understand the need for a staple - whether this be wool, cloth, meat or oil. In ancient Greece the staple was the grape; in late Victorian Britain it was coal. In modern Hong Kong it is, arguably, textiles. Textiles are our life-blood. Without the benefits which textile exports confer we should not enjoy the benefits of our city-state today.
With textiles we have a very complex idea. It covers a vast mélange of projects, statistics, inspiration, perspiration as well as mere production.
When we speak of textiles therefore, we are not speaking of what is sometimes irreverently called, though not in derogatory fashion, the "rag trade". Garment manufacturing should be seen as a science and an art. Indeed a garment is often described as a "creation". The writer R G Ingersoll said: "We exchange ideas when we exchange fabrics". Through its fabrics, garments and textile products, Hong Kong's ideas spin around the world - for Hong Kong's destiny has been to clothe if not quite the world - at least the more discerning part. Neither, I suggest, Mr Chancellor, merely to clothe - but I think - to innovate. Mr Tien is an innovator. Thus he was responsible, to give just one example, for the new technology known as permanent press. He still thinks of a technology several steps ahead of most even today.
He knows that garments are the vital nerves of Hong Kong; he saw the birth of Manhattan Garments and pondered the world phenomenon which drove young people to clothe their limbs almost uniformly in denim. He has concentrated his efforts on the making and design of trousers believing that even if the world goes topless it will not easily go bottomless. To prove the point there are perhaps half a million people in Britain alone wearing the jeans of Mr Pants.
Textiles are of course manufactured here by the latest techniques in technology. But they have to be sold. They are. Kowloon's factories produce fifteen million dozen pairs of jeans every year – enough, as one colourful commentator put it, to lassoo and reach around the moon.
Textile manufacturing may be highly scientific, but textile bargaining is a rather less precise activity. So Mr Tien turned to the sale of our exports. He has, in his capacity as a Hong Kong super-salesman journeyed all over the world, promoting our products.
Sir Robert Menzies once said that travel does broaden the mind, but, it has a related impact upon other parts of the anatomy. On our behalf, he has undertaken a vast number of tiring journeys in negotiating for the industry.
The negotiations extended, at least for Mr Tien, over a period from 1966 to 1977; and have included a journey to Canada and the USA virtually every year, not to mention trips to Switzerland on four occasions, as well as many to Sweden and the EEC countries.
If it is true, as was once said in another context, that an idealist is someone who helps others to prosper, then he is an idealist.
Not content with creating new trends in his own industry, he turned to public life to give voice to the aspirations of the thousands who labour in our factories. In 1971, Mr Tien was called to serve Hong Kong on the Legislative Council. He has distinguished himself as an authority on textiles naturally, but also on a range of other subjects including one very close to his heart - that of manpower training.
He has been extremely active in manpower training, piloting through such ventures as the apprenticeship training scheme and the Clothing Industry Training Centre at Kwai Chung. In 1966, he was appointed Chairman of the Clothing Industrial Committee of the Industrial Training Advisory Committee, the predecessor of the Hong Kong Training Council.
In March 1974, he was appointed Chairman of Clothing Industry Training Board of the Hong Kong Training Council and in 1975, following the enactment of the Industrial Training (Clothing Industry) Ordinance; he became Chairman of the Training Authority for the Clothing Industry. As far as industrial education in concerned he is a pioneer and a leader.
Questions asked by Mr Tien on the Legislative Council, range far and wide but always show his concern for this massive industry. Before that council he demonstrated how in his own words "exports of textiles and garments account for approximately 50% of our total exports and provide employment for about half of our manufacturing workforce".
The garment sector, he said, "exports virtually the whole of its production". You will know, Sir, that he has views on a variety of matters all the way from grass-cutting to water de-salters
Finally, Mr Chancellor, you will be very much aware of the Ready to Wear Festival – an annual occasion which rightly brings the attention of the world upon Hong Kong. Francis Tien is rightly acknowledged to be one of the founding fathers of the event. It is one more tribute to his enterprise.
Mr Chancellor, Mr Tien is now ready-to-wear the garment which we have fashioned for him - the doctorate. Mr Chancellor, he is awaiting the cap which will ensure that he is not topless.
For his dedication to commerce, industry and government and for his unswerving dedication to the promotion of Hong Kong's staple commodity, I call upon you, Mr Chancellor to confer upon Francis Tien Yuan Hao the degree of Doctor of Laws honoris causa.
Citation written and delivered by Peter Bernard Harris, the Public Orator.