開始內容
貝聿銘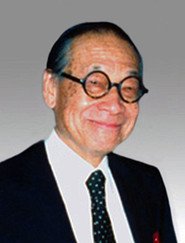 Citations are of course meant to cite - to enumerate the achievements of the person who comes before you to be accorded the highest honour which is within the gift of the University. It can be a daunting task when faced with the sheer abundance of the accomplishments of someone like leoh Ming Pei. He has for long been recognised as one of the greatest architects of our age; the possessor of a vivid creative imagination coupled with a technical knowledge capable of giving those ideas substance. Perhaps just as important, he possesses that sense of humanity which, as John Ruskin said, 'unites body and soul' so that his buildings are for people, to be used by people and reflect their ways of life, their culture and their ethos.
In this last aspect of that highly political art of architecture, Pei has acknowledged a debt to his own Chinese background, although his training and his practising life have been essentially occidental. He said:
'Coming from a tradition that believes strongly in relationships between people, not only within the family but within society, a one-to-one relationship is extremely important. Chinese culture may have given me ... an advantage. I am, I like to think, concerned with buildings as they relate to people using them. That concern is very important ... in my work.'
It would therefore seem prudent to begin with leoh Ming Pei's early years here in the Orient. The Pei family's ancestral roots were in Suzhou, the city of scholars and artists, the city of hidden gardens exquisitely designed to emphasise the harmony between man and his environment. However, leoh Ming Pei himself was born in Guangzhou. At one year of age in 1918, he came with his family to Hong Kong when his father, Pei Tsu Yee, became the manager of the Bank of China here. It is curious to reflect, Sir, upon an amazing closing of a family circle which has just now occurred, and to imagine the paternal pride which would surely have ensued. The new Bank of China Building, which has transformed in such dramatic fashion the skyline of Hong Kong, is the design of Pei Tsu Yee's son, and Pei Tsu Yee's grandson has been one of the project team which has brought that design to fruition. After leoh Ming Pei's early schooling in St. Paul's Elementary School here, the family moved to Shanghai, and his secondary education was at St. John's Middle School there. The Shanghai of the early 1930's must have been an exciting city, and the young Pei watched with fascination buildings being constructed, like the Park Hotel, taller than any buildings ever before seen in that city. Even at that early age, Pei's course became set on a formal education in architecture in the West. His father had some hopes of an English University education for his son, but leoh Ming Pei chose America, and he enrolled at the Massachusetts Institute of Technology in 1935.
Upon the award of his Bachelor of Architecture degree in 1940, he had every intention to return to China. But those were turbulent times, so leoh Ming Pei heeded advice to remain in North America, and he entered the Havard Graduate School of Design to work under Walter Gropius, founder of the Bauhaus design school. The era of 'Modern' architecture was establishing itself and Pei was enthusiastic in its cause.
In 1946 he received his Master's degree and again, the thoughts which he had always had of returning to China were to be put aside as events in that country took a turn which was ultimately to lead to Mr. Pei and his wife settling permanently in the United States. It was a time of uncertainty for the family and Pei deliberately chose to work as an assistant professor at the Havard School of Design because, as he says, 'I knew I could cancel my contract in a month and leave'.
The first real step on the path which has brought the name of I.M. Pei to international fame occurred in 1948, when William Zeckendorf of the major real estate firm of Webb and Knapp recognised his talent and made him Director of Architecture. He was involved in many of the large scale projects of this firm in cities across North America. By the early 1960's buildings were emerging which were recognised to have the personal trademark of I.M. Pei, an architect with a style of his own. The National Centre for Atmospheric Research in Boulder, Colorado is accepted by Pei himself as a seminal building in his development, a building he designed for himself, not as part of some larger commercial planning project.
By the time that building was completed in 1967, the firm of I.M. Pei and Associates, as it was initially called, and then I.M. Pel and Partners, had been in existence for over a decade and had already received in 1968, the American Institute of Architect's firm award. I.M. Pei has designed in his professional career some fifty projects and it is significant that twenty-four of them have received awards of one kind or another. Many of these have become hallmarks of modern architecture - the East Building of the National Gallery of Art in Washington; the John F. Kennedy Library in Boston; the Fragrant Hills Hotel in Beijing through which I.M. Pei says that he hopes to encourage the development of 'a modern Chinese vernacular architecture to carry the country into the future'.
Clearly, however, the project in which Mr. Pei takes the greatest personal pride and pleasure is the Extension to the Louvre Museum inaugurated by President Mitterand a year ago. He first immersed himself in a cultural, historical and social study of France before reaching conclusions about his design. Once again, his dramatic ideas to create additional space within the Cour Napoleon captured the imagination, though not without argument and controversy which at times, assumed Gallic ferocity. The pyramid of glass, which has become the familiar aspect of the design, covers a marvellous subterranean complex of galleries: the result has been described as 'not architecture, but the art of illusion'.
In the midst of all this creative activity and the supervision of projects across the world, leoh Ming Pei has still given of himself to the support of the arts and of education. Over the years he has served on committees and bodies related to universities and to museums of art; he has been a member of American Institute of Architects Urban Policy Task Force, the National Council of the Humanities and the National Council on the Arts. In 1978 I.M. Pei had the honour of becoming the first architect to be the Chancellor of the American Academy and Institute of Arts and Letters.
Mr. Chancellor, this is truly a lifetime of singular achievement and it will not surprise you that international recognition of I.M. Pei's contributions has been heaped upon his shoulders from many quarters. In 1983 he received the Pritzer Architecture Prize in the United States. The prize money he used to establish a scholarship to enable Chinese students, who committed themselves to returning to work in China, to study architecture in America. The Thomas Jefferson Memorial Medal for distinguished contributions to the field of architecture came in 1976; the American Institute of Architects Gold Medal in 1979. Last year, President Mitterand inducted him as a Chevalier of the Legion d'Honeur. Of all these awards he has received, I.M. Pei holds the most dear, his receipt, as one of only twelve naturalised American citizens, of the Medal of Liberty from President Reagan at the rededication of the Statue of Liberty in 1986. A remarkable man, a remarkable architect and a remarkable life. He accepts his accolades with a graceful modesty. One cannot help feeling that I.M. Pei's sons will be able to say of their father what Sir Christopher Wren's son said of him:
'He has a steady Tranquillity of Mind ... that no injudicious incidents or Inquietude of human life could ever ruffle or discompose...'
I wonder, Sir, what Mr. Pei does, when from time to time he receives an invitation to a formal function which stipulates that 'academic dress should be worn'. Faced with his wardrobe of academic regalia from the two degrees he holds, and the twelve honorary degrees he has already received, the choice must be perplexing. This university is pleased and indeed proud that he has agreed to extend that wardrobe once again, and it is my privilege and pleasure to present to you leoh Ming Pei - an architect of our time - for the award of the degree of Doctor of Letters honoris causa.