開始內容
李業廣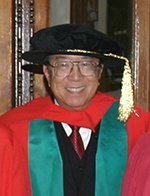 Born in Shanghai, Charles LEE Yeh Kwong was brought up and educated in Hong Kong. After graduating from the University of London with a Master's degree in Law, Charles Lee became a qualified solicitor in both Hong Kong and the United Kingdom. He is one of the founders of the solicitor's firm of Woo, Kwan, Lee & Lo, a major law firm in Hong Kong. He is also a qualified accountant, and a chartered secretary.
In his professional capacity, Mr Lee has offered legal and financial advice to a number of major Hong Kong corporations, and helped them in launching their stock flotations. As his private career flourished, Charles Lee decided to put his professional expertise in the service of the public, especially in building Hong Kong's financial infrastructure. It was during his term as Secretary to the Companies Law Revision Committee from 1968 to 1973 that the Securities Ordinance was enacted, and the Companies Ordinance was substantially amended.
From these beginnings, for more than three decades, Mr Lee has contributed actively and without fail to serving Hong Kong. The remarkable development of Hong Kong from a trading port to an international financial centre has involved the participation of many citizens. Charles Lee is, without doubt, one of the most distinguished participants in this development. He has played a leading role in charting its course, and in enabling and ensuring its success.
As Council Member and then Chairman of the Hong Kong Stock Exchange from 1992 to 1994, Mr Lee took up the challenge of reforming the Exchange to the highest international standards. Under his leadership, crucial reforms were implemented: these included modernising of trading, the tightening of listing requirements, and improvement of disclosure standards. Building on these foundations, Mr Lee once again took the lead in guiding the complex negotiations for the merger of the Commodities and Stock and Clearing Exchanges in Hong Kong. It was his ability to listen to diverse views, to mediate sectoral interests, and above all, to inspire and win trust which enabled this monumental task to be completed in 2000, in the formation of the Hong Kong Exchanges and Clearing Limited, a listed company accountable to shareholders, market participants, and public investors.
Mr Lee was Hong Kong Affairs Adviser from 1993 to 1997, and Member of the Hong Kong Selection Committee of the National People's Congress of the People's Republic of China. His many public duties include membership of the Governor's Business Council, the Equal Opportunities Commission, and the Executive Council of the Hong Kong Special Administrative Region. He has chaired the Council of the Hong Kong University of Science and Technology and the Open University. He has also been President and Chairman of the Community Chest, and has chaired the Hong Kong Arts Festival since 2004. Hong Kong is a small place. Nonetheless there is something larger than life in the reach of Mr Lee's tireless activities, from the stock exchange to the equal opportunities commission, from the executive council to the arts festival. Capital, social justice, government and culture - Mr Lee has contributed to almost all the most important themes of Hong Kong life. Perhaps it is too much to hope that Mr Lee will next turn his hand to sorting out Hong Kong's traffic, or the weather.
Charles Lee's contribution to public service is entirely voluntary, and apart from the satisfaction of a job well-done that can bring long-term benefits to the community, always unremunerated. While his achievements are testimony to his unique personal abilities, he firmly believes that voluntary unpaid service in the public sector is a distinctive tradition in Hong Kong. He strongly supports the continuation of this tradition which can pool together Hong Kong's rich human resources so that the community will be able to draw upon the expertise of its citizens from different walks of life. In his involvement with different universities in Hong Kong, he has always encouraged the younger generation to look beyond their private gain, and cultivate and invest their skills and talent within the welfare of the community as a whole. His concern for the future good of Hong Kong is again evident in his agreeing to undertake in 1998 the Chairmanship of the Mandatory Provident Fund Schemes Authority.
Mr Lee's outstanding performance and record offer a model and a challenge to all who are involved or wish to be involved in voluntary public service. Mr Pro-Chancellor, for his invaluable contribution to the community and Special Administrative Region of Hong Kong, it is my honour and privilege to present Charles Lee Yeh Kwong for the Degree of Doctor of Social Sciences honoris causa.
Citation written and delivered by Dr Elaine Ho Yee Lin, the Public Orator.