開始內容
鍾士元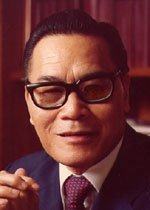 Mr Chancellor, I present to you Chung Sze Yuen, Commander of the British Empire (CBE), Doctor of Philosophy, for the degree of Doctor of Science. Mr Chancellor, engineers are both 'born' and 'made'. There are those who, using scraps of materials, old pieces of tin, string and sealing wax, design and work bizarre and wonderful things. One of the most spectacular inventions of our century, Baird's first television set, was made in this manner. Universities may be less concerned with the engineer who is "born", as it were, but rather more with the "making" of engineers equipped with a thorough knowledge of the various disciplines of engineering science. Yet our graduand today, Mr Chancellor, is an exemplar of both varieties: the inventive and the disciplined. His own abilities as a natural engineer were well demonstrated, when, as a third-year student together with three classmates, now in their turn moved on to higher things, he set up, close to the University, a machine shop to design and construct machine parts. Already, he was an engineer in fact as well as one in the making. More than all this, he demonstrated early his flair for organization. And yet, he took his first-class honours degree here at Hong Kong University in 1941. Not satisfied with this early success, he plunged into the real world of practice and became an assistant foreman at Kowloon Docks. The war interrupted his career, but not for long. From Macau he went into war-torn China; but, how can a first-class honours graduate survive without books? Dr Chung, disguised as a fisherman, re-entered Hong Kong as an 'illegal immigrant', as it were, to smuggle out two trunks of books all under the noses of the Japanese.
Inside China he became an active engineer, again, both practical and theoretical, serving as a part-time Associate Professor of Mechanical Engineering as well as being involved in business.
After the war he received the British Defence medal. He returned to Hong Kong as a business engineer, and in 1948 proceeded as a British Council Research Scholar to work on metal deformation, a subject so unexplored then by engineers that it might have been almost equally studied in the faculty of arts as in the faculty of science.
The University of Manchester could not help him, but a telephone call to Sheffield sped Dr Chung to Professor H W Swift of that University and for twenty-four months (the absolute minimum time such a concession was allowed, and that only to first-class honours graduates), he plunged into "Deep Drawing of Sheet Metal". Armed with the degree of Doctor of Philosophy, he added to his research potential with a prize-winning paper in engineering production and a new and developing expertise in the growing field of glass technology, which qualification he obtained with distinction.
His commercial activities now began in earnest, and from 1952 he could be said to have "exploded" on to the Hong Kong business scene. At the outset he set up four factories in diverse areas, then as an inventor in putting together all his skills in his studies, he devised a number of new production techniques - all these achievements, and many more besides, testified to an inspired entrepreneurial talent. By 1965 Dr Chung's inventive abilities had created Sonca Industries Limited, the world's largest flashlight concern. In the 1960s he became Chairman of the Hong Kong Joint Group of Chartered Engineers and eventually chairman of other engineering societies; this of course, one might expect, but he added to these interests further activities in a vast number of boards - concerned with a multitude of subjects from aviation to radiation.
As time went by the thrust of the engineer gave way to a new interest in the field of commerce. We find him leading delegations inter alia to Bangkok, Manila, Barcelona and the United States. More recently he has been active in other areas: Hong Kong Productivity Council (Chairman), Hong Kong Chamber of Commerce, Hong Kong Management Association as well as taking an interest in the Tung Wah Group of Hospitals, the Advisory Committee on the Telephone Services, the Chinese University of Hong Kong, the Polytechnic and the Community Chest of Hong Kong, not to mention our own University Council of which he has been Acting Treasurer.
Mr Chancellor, Dr Chung has not shunned the difficult and controversial issues of public life and he well knows the bitter-sweet jolts and jars of public service not to mention the bouquets and brick-bats of the journalistic fraternity. He might take comfort in the thought that whereas other professions conceal their mistakes, journalists print them on the front page.
He has now reached the pinnacle of success with membership of both Legislative and Executive Councils; one of only two persons appointed in 1975 to sit on both Councils. For more than ten years he has been known as an indefatigable questioner with an encyclopaedic knowledge of Labour Law as it applies in Hong Kong. He is recognised as a pertinent, trenchant commentator, as well Your Excellency must know. In so far as Hong Kong has anything like a normal political life, Dr. Chung can be said to be connected with it, but it is not the anguish of party discord so familiar to political science, but rather the quieter consultative role appropriate to Hong Kong's particular political formula.
We might say, Mr Chancellor, that Dr Chung who began his career as mechanical engineer in a rather precise area of engineering technology has perforce become a social engineer. For his endeavours as a scholar in the science of engineering, for his creation for himself of a central role in industry, commerce and government, Mr Chancellor, I request that you confer upon Chung Sze Yuen, the degree of Doctor of Science honoris causa.
Citation written and delivered by Professor Peter Bernard Harris, BA, BSC (Econ), PhD., DLitt (PCE), the Public Orator of the University.