開始內容
邵逸夫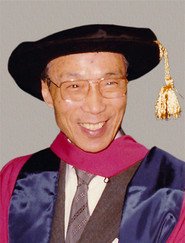 Mr Chancellor, I beg leave to introduce Sir Run Run Shaw, Commander of the British Empire, for your consideration for the award of the degree of Doctor of Laws honoris causa.
The man whom I present to you today was, even half a century ago, already a figure of considerable standing in the industry of which he has for so long been an ornament. Born in Shanghai, Sir Run Run can look to a career in film making which covers almost sixty years. In those far off days it took a man of uncanny foresight to be able to understand the meaning of the flickering light and shadow of film, let alone guage its likely impact upon the world. Today, however, in many places the art of film has become established, and in many universities as a university subject. In the 1920s it was necessary for all-round entrepreneurship to supervise every possible aspect of filmmaking. Sir Run Run's name is now a household word in Hong Kong, and he is associated with a world of action and not a little glamour. On the surface his is a very different world from that in the calmer waters of a university. Some people ask, with unwonted curiosity, why our graduand should have called himself Run Run Shaw. In fact it comes from two Chinese characters, jen jen. The name is admirably suited to the break-neck pace at which he runs his life. We remember in this respect a saying of President Kennedy that time should be used as a tool and not as a couch. Just forty years ago, Run Run Shaw left Shanghai to follow his third elder brother Runje to Singapore. Now was the time to create an overseas market for Chinese films. The objective was to establish a distribution system for Chinese films produced in Shanghai. With a correct deftness for the right word, they set up the Unique Movie Company in 1926.
There was much to be learned about the ways of life both in Singapore and what was then called Malaya. Ten years later, Run Run and his brother Runme had created a veritable entertainment empire. This consisted of 110 cinemas and a number of parks for public performances throughout the entire region, including Borneo, Thailand and Java. The march of technology thrust itself into the film business and Runje (the eldest Shaw brother) produced the first Chinese-talking picture in Shanghai. Their first endeavours were in Mandarin, but soon the Cantonese dialect became a more frequent vehicle for their films. It was now 1940 and the end of the Shaw's first adventure into film production. The entire network of Shaw activities was utterly destroyed with the invasion and occupation of South East Asia. After the Liberation, the new challenge came, but there was nothing with which to meet it except faith. "The reason why birds can fly and we can't", said James Barrie, "is simply that they have perfect faith, for to have faith is to have wings". And the wings of faith sprouted on the back of the brothers Shaw. At the end of the war his faith in films was tested to the full. Tragically, his various enterprises had been destroyed, but by 1950, after superhuman efforts, the Shaw empire had been largely rebuilt. During the 1950s it became clear that the Shaw brothers had one great objective left - to turn Hong Kong into a new centre for filmmaking.
Of course, Singapore has its attractions, but for a variety of reasons, business and cultural, Sir Run Run's clear preference is for Hong Kong. In 1959, on an unpromising piece of the New Territories, a beginning was made in the creating of a Hong Kong version of Hollywood. With the levelling of a few minor mountains, two-million square feet of uneven terrain became a Movie City. There, at the Shaw's famous Clear Water Bay site, sprang up a vast complex of sets, studios, processing laboratories and even staff quarters. Today, Clearwater Bay is the birth-place of about one film every week. Actors and actresses are trained in the famous Shaw School, and many of them have subsequently become in the language of the film-world, "stars".
Mr Chancellor, now I turn to the centrepiece of his artistic approach, to indicate something of this zestful, active man. It was said of a very famous Hollywood producer that while he was not averse to the rewards of film-making, his major desire was, as he put it, "to tell a good story well". Like Sir Run Run, he had the producer's flair of sensing what the public sought in film-making, but, more than that, of giving it to them in a manner in which their interest is creatively aroused.
This University honours Sir Run Run because it wishes to honour an outstanding practitioner in the applied visual arts. Movies must move; they have embodied a scientific principle with art. Yet they need a "first mover". In films, science, technology and art all meet. But they require for example, the genius of a Chaplin to spark off memorable moments on film. Like Chaplin, Sir Run Run has the "common touch". He avoids undue theorising and disarms all with his engaging modesty.
Sir Run Run can point to a vast variety of films, including those which stand among the more literate pieces of popular entertainment - The Beauty and the Kingdom, The Magnificent Concubine, Love Eternal, as some of the more memorable. Most people know the famous lion of Metro-Goldwyn-Mayer. Sir Run Run is our lion and he too subscribes to the classical MGM formula, arts gratia artis (art for art's sake). By inspiration on celluloid, for millions of people and through the medium of Chinese, Sir Run Run has transformed the film world - a feat which places him in the company of de Mille, Zannuck, Goldwyn and those other groups of brothers - the brothers Warner and the brothers Korda. To this illustrious company we add the name of a man whose home is here in Hong Kong - Sir Run Run Shaw. Mr Chancellor, the responsibility which these luminaries bear is indeed awesome. In this regard and concerning visual artistry, we might recall the words of Pablo Picasso. A painter can turn the sun into a yellow spot: an artist can transform a yellow spot into the sun.
Our doctorand today has mixed with princes and princesses, presidents and prime ministers. He has lived amongst superstars, supercontracts, superlatives. Yet, his whole demeanour suggests that he can see through mere pride, pomp and circumstance to certain simple truths. Run Run Shaw's great discovery was that there was in our time a burning need for entertainment. The modern Hong Kong citizen works unquestioningly, but he also needs entertainment. In China of old, public entertainment was Chinese opera, with its magnificent traditions which all can admire. Yet this was not necessarily a mass activity. The need existed for giving a working Chinese world entertainment. It is not necessarily true to say as one historian put it, that "The history of man is only the record of a man in quest of his daily bread and butter". Leisure is a social imperative. The University recognises the social significance of Sir Run Run's discovery.
Mr Chancellor, I turn from Sir Run Run the exponent of the cinematographic fine arts, to Sir Run Run as a community figure and cultural ambassador. His role, Sir, as Chairman of the Hong Kong Arts Festival is well-known to you in your Excellency's capacity as Patron of the Festival. For his work in keeping the Arts Festival from possible pitfalls (not the least financial) we, as a university, might wish to honour him for this alone. We also salute his work for the Hong Kong Arts Centre of which he is the Chairman of that Centre's board of governors. Sir Run Run has lent his vast talents, knowledge and experience to the successful management of the arts in Hong Kong. At the same time he has taken a considerable interest in the affairs of the Chinese University of Hong Kong and is on the Council of that university as well as being Vice-Chairman of the board of trustees of United College. He is Vice-President of the Girl Guides Association of Hong Kong and also of the Hong Kong Society for Rehabilitation. Since its inception he has been a leading figure in the fund raising of the Community Chest. He is President of the Red Cross and was the first Chinese gentleman to hold that post.
In 1974, Sir Run Run was honoured by the Queen with the award of the CBE and with a knighthood in 1977. His services have, therefore, already been recognised by the monarch. We hope to add our tribute, as we ask you, Sir, to add the further honour of our doctorate. Mr Chancellor, for his concern, via the silver screen, for our leisure needs, for his tireless efforts for the arts and for the well-being of the community, I call upon you to confer upon Sir Run Run Shaw the degree of Doctor of Laws honoris causa.
Citation written and delivered by Professor Peter Bernard Harris, the Public Orator of the University.