開始內容
司徒惠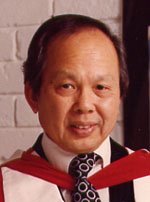 It has been the fashion in Hong Kong to name all manner of edifices, halls and rooms within edifices; mountains, bays, capes; public parks and private clinics; streets and roads; villages – villages often today turned town – and marine vessels; to name all these after members of the Royal Family, Governors, and their ladies, British cabinet ministers, Victorian naval officers and merchant princes, and myriad Chinese "Worthies" who have, in our relatively brief history, given so lavishly. Now the name of Szeto Wai, engineer and architect, may not, not yet at least, grace a plaque but it is my purpose, nonetheless, to unveil him.
Born in Kwantung, Mr Szeto attended Saint Paul's College in Hong Kong and Saint John's University in Shanghai from which he graduated with the degree of Bachelor of Science in 1938. He had keenly wished to become an artist but parental pressure prevailed and, much against the grain, he entered the engineering profession. The ensuing years were spent in the United Kingdom, first as a Federation for British Industries Scholar for Engineering Training, and subsequently – return to China being precluded by the Second World War – working in Scotland on water supply schemes and on railway engineering. He was also, during these years, President of the Central Union of Chinese Students in Great Britain and Northern Ireland. The subsequent experience gained abroad proved invaluable when in, in December 1945, he managed to reach Chungking, there to be appointed Senior Planning Engineer with the National Hydro-electric Engineering Bureau of the National Resources Commission and as Chief Investigation Engineer of the Wongkiang River Hydro-electric Project in Yingtak, Kwangtung. This was an extremely hazardous undertaking. The terrain, with its precipitous mountains, its deep gorges, and its seething rivers, did not lend itself to light labour. It also provided admirable cover for guerilla operations which were rife. A judicious mixture of bravado and guile brought Szeto Wai intact through many confrontations, and it was with relief, that, his task completed, he arrived in Hong Kong in 1948.
Almost immediately he founded his own consulting practice, working as a highly qualified civil and structural engineer and, increasingly, as an architect. Much of Hong Kong lay in ruins and this, coupled with a dramatic rise in population, cried out for men possessed of Mr Szeto's skills. Projects galore descended upon him – schools, institutional and commercial buildings, large housing estates – and he soon found himself appointed structural engineering consultant to the Public Works Department, to Her Majesty's Ministry of Works, to the Hong Kong Housing Authority. Astonishingly, time was found for volunteer work, acting as honorary architect to the Saint John's Ambulance Association and Brigade, the Red Cross, the Salvation Army. And, inordinately busy though he was, in 1952 he came to the aid of our own Civil Engineering Department, plagued by staff shortages, as a part-time Lecturer. Meanwhile, he was elected to several prized Fellowships, both British and American, and, ineluctably, he was drawn into public life. In 1965 he was appointed Unofficial Member of the Legislative Council, the first engineer to join that body. In 1972 he was translated to the Executive Council. His contribution to the life of Hong Kong has been immense, notably in the fields of town planning, public works, narcotics, and transport. For his services, he was, in the turbulent year of 1967, created Officer of the Order of the British Empire (OBE), and, only last year, was raised in the Order to the rank of Commander (CBE).
But his artistic bed, so long pent-up, must not be neglected. This found expression in his painting and architecture. His contribution in this field was recognized in 1960 when he was invited to become President of the Hong Kong Society of Architects. It was the two Universities which provided the challenge that was to unleash his full potentialities. Szeto Wai was responsible for the design and construction of Robert Black College, our hall for post-graduate students and research scholars. It happily integrates modern construction techniques with the simple, domestic style of traditional Chinese architecture. With its imposing setting, it changes in linear key, its courtyards, it invites stimulus and repose. The College occasioned deep research as did the new Chinese University to which he was appointed Architect in 1963, with responsibility for the preparation of its Master Development Plan. Here, coping with an awkward, although beauteous, site and harnessed by budgetary restrictions, he has produced a creation notable for its modern architectural approach. Those buildings for which Mr Szeto himself was the architect constitute exciting examples of spatial and textural interplay. In most of them, the Science Building especially, he has married advanced structural engineering to his architectural imagination. The Chinese University, hard and stark though it may initially seem, has a gusto, a force, which, combined with its aesthetic sensitivity, makes it something altogether novel in Hong Kong.
Mr Chancellor, in appreciation of Szeto Wai's embellishment of our community I now ask you to adorn him with the honorary degree of Doctor of Science honoris causa.
Citation written and delivered by Mr Hugh David Turner, BA, MLitt, the Public Orator of the University.