Main content start

Press Releases
HKU to present Honorary University Fellowships to three distinguished individuals
HKU to present Honorary University Fellowships to three distinguished individuals
September 26, 2017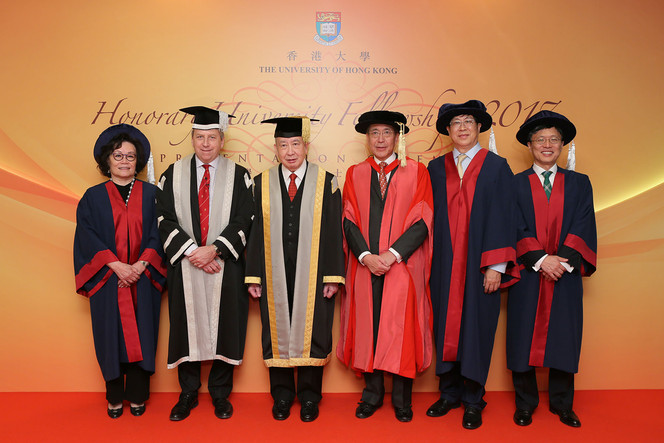 (From left) Professor Grace TANG Wai King, President Professor Peter Mathieson, Pro-Chancellor Dr David Li Kwok Po, Council Chairman Professor Arthur Li Kwok Cheung, Mr Godfrey NGAI Shing Kin and Dr Harry SHUM Heung Yeung.
The University of Hong Kong (HKU) held a ceremony today (September 26) to present Honorary University Fellowships to three distinguished individuals, in recognition of their contributions to the University and to the community. HKU Pro-Chancellor Dr the Honourable David Kwok Po Li presided at the ceremony.
The three distinguished individuals are:
Mr Godfrey NGAI Shing Kin
Dr Harry SHUM Heung Yeung
Professor Grace TANG Wai King
The Fellowships are a means for the University community to thank and salute the lives of those who have made important contributions in their own unique ways to the University, to academia, and to Hong Kong. The Honorary University Fellowships was established in 1995 to reaffirm the University's link between town and gown.
The three Honorary University Fellows

Mr Godfrey NGAI Shing Kin
Mr Godfrey Ngai has over 50 years of experience in the dental laboratory industry, is Executive Director and Chief Executive Officer of the Modern Dental Group, and a respected leader in the global dental industry.

Mr Ngai started his career in 1967 as a student dental technician in the Hong Kong Government's Medical and Health Department, and became a Lecturer at the Hong Kong Polytechnic in 1979. He was an Instructor in Dental Technology in the Faculty of Dentistry at the University of Hong Kong from 1981 to 1998. Taking leave from 1993 to 1995 to pursue further studies in Australia, he earned a Bachelor of Education degree and a Master in Management (Technology) degree from the University of Melbourne. Mr Ngai is a Fellow of the British Institute of Dental and Surgical Technologists. He also holds a number of professional qualifications from the City and Guilds of London Institute.
Mr Ngai joined Modern Dental Laboratory (MDL) Company Limited as its Director in 1996. Under his leadership, MDL has grown from a small Hong Kong based workshop to a global group of companies and the largest provider of dental laboratory services worldwide. Modern Dental Group Limited has been listed on the Hong Kong Stock Exchange since December 2015.
During his 19 years of teaching dental technology, Mr Ngai has trained hundreds of young dentists and dental technologists who went on to become the backbone of dental services in contemporary Hong Kong. He has unwaveringly supported HKU's Faculty of Dentistry in its development, whether it be in postgraduate teaching and research, or the advancement of dental technology through collaborative research with MDL. MDL was instrumental in supporting the establishment of the HKU's Modern Dental Laboratory Endowed Professorship in Clinical Dental Science in 2011. MDL also co-hosted the World Dental Forum 2012 with the Faculty, which brought together some of the world's leading dental scientists and researchers.
Mr Ngai has also lent his expertise and care to society at large, donating and providing MDL dental services to schools, healthcare organisations for the elderly and other sections of the community in need. MDL has also extended its services to Mainland China, training thousands of dental technicians and driving the development of the dental laboratory industry in China.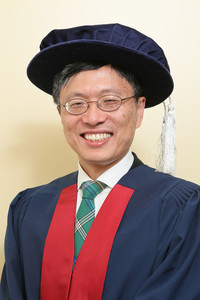 Dr Harry SHUM Heung Yeung
Dr Harry Shum is Executive Vice President of Microsoft's Artificial Intelligence (AI) and Research group.

Dr Shum studied at the University of Hong Kong, earned an MPhil degree in Electrical and Electronic Engineering (1991) and was a Swire Scholar at Robert Black College. He was conferred a PhD in robotics from Carnegie Mellon University in 1996.

Dr Shum is currently responsible for driving Microsoft's overall AI strategy and forward-looking research and development efforts, spanning infrastructure, services, apps and agents. He oversees AI-focused product groups, and also leads Microsoft Research, one of the world's premier computer science research organisations.
Previously, Dr Shum served as the Corporate Vice President responsible for Microsoft's Bing search product development from 2007 to 2013. Prior to his engineering leadership role at Bing and online services, he oversaw the research activities at Microsoft Research Asia and the lab's collaborations with universities in the Asia Pacific region, and was responsible for the Internet Services Research Center, an applied research organisation dedicated to advanced technology investment in search and advertising at Microsoft.
Dr Shum joined Microsoft Research in 1996 as a researcher in the US. In 1998, he moved to Beijing as one of the founding members of Microsoft Research China (later renamed Microsoft Research Asia). There he began a nine-year tenure as a researcher, subsequently moving on to become Research Manager, Assistant Managing Director and Managing Director of Microsoft Research Asia and a Distinguished Engineer of Microsoft Corporation.
At the University of Hong Kong, the Department of Electrical and Electronic Engineering has extensive experience of Dr Shum's generosity and support, whether it be through his counsel and leadership as a member of the Department's Advisory Board or his many significant donations towards research and the establishment of scholarships. He has also personally delivered public lectures on campus, including the William Mong Distinguished Lecture in 2006 and the Engineering Centenary Distinguished Lecture in 2012.
Dr Shum is a Fellow of the Institute of Electrical and Electronics Engineers (IEEE) and of the Association for Computing Machinery (ACM). In 2017, he was elected to the National Academy of Engineering (NAE) of the United States.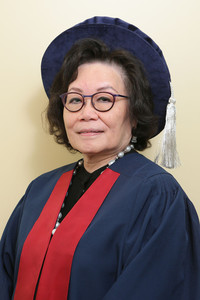 Professor Grace TANG Wai King
Professor Grace Tang is Honorary Clinical Professor in the Department of Obstetrics and Gynaecology at the University of Hong Kong, a pioneering women's health advocate and a respected leader in medical education.

Professor Tang led the way with her research related to women's health in Hong Kong, including the study of psychosexual issues in women and longitudinal study of menopausal symptoms, bone mineral density and bone loss in Chinese women, Chinese Medicine in the treatment of menopausal women, and the Human Papillomavirus (HPV) vaccine in the prevention of precancerous lesions of the cervix and the vulva.

She holds an MBBS (1971) and an MD (2006) from HKU, and has loyally remained at her alma mater for her entire professional career. As Dean of Medicine from 1998 to 2001, Professor Tang successfully implemented a New Medical Curriculum, inspired by her passionate and memorable motto: "Failure is not an option."
In 2011, she was seconded to the HKU-Shenzhen Hospital to serve as its Founding Hospital Chief Executive, to build a pilot hospital in Mainland China for healthcare reform, as well as a world-class hospital in clinical service, teaching and research.
Professor Tang has served as Chairman of the Board of the Li Ka Shing Faculty of Medicine, as founding Chairman of the Asian Medical Education Association, and has lent her leadership and service to many organisations in Hong Kong and abroad as well. She was elected President of the Hong Kong Academy of Medicine in 2005, and has made meaningful progress towards achieving Continuing Professional Development Certification for medical professionals.
Professor Tang is a Fellow of the Hong Kong Academy of Medicine, and an Honorary Fellow of the Academy of Medicine of Singapore, the Royal College of Physicians (Ireland), the American College of Physicians, the Royal Australasian College of Physicians, the Hong Kong College of Obstetricians and Gynaecologists, and the Malaysian Academy of Medicine. She received the Young Scientist Award from the Asia-Oceania Federation of Obstetricians and Gynaecologists in 1991, and the Outstanding Women Professionals and Entrepreneurs Award in 2005. She was nominated by the Shenzhen Municipal Government this year to receive the "Honorary Shenzhen Citizen" award for her contributions to the HKU-Shenzhen Hospital.
Professor Tang was made a Justice of the Peace in 2001, and presented with a Silver Bauhinia Star in 2009.
For the recipients' citations, biographies and photos, please visit: http://www4.hku.hk/honfellows/.