Main content start

Honorary University Fellows
Professor Norman KO Wah Man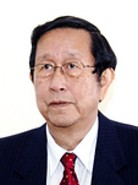 2007 Honorary University Fellow
Professor Norman KO Wah Man
Citation delivered by the Dean of Engineering, Professor Chew Weng Cho:
Professor Norman Ko Wah-Man is a distinguished alumnus of this University, graduating from Mechanical Engineering in 1963. He received the Doctor of Philosophy degree from the U of Southampton, in 1969, and was awarded a Doctor of Science degree from HKU and U of Southampton in 1995 and 2004 respectively.
Professor Ko is a world renown expert in fluid dynamics and acoustics, a pioneer in the control of noise pollution in Hong Kong, and has published extensively internationally, with more than 240 research papers to his name. He was a chair professor in the HKU Department of Mechanical Engineering until his retirement in 2000. He is currently a HKU Emeritus Professor and also an honorary professor in the Department of Mechanical Engineering.
Many people, however, know him through his reputation as an artist, since many of his creative sculptures can be found gracing public spaces throughout the territory. Professor Ko has received many awards for his art works since the 1980s, and is a founding member of the Hong Kong Sculptors Association, the first local group of its kind.
HKU is also home to many of Professor Ko's art pieces. Indeed, his alma mater has benefited from his contributions in numerous ways – from his many years of dedication to Engineering and its students, to his ongoing and generous support of our outstanding researchers and their endeavours for academic excellence.
Therefore, it gives me great pleasure, Mr Pro-Chancellor, to present Professor Norman Ko Wah-Man for the Honorary University Fellowship, in recognition of his contributions to Hong Kong and the academia.
Back