Main content start

Honorary University Fellows
Professor Vincent LEUNG Wai Sun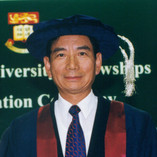 1998 Honorary University Fellow
Professor Vincent LEUNG Wai Sun
An excerpt from the Vice-Chancellor's Address delivered at the Honorary University Fellowships Presentation Ceremony on December 10, 1998:
Professor Leung Wai Sun, whose career must be described in terms of superlatives. Now Master of Robert Black College and Emeritus Professor in Electrical Engineering, Professor Leung is one of our longest serving colleagues, having been with us for over 33 years in a full-time capacity. He also holds the record for having been one of our longest serving faculty deans, having served as Dean of Engineering for over 9 years. As Master of Robert Black he has also served for over 9 years – another record! Sheer length of time is nothing in itself, but Professor Leung's achievements as teacher, researcher, administrator and Master also deserve superlative accolades. He is the author of an impressive number research publications – 100 – and is the holder of 10 patents. He has left an enduring legacy to his Department and Faculty by bringing them in line with up-to-date developments world-wide. His success in managing Robert Black has resulted in annual surpluses which have made possible the establishment of a Kenneth Robinson Fellowship, a Rayson Huang Fellowship and 25 Wang Gungwu Scholarships. 25 Swire Scholarships have also been added as a result of a donation obtained by him.
Nor are Professor Leung's contributions confined to the University. He has also rendered sterling service to the profession of Electrical and Electronic Engineering. Among other contributions, he was Founder of the Hong Kong Section of the American Institution of Electrical and Electronic Engineers and Representative of the British Institution of Electrical Engineers in Hong Kong for 6 years; he has also been active in the work of the Hong Kong Institution of Engineers. His zeal for service goes yet further: he has used his expertise in the service of education and the community, his interest extending beyond Hong Kong to the Chinese Mainland.
Back