Main content start

Honorary University Fellows
Professor Grace TANG Wai King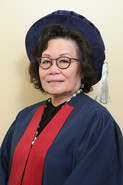 2017 Honorary University Fellow
Professor Grace TANG Wai King
Professor Grace Tang is Honorary Clinical Professor in the Department of Obstetrics and Gynaecology at the University of Hong Kong, a pioneering women's health advocate and a respected leader in medical education.
Professor Tang led the way with her research related to women's health in Hong Kong, including the study of psychosexual issues in women and longitudinal study of menopausal symptoms, bone mineral density and bone loss in Chinese women, Chinese Medicine in the treatment of menopausal women, and the Human Papillomavirus (HPV) vaccine in the prevention of precancerous lesions of the cervix and the vulva.
She holds an MBBS (1971) and an MD (2006) from HKU, and has loyally remained at her alma mater for her entire professional career. As Dean of Medicine from 1998 to 2001, Professor Tang successfully implemented a New Medical Curriculum, inspired by her passionate and memorable motto: "Failure is not an option."
In 2011, she was seconded to the HKU-Shenzhen Hospital to serve as its Founding Hospital Chief Executive, to build a pilot hospital in Mainland China for healthcare reform, as well as a world-class hospital in clinical service, teaching and research.
Professor Tang has served as Chairman of the Board of the Li Ka Shing Faculty of Medicine, as founding Chairman of the Asian Medical Education Association, and has lent her leadership and service to many organisations in Hong Kong and abroad as well. She was elected President of the Hong Kong Academy of Medicine in 2005, and has made meaningful progress towards achieving Continuing Professional Development Certification for medical professionals.
Professor Tang is a Fellow of the Hong Kong Academy of Medicine, and an Honorary Fellow of the Academy of Medicine of Singapore, the Royal College of Physicians (Ireland), the American College of Physicians, the Royal Australasian College of Physicians, the Hong Kong College of Obstetricians and Gynaecologists, and the Malaysian Academy of Medicine. She received the Young Scientist Award from the Asia-Oceania Federation of Obstetricians and Gynaecologists in 1991, and the Outstanding Women Professionals and Entrepreneurs Award in 2005. She was nominated by the Shenzhen Municipal Government this year to receive the "Honorary Shenzhen Citizen" award for her contributions to the HKU-Shenzhen Hospital.
Professor Tang was made a Justice of the Peace in 2001, and presented with a Silver Bauhinia Star in 2009.
Citation written and delivered by Professor Gabriel LEUNG, Dean of Medicine
'Twas grace that taught my heart to fear sums up many a first impression of the uninitiated of our honorand, yours truly included a score back as a twenty-something-year-old lecturer. Her fearsome outward appearance belies a fierce fair-mindedness and unyielding professionalism that are hallmarks of her leadership style.
And grace my fears reliev'd whenever one runs into trouble because she would invariably bail you out, be it a case of placental rupture in the delivery suite or getting a medical education trial off the ground against a chorus of objections from the senior professoriate.
How precious did that grace appear when the honorand took over responsibility, as dean, to implement the then brand new medical curriculum in 1998, unleashing a wave of similar reforms across many Asian medical campuses. The respect that she commanded for having been a leading light on problem-based learning led to her acclamation as founding chairman of the Asian Medical Education Association.
Thro' many dangers, toils, and snares just about sums up her tenure in another pioneering initiative of the medical faculty as the first hospital chief executive of HKU-Shenzhen Hospital. With steely determination, she navigated the choppy waters of the Shenzhen River and instigated wholesale operational reforms that overturned decades of entrenched practice, all in the name of the people whose lives we have been entrusted.
The hour I first believ'd that there are some who are naturally blessed with many-splendored fortes was indeed when I came to know our honorand well. Betwixt launching new curricula and hospitals, she managed to summon additional energy taking the helm of the Hong Kong Academy of Medicine, in an uninterrupted succession line of HKU alumni and faculty. Her talents even extend to the dementia-busting game of mahjong and latterly musical keyboard and singing.
While the President's rallying cry on behalf of the United Nations' "HeforShe" initiative has found echoes in every corner of the campus, I will always remember 'tis grace hath brought me safe thus far since the time she signed my appointment papers that forms a palindromic "SheforHe".
From the Dean of Medicine saluting a former Dean, it remains my honour, Mr Pro-Chancellor, to present "Amazing Grace", Professor Grace Tang Wai King for the Honorary University Fellowship.
Back