Main content start

Honorary University Fellows
Professor Felice MAK-LIEH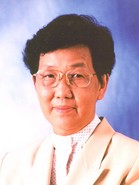 2005 Honorary University Fellow
Professor Felice MAK-LIEH
Citation for Professor Felice Lieh-Mak written and delivered by Dr Gabriel M Leung at the Honorary University Fellowships Presentation Ceremony on December 15, 2005:
Clarissima civis universitatis hongkonggensis, magistra, professor, sedes, decanus (most esteemed citizen of HKU, teacher, professor, head of department, dean): Felice Lieh-Mak's long and distinguished record of service at the University finds few parallels.
After graduating from Santo Tomas in the Philippines and undertaking specialty training in London, she joined HKU in 1978 and has since shown her breadth of devotion to the University. During her 36-year career, she pioneered the development of psychiatric care in Queen Mary Hospital to serve as a model for the territory, led the Department of Psychiatry from strength to strength for two decades, steered the Faculty of Medicine as Dean, served as special advisor to the Vice Chancellor, and latterly spearheaded curricular reform and evaluation as Director of the Medical Education Unit, the predecessor of the recently established Institute of Medical and Health Sciences Education.
While her valedictory address in 2001 reflected on the microcosm of academia, Lieh-Mak's contribution and worldview extends far beyond the walls of the ivory tower. In fact, by re-examining Francis Cornford's Microcosmographia Academica, she reminded us of the Cambridge philosopher's intellectual lineage to Plato and particularly his special interest in Politeia or The Republic. This influential treatise encompasses political economy, sociology, philosophy, ethics, justice and knowledge – areas in which Lieh-Mak made immense contributions variously as a member of Hong Kong's Legislative and Executive Councils, Chairwoman of the Medical Council and of the English Schools Foundation, President of the World Psychiatric Association, and Advisor to the United Nations and the World Health Organisation, among her many public appointments. Much of her community service has made Hong Kong the "good city" it is today as Plato advocated for the Athenian city-state in The Republic.
Freud wrote to Jung in 1909 saying, "We are certainly getting ahead; if I am Moses, then you are Joshua and will take possession of the promised land of psychiatry, which I shall only be able to glimpse from afar." If only Freud had lived to witness Lieh-Mak's legacy in delivering the promised land to the Hong Kong people.
For her towering achievements in psychiatry and her selfless dedication to public service, Mr Pro-Chancellor, please receive Professor Felice Lieh-Mak for the Honorary University Fellowship.
Back