Main content start

Honorary University Fellows
Ms Ann HUI On Wah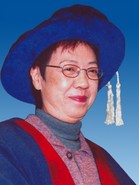 2001 Honorary University Fellow
Ms Ann HUI On Wah
Citation for Ms Ann Hui delivered by Dr M R Martin, Dean of the Faculty of Arts at the Honorary Fellowships University Presentation Ceremony on December 13, 2001:
Ann Hui is one of Hong Kong\'s foremost and most influential filmmakers. Her films, spanning 20 years, have won countless international awards.
Born in Manchuria and educated in Hong Kong,, she graduated from this University with a Bachelor of Arts, first class honours, in 1969 and a Master's degree four years later. She gained another first class honours for her Diploma at the London Film School. Upon returning to Hong Kong Ms Hui became an assistant to veteran director King Hu and then joined TVB, where she directed serials and documentaries.
In 1977, she joined the ICAC and made seven TV episodes for their drama series. The following year she joined RTHK and made three featurettes for the series Below the Lion Rock.
Ms Hui, however, came to widespread prominence with her directorial debut feature, The Secret, in 1979, winning one of the year's ten best at the Golden Horse Awards, in Taipei. The Secret was followed by a hit comedy The Spooky Bunch and, in 1982, Boat People won Ms Hui the Best Director Award at the Hong Kong Film Awards. It was also premiered at the hugely influential Cannes Film Festival.
Ms Hui is perhaps most famous, though, for her masterpiece, Summer Snow, which she both produced and directed. It swept the boards at both the Golden Horse and the Hong Kong Film Awards, 1995, and won the much- coveted Best Film Award at four film festivals. In 1999 Ordinary Heroes made a similar impact on audiences at home and abroad and won five Golden Horse Awards including, again, Best Film. Her films have always revealed a strong sense of history and almost without exception have featured strong female characters.
In 1997 she was awarded an MBE in recognition of her contributions to the arts and made a Fellow of the Academy of Performing Arts. It gives me very great pleasure, therefore, Mr. Pro-Chancellor, to present Ms Ann Hui for Honorary University Fellowship.
Back