Main content start

Honorary University Fellows
Mrs Christina LEE LOOK Ngan Kwan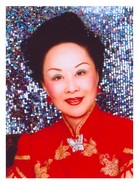 2004 Honorary University Fellow
Mrs Christina LEE LOOK Ngan Kwan
Citation for Mrs. Christina Lee delivered by Professor S K Lam, Dean of the Faculty of Medicine at the Honorary University Fellowships Presentation Ceremony on December 16, 2004:
Mrs Christina Lee was educated at St Stephen's College, Hong Kong and Mills College, California. She is a noted philanthropist whose presence graces many fund raising events in Hong Kong and who is active in promoting a philanthropic culture in society.
Her interest in helping the less fortunate started early: in 1960 she was Chairman of the Fund Raising Campaign for Maryknoll Sisters' Primary School. She has been active in the fund raising work for Caritas, serving as the Chairman of its Fund Raising Committee in 1970, 1978, 1993 and 1996 and as Member of its Council in 1972. She was also Chairman of the Caritas Charity TV Show in 1996, then its Honorary Advisor in 2001 and 2002 and its Chairman in 2003 and 2004.
In recent years she devoted her energies to raising donations for medical care and research. She chaired both the und Raising Campaign for the Cardiovascular Foundation for Queen Mary Hospital in 1997 and the one for setting up the hospice care division in Our Lady of Maryknoll Hospital in 1998. In 2000,and again in 2002, she was Chairman of the Fund Raising Campaign for Action for Vision Foundation. In 2000, she was also the Founding Chairman of Fund Raising for Hongkong Parkinson's Disease Foundation.
She is the Founding Chairman of the HKU Foundation's Bone Health Fund. In 2003, with the aim of supporting the Osteoporosis Centre of the University, Mrs Lee helped to establish the Bone Health Fund and undertook a leadership role in organizing a series of fund raising events. Because of her dedication and effort the various fund raising activities proved successful in soliciting funds to support medical research, therapeutic treatment for patients as well as public education programmes offered by the Osteoporosis Centre.
Apart from contributing substantially to the Osteoporosis Cente, Mrs Lee has long been a supporter of HKU's Faculty of Medicine. She has been instrumental in obtaining a number of donations to the Faculty and University through the Lee Hysan Foundation. The donations have proved valuable in that they have enabled various researchers in the Faculty to further their research in comprehensive medical problems.
It is generally recognized that Mrs Lee contributes significantly to community services. She is currently a Director of TVB and, through her coordination, TVB has organized many fund raising activities which have resulted in substantial donations to the needy.
Mr Pro-Chancellor, in view of the significant contributions made by Mrs Lee to the University and to the community, it gives me great pleasure to present her for the award of the Honorary University Fellowship.
Back