Main content start

Honorary University Fellows
Mr CHUNG Po Yang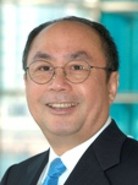 2008 Honorary University Fellow
Mr CHUNG Po Yang
Citation delivered by Professor Gary BIDDLE, Dean of Business and Economics
Mr Po Yang CHUNG is more widely known as Mr Po Chung, Co-founder of DHL International (Asia Pacific), and currently Chairman Emeritus of DHL Express (Hong Kong) Limited.
Mr Chung was born in Macau in 1943 and attended St Stephen's College in Hong Kong. He then pursued an interest in oceanography by attending the University of the Seven Seas, a pioneering programme which literally casts its students out to sea on a shipboard campus. Back on dry land, he then studied Zoology at Whittier College in California, and in 1969, he was conferred a BSc in Fisheries Management from Humboldt State University.
In 1972, Mr Chung founded DHL Hong Kong, which was the first international air express company to operate in Hong Kong providing air express service. He remained as Chairman until 2001, following the acquisition of DHL by Deutsche Post World Net in 2000.
Upon retiring from day-to-day management at DHL, Mr Chung continued to think outside – forgive me – the box, and enrolled in a Master of Fine Arts programme at the Royal Melbourne Institute of Technology University. He was conferred his MFA degree in 2006, and his distinctive Chinese landscape paintings have since been displayed and purchased by galleries and private collectors worldwide.
Over the years, Mr Chung has been tireless in his community service activities, especially in the areas of arts and culture; management and general education; philanthropy and social entrepreneurship; promoting Hong Kong; and creativity and innovation.
Specifically, Mr Chung presently focuses on giving back by spreading the principles and personal characteristics required for truly successful entrepreneurship in our present times. Here at HKU, he spearheaded the creation of the Centre for Asian Entrepreneurship & Business Values in 2006 and has taught a course in Entrepreneurship in the years since. Additionally, Mr Chung also currently sponsors the placement of 20 Fulbright scholars, a programme administered by the Council for International Exchange of Scholars.
Mr Chung was awarded an OBE in 1995, appointed Justice of the Peace in 1997 and awarded a Silver Bauhinia Star in 2002.
It gives me great pleasure, Mr Pro-Chancellor, to present Mr Po Yang CHUNG for the Honorary University Fellowship, in recognition of his contributions to Hong Kong and academia.
Back