Main content start

Honorary University Fellows
Mr Linus CHEUNG Wing Lam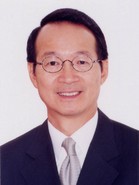 2003 Honorary University Fellow
Mr Linus CHEUNG Wing Lam
Citation for Mr Linus Cheung Wing-Lam delivered by Dr Daniel F K Wong, Acting Dean of the Faculty of Social Sciences at the Honorary University Fellowships Presentation Ceremony on December 16, 2003:
Mr Linus Cheung Wing-Lam is Deputy Chairman of PCCW Limited.
An alumnus of the University, he has led a distinguished career in management. He received a Bachelor of Social Sciences degree with Honours and a Diploma in Management Studies with distinction from this University and went on to take management training at various illustrious tertiary institutions including the Harvard Business School, INSEAD, Oxford University and the London Business School.
After 23 years of outstanding service at Cathay Pacific Airways, he left as their Deputy Managing Director. In March 1994, he became Chief Executive of Hongkong Telecom, a company with 16,000 staff and a market value of US$25 billion. He also became an Executive Director of Cable & Wireless plc in the United Kingdom.
Between 1989 and 1990, Mr Cheung was seconded full time to serve in the Hong Kong Government's Central Policy Unit under Governor David Wilson's administration. He was appointed an Official Justice of the Peace in 1990 and a Non- official Justice of the Peace in 1992.
In 1999, Mr Cheung was awarded "Executive of the Year for Hong Kong" by DHL/South China Morning Post. He was also twice elected as the "Best Telecom Chief Executive in Asia" by the magazine Telecom Asia for the years 1998 and 1999.
He is currently a member of the Chinese People's Political Consultative Conference for the Tianjin Municipal Government.
His contributions to the University are numerous. He has worked as a member of the University Council and is a member of its Finance Committee. He is also the Chairman of Poon Kam Kai Institute of Management; the Chairman of HKU SPACE Community College Advisory Board and a member of HKU School of Professional and Continuing Education Management Board. He is also an Adjunct Professor of the Chinese University of Hong Kong and the President of the Chartered Institute of Marketing.
He has also been a great contributor to the community sitting on numerous boards and committees including the Governor's Business Council, the Financial Secretary's Services Promotion Strategy Group, the Securities and Futures Commission Advisory Committee and the General Committee of the Hong Kong General Chamber of Commerce to name but a few. He also represented Hong Kong at the Business Forum of the Asia Pacific Economic Co-operation (APEC).
It gives me very great pleasure, Mr Pro-Chancellor, to present Mr Linus Cheung Wing-Lam for the Honorary University Fellowship in recognition of his contributions to Hong Kong and the University.
Back