Main content start

Honorary University Fellows
Mr Gallant HO Yiu Tai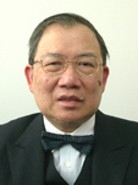 2007 Honorary University Fellow
Mr Gallant HO Yiu Tai
Citation delivered by the Dean of Law, Professor Johannes Chan:
Mr Gallant Ho is a sterling example of Hong Kong's adventurous spirit. He graduated from HKU with a First Class Honours Bachelor of Arts Degree in Economics in 1965, but soon ventured into law. He was qualified as a solicitor, and founded Gallant Y T Ho & Co in 1977. His practice soon grew to become one of the largest local law firms and remains so to this day.
Not satisfied with a local practice, Mr Ho was among the first group of Hong Kong lawyers that pioneered China Practice at a time when confidence in China remained low. Having successfully dealt with the first real estate project in Guangzhou for sale in Hong Kong in 1979, his law firm, Gallent Y T Ho & Co, was among the first law firms worldwide that was granted permission by the Ministry of Justice to establish an office in China in 1992.
When the world began to look to China, Mr Ho started further ventures in Australia and Canada. With his expertise in economics and law, he soon moved into business, real estates, management and accounting. Although he has retired from his law firm, he remained active across the Continent.
Mr Ho is also a great believer in public service, starting early on by being elected as one of the youngest Chairman of the Po Leung Kuk Board of Directors in 1974, and has contributed a lifetime of service on a multitude of committees and commissions of the government. He served as Deputy to the National People's Congress from 1993 to 1998.
Mr Ho has also made valuable contributions to the education sector, establishing two primary schools in his father's honour, and endowing numerous scholarships, bursaries and prizes to schools in Hong Kong and overseas. He has also shown great concern and interest in legal education, and is always generous in sharing his experience with law students. He has also served as the President of the HKU Alumni Association and received the Arbor Award from the University of Toronto in 2005. Mr Ho was appointed a Justice of the Peace in 1976 and served for 22 years until he retired from the post in 1998.
It gives me great pleasure, Mr Pro-Chancellor, to present Mr Gallant Ho Yiu Tai for the Honorary University Fellowship, in recognition of his contributions to Hong Kong and academia.
Back