Main content start

Honorary University Fellows
Mr Colin LAM Ko Yin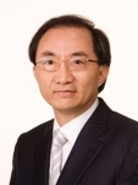 2008 Honorary University Fellow
Mr Colin LAM Ko Yin
Citation delivered by Professor Sun KWOK, Dean of Science
Mr Colin Ko Yin LAM is the Vice Chairman of Henderson Land Development Co Ltd, Chairman of Hong Kong Ferry (Holdings) Co Ltd, a Director of Hong Kong & China Gas Co Ltd and Miramar Hotel and Investment Co Ltd.
Mr Lam holds a Bachelor of Science degree from the University of Hong Kong, started his career as a banker with HSBC, and joined Henderson Land Group in the early 1980s. Such was his ambition, intellect and commitment to hard work, that in 1985, he was made Executive Director, and in 1993, promoted to his current position as Vice Chairman.
In addition to being a respected expert in finance and property development, Mr Lam is also a highly regarded in his professional capacity, being an Associate of the Chartered Institute of Bankers, a Member of the British Institute of Management, and a Fellow of the Hong Kong Institute of Directors and the Chartered Institute of Logistics and Transport in Hong Kong.
Though known to be a quietly modest man, Mr Lam is a passionate and active supporter of education, and believes that education will lead to higher professional skills, better morale and greater economic development for society as a whole.
In 1992, he founded the Hong Kong Chi Wah Foundation, which has since supported many secondary schools and educational projects in Mainland China.
In addition to being personally motivated, Mr Lam is also an energetic motivator – which is to say that he is a strong advocate of institutional advancement, and enthusiastically encourages and facilitates others to join him in helping to develop a culture of philanthropy in Hong Kong.
His alma mater has also benefited greatly from his support and counsel. He currently serves as a Member of the University's Court, a Trustee of the Staff Provident Fund and a Director of the HKU Foundation. In 2007, the University named the Learning Commons at the new Centennial Campus the 'Colin Lam Learning Commons'.
The improvement of medical and health care for the community is also an issue Mr Lam has contributed to, and he has, together with other HKU alumni, supported the development and expansion of the Union Hospital in Shatin.
It gives me great pleasure, Mr Pro-Chancellor, to present Mr Colin Ko Yin LAM for the Honorary University Fellowship, in recognition of his contributions to Hong Kong and academia.
Back