Main content start

Honorary University Fellows
Dr TIN Ka Ping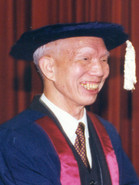 1997 Honorary University Fellow
Dr TIN Ka Ping
An excerpt from the Vice-Chancellor's Address delivered at the Honorary University Fellowships Presentation Ceremony on December 11, 1997:
Dr Tin Ka Ping, Chairman of the Tin's Chemical Industrial Company. Dr Tin moved to Hong Kong from his native Guangdong province in the 1950s and has dedicated much of the last 15 years to improving facilities for education in Hong Kong, China and Taiwan. A successful businessman in the chemical industry he is perhaps best recognized in Hong Kong for his many charitable deeds. In 1982 he established the K.P. Tin Foundation Limited to support charities such as the Tung Wah Group of Hospitals, the Community Chest and several infrastructure projects. Education, however, is a subject that holds a special place in Dr Tin's heart. He believes that a good education system is the foundation of a successful society. The most advanced countries in the world, he has observed, also possess the most developed education systems.
The K.P. Tin Foundation founded its Taiwan office in 1984 with the express intent of promoting education. It now provides scholarships in tertiary institutions and funds academic lectures and seminars. In Mainland China, it has provided funding to build several primary and secondary schools as well as libraries, sports centres, science buildings and art galleries. In Hong Kong, Dr Tin has made generous gifts of scholarships, research grants and aid with capital works to many of the territory's tertiary institutions.
Back