Main content start

Honorary University Fellows
Dr LUI Che Woo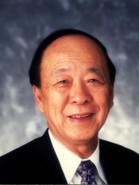 2002 Honorary University Fellow
Dr LUI Che Woo
Citation for Dr Lui Che Woo delivered by Professor M Bray, Dean of the Faculty of Education at the Honorary University Fellowships Presentation Ceremony on December 12, 2002:
Dr Lui Che Woo is known as the "King of Quarry", a generous philanthropist and an avid supporter of education in Hong Kong.
A renowned entrepreneur, Dr Lui is chairman of K Wah Group. Its major member companies include K Wah International Holdings Ltd, K Wah Construction Materials Ltd, K Wah Real Estates Co Ltd and Stanford Hotels International.
Dr Lui was born in Jiangmen, Guangdong in 1929. At the age of four, Dr Lui migrated to Hong Kong with his family. He founded the first K Wah company in 1955 to provide heavy machinery and construction materials to the local market. In the 1960s, he successfully bid for the quarrying rights of Anderson Quarry I, and embarked on property investments in Hong Kong. In the early 1980s, he set his sights on the hotel industry and expanded his business into Mainland China. Today, K Wah Group has developed into a diversified multinational enterprise with business in Hong Kong, Mainland China, Asia Pacific region and North America with over 200 subsidiary companies and nearly 10,000 employees all over the world.
Despite his success in business, Dr Lui has a heart of gold. He recognises the value of education and has been dedicated to its development. He is a Founding Honorary President of The University of Hong Kong Foundation for Educational Development and Research, of which he has been a dedicated supporter. In December 1997, the Law Library of The University of Hong Kong was named after Dr Lui in appreciation of his generous donation. His services to the communities of Hong Kong and Mainland China have also been outstanding.
Mr Pro-Chancellor, I have the greatest pleasure in presenting Dr Lui Che Woo with the Honorary University Fellowship in recognition of his contribution to Hong Kong and the University.
Back