LEARNING TO PLAY IN
THE MUD
Play&Grow is a research and community programme that aims to instil healthy habits among Hong Kong's urban-dwelling pre-schoolers by encouraging them to connect to nature.
When Dr Tanja Sobko of the School of Biological Sciences introduced her healthy living programme for pre-schoolers in Hong Kong, she encountered an unanticipated problem. She had developed an obesity prevention programme in her native Sweden and brought it to Hong Kong, but when she asked Hong Kong children to join her in taking off their shoes and walking outside on the grass, they would not budge.
"It was like a magic border," she said. "They said they could not go on the grass without their shoes because it was dirty. This was something very different from what I was used to in Scandinavia. I realised I had to redo the whole programme for Hong Kong."
There are many sound developmental reasons for children to go barefoot in the grass, including, for example, promoting their sense of balance. But as Dr Sobko looked deeper at the children's behaviour, she realised there was another problem. They were also exhibiting a disconnectedness from nature – a fairly recent concept but one that is suspected to have an impact on child development.
With that understanding, she revised her programme into Play&Grow, which promotes contact with the natural world to help instil healthy living habits in children aged two to five. That natural world does not need to be a country park. Many of the sessions have been conducted in a small grassy courtyard in HKU's Main Building – the kind of tiny green patch found in or near most residential blocks in the city.
Hug a tree
The programme consists of ten 45-minute sessions in which children do physical activities, such as hugging a tree (they are reluctant at first but do so spontaneously by the tenth session), walking like a crab or hunting for a vegetable that has been buried in the ground to teach about where the vegetables come from and to reinforce the idea that soil is good and useful.
Each session also has a section on healthy eating where the children taste the raw vegetables and do other activities, such as using them for making art. They are also encouraged to make a dish using the vegetable at home with their caregiver and to grow beans.
The activities are based on research evidence about the developmental needs of pre-schoolers, but the sessions also provide Dr Sobko with new research material. At the start and end of each programme she administers validated questionnaires to measure motor skills and the like of the children. She has also developed the world's first validated questionnaire of 'connectedness to nature' in young children, with Professor Gavin Brown of the University of Auckland, which was the basis of a recent study published in PLOS ONE.
Some 493 Hong Kong families participated in that study in which the parents responded on 16 items under four themes: enjoyment of nature, empathy for nature, responsibility towards nature and awareness of nature. They also completed a questionnaire on their child's psychological well-being and behaviour. A comparison of the results s howed significant correlations. Children who displayed more connection to nature exhibited less overall distress, less hyperactivity, fewer behavioural and peer difficulties, and improved pro-social behaviour.
Promoting the value of outdoor play
The questionnaire has attracted interest from other scholars, including Western Australia University which has already adapted it to test children there. "Everyone wants a validated measurement tool and that's what we have produced," she said. "The Australians have the same problem that we have here. The kindergartens' outdoor playgrounds are often made of concrete and people are losing their connection with nature. Parents are stressed and busy. It's not like the past when children used to run outside."
Hong Kong faces two additional obstacles in that parents often do not see value in free play or outdoor play – they prefer their children learn to study or learn a musical instrument – and they consider the outdoors to be dirty, she said.
Play&Grow is trying to change their attitudes and the evidence-based approach helped Dr Sobko secure HK$1.3 million from the Government's Environment and Conservation Fund in 2017 to set up nine centres around the city.
She is also continuing to offer the programme at HKU, which serves as the base for research. Recently, she and her team have studied the impact of connectedness with nature on feeding habits in young children and on their gut microbiome, and they will publish the results of both studies in the near future. She has also recruited a psychologist to study the impact of nature connectedness on children's mental health.
"My PhD was in gut pharmacology and my colleagues in Sweden used to say, why are you doing this tree-hugging thing, it's very far from science. But now they understand it better because they see the science behind it. It's important that our work is evidence-based so we can convince people of its value," she said.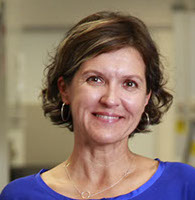 ​

It's important that our work is evidence-based so we can convince people of its value.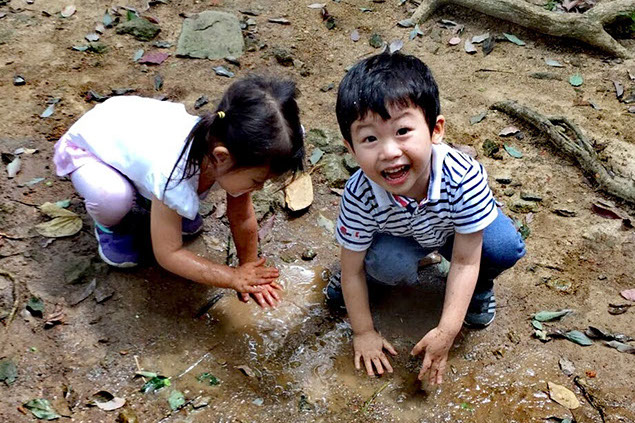 Dr Sobko and a group of children hugging a tree and listening to the 'sound of the tree'.
Children learn to appreciate different forms of nature via the Play&Grow programme.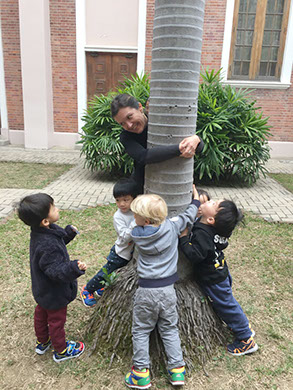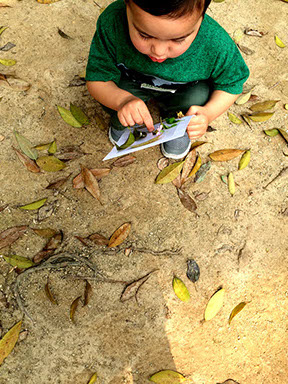 Next
Back
Children enjoying themselves in rain puddles. Play&Grow lets children and families embrace different weather conditions positively.