The Rewards of Dedication
More International Acclaim for HKU
The University's global reputation continues to grow, with recognition for HKU's frontier research endeavours coming in from around the world. Those recently acknowledged for their accomplishments include Professor Sun Kwok, Dean of Science; Professor Frederick Leung, Professor of the Faculty of Education; the Hong Kong Centre for Economic Research, led by Professor Richard Wong; and HKU's Liver Transplantation Team, led by Professor Lo Chung-mau.
President of the University of Minnesota Professor Eric W Kaler (left) presenting the Outstanding Achievement Award to Professor Sun Kwok (right).
Internationally acknowledged as an expert in the study of planetary nebulae, Professor Sun Kwok received the Outstanding Achievement Award from his alma mater, the University of Minnesota, on October 23, 2013. The Award recognises Professor Kwok's research contributions to astrochemistry and stellar evolution, science education, the popularisation of science, and his service to the development of astronomical research in Asia. Professor Kwok received the Award in person at the University of Minnesota, and delivered a lecture on 'Organic Nanoparticles in Space'.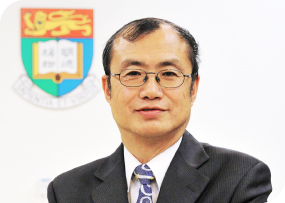 Professor Frederick Leung is the first Asian scholar to be awarded the Hans Freudenthal Medal since its inception in 2003.
The International Commission on Mathematical Instruction has awarded the Hans Freudenthal Medal for 2013 to Professor Frederick Leung. The Medal, regarded as the highest international accolade in mathematics education, has been given to Professor Leung for his long-standing contributions and groundbreaking research in the areas of comparative studies of mathematics education and the influence of the Eastern and Western cultures on the teaching and learning of mathematics.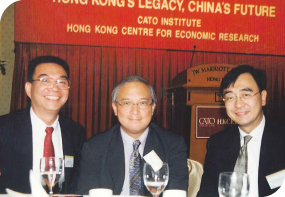 From left: Professor Justin Lin Yifu, Dr Raymond Ch'ien and Professor Richard Wong attending a joint event of Hong Kong Centre for Economic Research and Cato Institute.
The Hong Kong Centre for Economic Research headed by Professor Richard Wong has been ranked 35ᵗʰ in the Top Domestic Economic Policy Think Tank List, according to the Go-To Think Tank Index. Produced by the Think Tanks and Civil Societies Program at the University of Pennsylvania, the Index helps identify and recognise the leading centres of excellence in public policy research around the world. The Centre is one of the two Hong Kong think tanks that are ranked among the world's leading policy think tanks.
From left: Dr Kevin Ng Tak-pan, Professor Lo Chung-mau, Vice-Chancellor Professor Lap-Chee Tsui, Dr Man Kwan and Dr Nikki Lee Pui-yue at the Award Presentation Ceremony.
The Liver Transplantation Team of the Li Ka Shing Faculty of Medicine, led by Professor Lo Chung-mau, was presented with the 2013 Higher Education Outstanding Scientific Research Output Awards (Science and Technology) by the Ministry of Education in March. The Team is the first in the world to demonstrate the mechanism of small-for-size liver graft injuries, and the first to report Hepatitis B adoptive immunity transferred from the donor to the patient after liver transplantation. These initiatives have provided a solid foundation for the treatment and prevention of tumour recurrence in the future.■