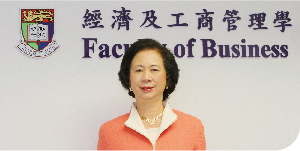 With this type of programme, you can't make up the excuse that there are not qualified people.
Professor Amy Lau

The Faculty of Business and Economics has teamed up with international executive search firm Harvey Nash to offer the Women's Directorship Programme, an executive education course that seeks to improve female membership on boards in response to calls for increased diversity.

From September this year, all listed companies on the Hong Kong Stock Exchange, the world's fifth largest, are required to have a policy on board diversity and targets and implementation plans. Although increased gender diversity is not the only goal, it is an area where companies can do much better.

Less than 10 per cent of Hong Kong directors are women. In China and Singapore the figure is about eight per cent. That compares with about 25 per cent in the UK where Harvey Nash has launched a '30% Club' to improve the ratio, and 20 to 25 per cent in the US.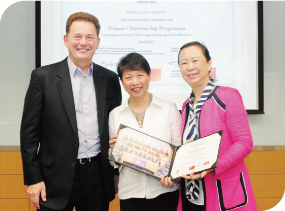 Each participant is awarded with a certificate upon completion of the Women's Directorship Programme
"Given the movement to increase board diversity, it is a good time for us to focus on this issue," Professor Amy Lau, Director of Executive Education and Chair Professor of Accounting, said. "Initially we are targeting the region but it's important to attract participants from around the world."

The programme is the first certificated course of its kind and it draws on the Faculty's expertise in executive education and Harvey Nash's connections in the business world.
High-flyers on the guest list
The first intake met in the spring over two three-day sessions and was linked by video and in person to 16 high-flying executives, such as MasterCard's Chairman Rick Haythornthwaite, General Electric's Vice Chairman John Rice, the China Chair of International Law Firm Freshfields Teresa Ko, and the Chairman of Lloyds Banking Group Sir Win Bischoff, as well as HKU academics.

They discussed such things as the advisory role of board members, stock exchange rules and regulations at the world's major exchanges, insider dealing, leadership, ethics and compliance, and other relevant issues. For example, Sir Roger Carr, a former Member of Cadbury's board, talked about how they handled a takeover bid.

"This programme is very different from other programmes, which focus on the technical aspects. We also have experience sharing and advice from the guest speakers," Professor Lau said.

This proved to be a draw card for the first intake, which included 15 women executives working in Hong Kong, Beijing, Singapore and Dubai.

Jennifer Chua, a banker who sat on the internal board of a subsidiary of her employer, was interested in learning how to become an independent non-executive director.

"The information was excellent and the speakers they lined up were very experienced, so in terms of exposure and knowledge, the programme has done what I expected. In addition, there was the network of women professionals in our class. I would not usually have met so many senior professionals from different industries and it was wonderful to interact with them," she said.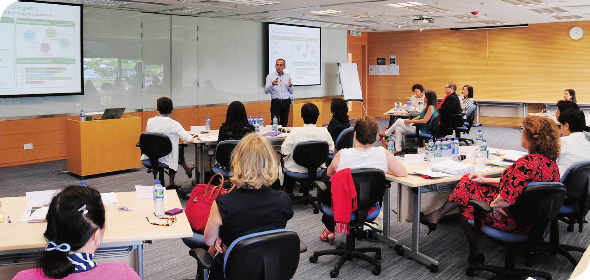 An experience sharing by guest speaker Mr Jean-Pascal Tricoire, President and CEO, Schneider Electric.
Networks and bottom lines
Christine Brendle, formerly Managing Director of Dow Jones and Publisher of The Wall Street Journal in Asia Pacific, said she was attracted by the opportunity to network and learn what business leaders were looking for in board members. "Where do you get to dialogue with such prominent chairmen who also have an interest in promoting women on boards?" she said.

"I also liked that there were only women in the class and certainly it helped with bonding. Having said that, the substance of the course itself would be of value to anyone wanting to polish their skills or simply check that being a director is something for them."

Professor Lau agreed the material was applicable to both genders, but focussing on women was still of value. Speakers were more interested in the focus on women, as similar gender-neutral courses in the US and UK typically attracted more than 80 per cent men. She also felt the women opened up more than might be expected if men were in the room.

Women on board also could bring value to the bottom line. Professor Lau said one study showed that boards benefited when they matched their diversity to their consumer base – a lesson that has not yet penetrated to Hong Kong listed companies. Hopefully they will start to see the light as the programme admits its second intake early next year. "With this type of programme, you can't make up the excuse that there are not qualified people," she said.■