Official Virtual Graduation Portraits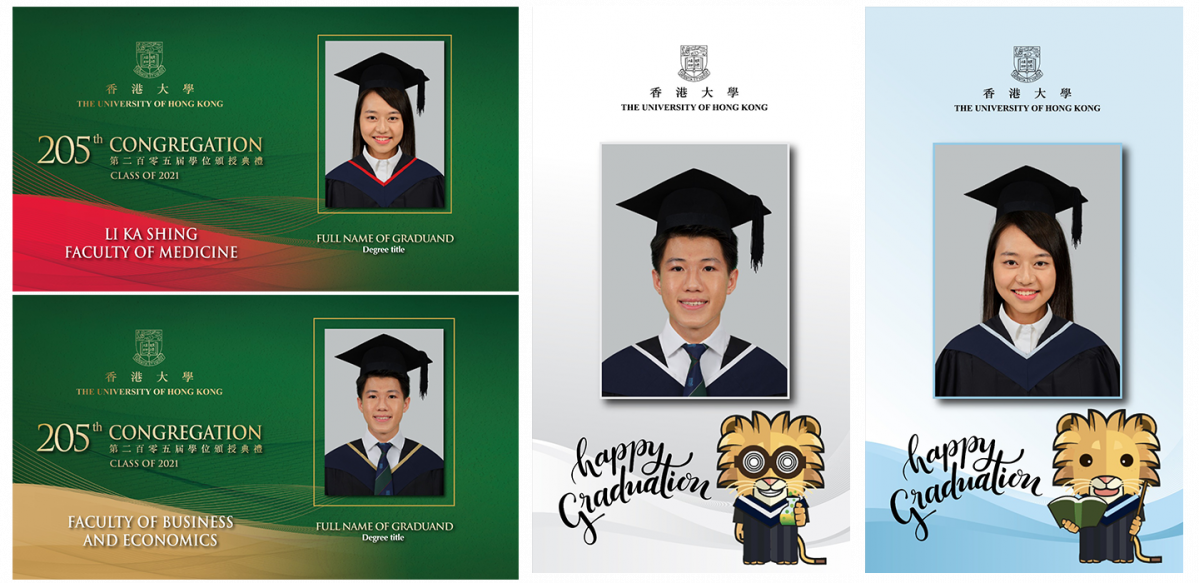 Official Virtual Graduation Portraits for the Class of 2021
Graduation is a unique moment in your life
Capture it in a portrait you will cherish for a lifetime
How to create your unique graduation portraits online:
Please check your HKU connect.hku.hk email account. An email will be sent to the account from the Virtual Graduation Portraits online system, under the sender name "HKU Official Virtual Graduation Portraits" (email address: virtualframes@hku.hk).
In the email, you will find a password for you to log in to the system.
Please check your spam or junk mail folder in case that you haven't found the email in your mailbox. If you still have problem receiving the email, please contact us at congmail@hku.hk to request for the password. Please provide your English full name, Faculty, and Degree in your email to us.
Login to the Virtual Graduation Portraits system https://virtualframes.hku.hk/
Username: your connect.hku.hk email address
Password: as provided in the email sent from the system to you
Follow the instructions and upload photos that meet the requirements stated. Please pay special attention to the DO'S and DONT'S before submitting your photos.
System closed for photo upload: Tuesday, December 28, 2021
System closed for photo download: Monday, January 31, 2022
Points to note:
This online system developed for the creation of Class of 2021 Official Virtual Graduation Portraits is a free service open to HKU Class of 2021 graduands only till December 28, 2021.
All photos submitted will be used by the University for the 205th Congregation and its related online/ printed publicity materials only. The University reserves the right to edit or remove any image submitted. All portraits and information kept by the system will be deleted by February, 2022.
Please select one photo for uploading to the official Congregation photo frame, while you may upload different photos to the graduation lion photo frames.

The quality of the portrait that appears on the virtual photo frames will depend on the quality and colour of the original photo you provide.
For enquiries, please contact us at congmail@hku.hk.