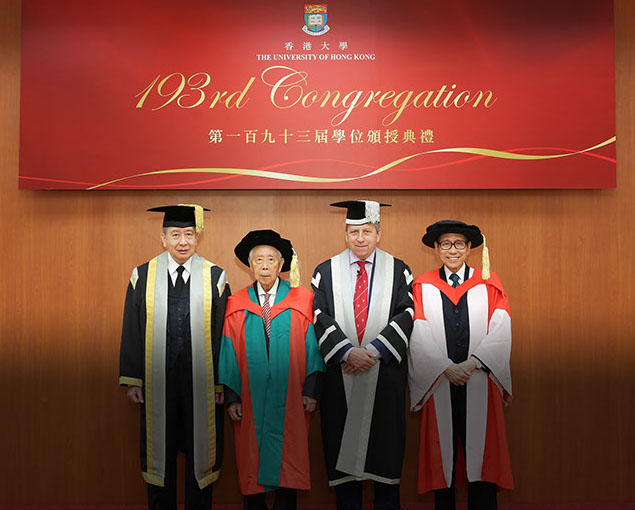 Dr the Honourable Henry Hu has devoted his life to the law, education and to giving back. In recognition of his contributions to so many aspects of society, HKU has conferred on him the degree of Doctor of Social Sciences honoris causa.
From left: Pro-Chancellor Dr the Honourable Sir David Li Kwok-po, Dr the Honourable Henry Hu Hung-lick, President and Vice-Chancellor Professor Peter Mathieson and Council Chairman Dr Leong Che-hung.

"Learn to see things from others' perspectives and put your own self-interest last." This is the philosophy of Dr the Honourable Henry Hu Hung-lick, the 95-year-old academic, lawyer, scholar and life-long philanthropist who was conferred with an Honorary Degree at HKU's 193rd Congregation. Also the Founder of Hong Kong Shue Yan University, Dr Hu pioneered the development in the city of private higher education at a time when there was an acute shortage of tertiary places available, particularly for those from lower income families.
His acceptance speech was delivered on his behalf by Professor Hu Yaosu, one of Dr Hu's two sons, both of whom continue to provide administrative and academic leadership at their parents' beloved Shue Yan University.
Dr Hu said: "I have great pleasure in accepting the award as it gives me the opportunity to reflect from the vantage point of my 95 years, on the changes I have observed in Hong Kong during the past six decades when it has been my home, at the intersection between those areas where I have been most actively involved: the law, politics and higher education; areas that have again been under the spotlight in Hong Kong since October, 2014."
Born in Zhejiang province in 1920, Dr Hu studied Law and Diplomacy, as well as Russian, so that he could begin a diplomatic career in Tashkent, in today's Uzbekistan. He and his new wife Dr Chung Chi-yung then went to France where he studied Law and International Affairs, before moving to England to study for the Bar. He was admitted to Middle Temple in 1954 and then relocated to Hong Kong where Dr Chung pursued an academic life and Dr Hu practised at the Bar – something he would continue to do until his mid-80s.
Social issues
He also devoted his time to public service, serving on both the Legislative and Urban Councils. At all times, Dr Hu and his wife were concerned about social issues and in 1971 they founded Shue Yan College, with the aim of providing a liberal arts education founded on Confucian values and placing particular emphasis on Chinese culture. They used their own money to fund the college, which in 1976 gained government recognition as a private tertiary institution. Accredited with university status since 2006, the Hong Kong Shue Yan University is still the HKSAR's only private university.
Sadly Dr Chung passed away last year, and in his speech Dr Hu recalled their time together, particularly the sometimes difficult early years of the college which he described as being 'steep, thorny and solitary'. He said: "With the dedication of staff, students and supporters, who recognised the value of a Shue Yan education, we were able to stick to our principles, adopt an independent stance that was at odds with government policy and survive until policy changed again and paved the way for us to move forward to achieving our goal of a University title."
He added that the University faces challenges ahead, particularly a predicted over-supply of places in self-financing institutions, resulting from a demographic downturn. "To survive and thrive in the decade to come, Shue Yan must yet again make hard choices and take decisions that are both principled and pragmatic about how we can best continue to serve the Hong Kong community by playing to our strengths in areas of need," he said.
Professor Hu finished the speech by sharing his nonagenarian father's philosophy for a long life – "remaining active, both intellectually and physically" – and quoting his favourite Confucian sayings on the matter: "This is the character of the man so intent upon enlightening the eager that he forgets his hunger, and so happy in doing so, that he forgets the bitterness of his lot and does not realise that old age is at hand."