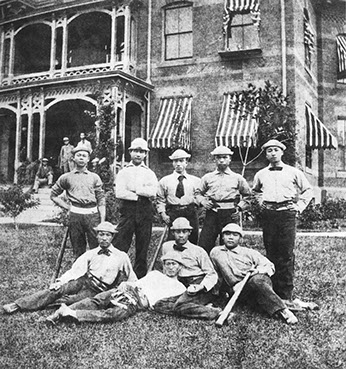 Chinese students' baseball team in Hartford, 1878.
(Courtesy of Thomas La Fargue Papers, Manuscripts, Archives, and Special Collections, Washington State University Libraries)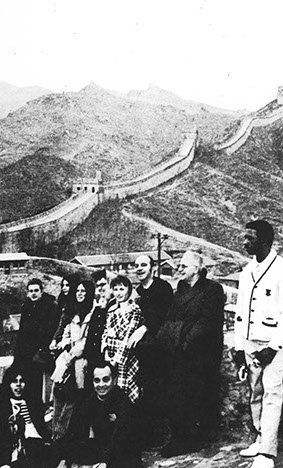 American table tennis delegation on the Great Wall, Beijing.
(Courtesy of Friendship flowers are everywhere:
Official photos of the Chinese table tennis delegation's participation in the 31st world table tennis championships)
Crossing the Pacific
From that background emerged Anson Burlingame, the top United States diplomat in China from 1861 to 1867 who quit to head China's first diplomatic mission to the West in 1868. He also initiated the Burlingame Treaty, which established friendly relations between the two countries. "This was very significant because he suggested Chinese and Americans should have the freedom to go to each other's countries to study and work," Professor Xu said.
That paved the way for his second case, of 120 boys who were sponsored by the Chinese Government to study in the United States from 1872 to 1881. Many went on to hold senior positions in China, including the first Prime Minister of the Republic of China (ROC), Tang Shaoyi, and they maintained an openness to Western ideas. Some were involved in recruiting American constitutional expert Frank Goodnow of Columbia University to China in 1912, to help draft the ROC's constitution and educate his hosts about American law.
The sharing of ideas also worked both ways. In 1879, Ge Kunhua was hired by Harvard University to be the first Chinese language teacher in the United States. He also sought to educate his students about Chinese culture. Although he died in 1882, he laid the groundwork for Chinese Studies in the United States and the Harvard Yenching Library.
The fifth case involved the American philosopher and educational reformer John Dewey, who arrived in 1919 just before the May Fourth Movement. He gave more than 200 lectures in the country, which were translated into Chinese and distributed widely, including by bookseller Mao Zedong.
The final case does not involve an individual but popular culture as represented by sport, through which important milestones were played out. 'Ping-pong' diplomacy broke the ice between China and the United States in the 1970s. China also sent its first Olympic team (consisting of one male sprinter) in 1932 to the Los Angeles Games, and in 1984 the People's Republic of China sent its first Olympic team to Games that were again held in Los Angeles. Both times the teams met a warm reception from their American hosts.