The Blue House in Wan Chai is a striking example of a disappearing era: a tenement building with 13-foot ceilings that echoes a period when everyone mucked in together, like the 1973 film House of 72 Tenants. The building's special status is recognised by its Grade 1 Historic Building designation and by the fact that for the first time, the Government has allowed occupants to remain in a building targeted for heritage preservation.

But, as a group of HKU students has shown, this noble goal is being undermined by the Government's own bureaucracy.

The students were involved in a Knowledge Exchange project to create a video of the life and culture of the Blue House – one of a number of Blue House projects initiated by HKU and spearheaded by Dr Mirana Szeto of the Department of Comparative Literature.

After much discussion about the ordinariness of life in the building and how to present it, the students decided to focus on the 'cockloft', an internal wooden balcony added in many of the building's rooms in the 1950s and 1960s to create additional space after Hong Kong experienced a huge swell in its population. Cocklofts were used as bedrooms and main living spaces for families, and later as storage space, office space or spare room.

But now, as the students found, the cocklofts must be removed because the Government says they were not part of the original building plans. Their video has thus become another way of 'preserving' this vernacular architecture and the life attached to it, and most importantly, to keep the issues behind its disappearance alive.

Serene Chan, who was team leader during her final year at HKU (she graduated with a BA in 2013), said they struggled at first to understand why they should preserve "that piece of wood".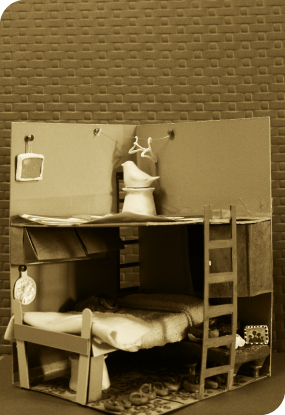 A model of a flat with a cockloft.
"It made me think about what preservation means. It's not about preserving the material of the cockloft, it is about presenting the residents' way of using the space according to their own wishes."

For Timothy Kau, who is doing a Masters in Urban Planning, it made him look beyond the professional aim of preserving diversity in the built environment. "Another key word is socialnetwork. I learned that the everyday life and interactions are very important. This has added another meaning of heritage preservation to my education."

The students' output includes a 40-minute video, photos, drawings and a physical model of the Blue House. The video was screened last year and will feature in the Hong Kong House of Stories, an initiative at the Blue House under Dr Szeto's group that will open to the public in 2016.■