The question was straightforward – at a time when research into blood cancers and diseases is constantly advancing, is there a way haematology experts can share the latest advances and developments swiftly and in a highly accessible and easily updateable format?

The answer was yes, using online technology, and the result was the Haematology Protocol Summit launched in 2012, the first unified protocol – in the form of iPhone application, online website, book and regular newsletter – produced with the aim of uniting the strength and knowledge of haematologists in Hong Kong, and of further advancing the clinical management of blood diseases.

Professor Kwong Yok-lam, Chui Fook-chuen Professor in Molecular Medicine and Chair Professor in the Department of Medicine, was the architect of the project, working with the Haematology Team, specialists from the Department. His first aim was simply to provide easily accessible information on the latest advances in the field to doctors working outside of teaching hospitals.

Two years on, the Protocol has been a big success and its reach has gone well beyond Hong Kong. It has become a common reference for blood disease management and acts as a platform for experts around the world to exchange information on the latest developments in the field.

"HKU's Haematology Department is at the forefront of research in Hong Kong and we have many papers published every year," he said. "We put these on our website and in our quarterly newsletter which is sent out to other collaborators around the world – in Europe, North America, Asia and from last year, Africa too – so they are aware of what we are doing here."

If experts in other specialities got their act together and shared knowledge online,
it has to be beneficial for all.
Professor Kwong Yok-lam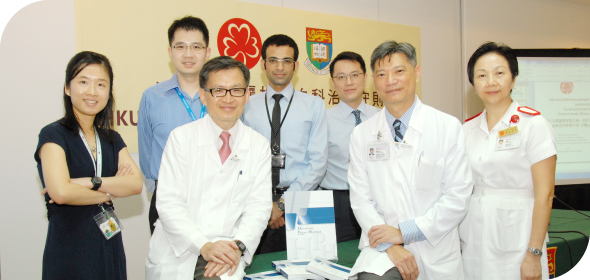 Professor Kwong Yok-lam (third from left), Professor James Chim Chor-sang (second from right), Dr Eric Tse Wai-choi (third from right) and the Haematology Team of the Department of Medicine and Queen Mary Hospital, established the Haematology Protocol.
Knowledge for all
The website has also become the go-to place for doctors overseas seeking information on the management of a certain type of lymphoma which derives from natural killer cells and which mainly effects people of Asian and South American origin. "Doctors overseas don't have much experience of it so we receive a lot of enquiries from them seeking guidance on treating this kind of lymphoma," said Professor Kwong. "I'd say we get an enquiry every one or two days."

One use of the website and application that was not foreseen was that patients suffering from blood diseases would also access it, and email questions to the Haematology Team. To make it even more accessible, the process of translating the various elements into both Cantonese and Putonghua is underway and the Chinese language website should be launched later this year.

"We want to make it easier for patients in Hong Kong and Mainland China to read the website. And also for Chinese patients living abroad. There is a lot of interest from expat Chinese, we get many enquiries and we find that when people get ill they often come back to Hong Kong for treatment. I think it's a comfort thing – when we are ill we naturally think of home."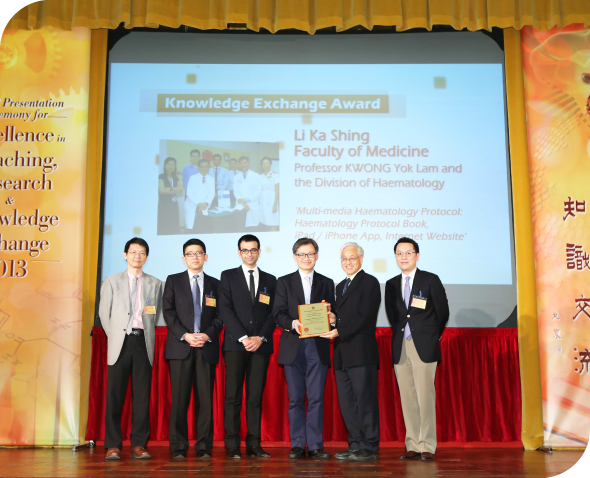 Professor Kwong Yok-lam and the Division of Haematology were awarded the Knowledge Exchange Award 2013 for the 'Multi-media Haematology Protocol: Haematology Protocol Book, iPad/iPhone App, Internet Website'.
Audio addition
The Team are also introducing an audio element this year. "Sometimes people want to hear a voice," said Professor Kwong. "Members of my team will create videos, in which they talk about blood cancers and diseases, which will be put up on the website. They will speak in Cantonese and we will provide English and Putonghua subtitles."

In addition, they are adding a 'chatbox' to the website so that people – whether they are doctors or patients – can send in questions and the Team will answer them on line.

The website is constantly updated. Recent updates include information on advances in the first-line treatment of metastatic colorectal cancer, the third most common cancer worldwide and third most common in Hong Kong, contributed to the site by Clinical Assistant Professor Dr Thomas Yau Chung-cheung, the latest drugs for the management of venous thrombo-embalism by Clinical Associate Professor Dr Eric Tse Wai-choi.

Such has been the success of the Protocol that Professor Kwong urges other disciplines to launch similar tools. "It surprises me that this kind of application and website is not happening all over. Nowadays there is so much research going on and so many breakthroughs being achieved. Even for me, it is difficult finding out what other medical departments within HKU are doing – there's no time! But if experts in other specialities get their act together and share knowledge online, it has to be beneficial for all."

That said, he acknowledges that his own team were sceptical about the idea at first. "Initially they were not very enthusiastic about the project. But as it progressed they have begun to see the benefits and now they are happy to contribute. I hope this enthusiasm will spread to other disciplines and to other teaching hospitals – it seems a good paradigm for other branches of medicine in Hong Kong and around the world too."

For details, please go to http://www.hpshk.com■