THE INAUGURAL UNIVERSITY LAUREATE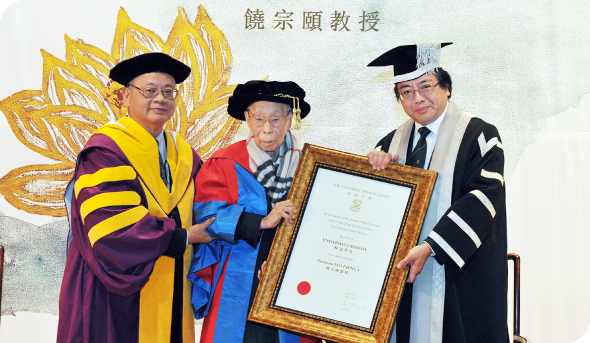 The title of University Laureate being conferred upon Professor Jao Tsung-I (centre) in recognition of his scholarly achievements.
HKU has appointed the world-renowned Sinologist Professor Jao Tsung-I the inaugural University Laureate. Vice-Chancellor Professor Lap-Chee Tsui presented the title to Professor Jao at the Inaugural University Laureate Presentation Ceremony, held on January 10, with the President of the China Institute of Culture Professor Xu Jialu as the officiating guest.

Established in 2013, the University Laureate is the highest academic honour that HKU can bestow on individuals who have made extraordinary scholarly contributions to the academic world, who have received international acclaim, and, who have been in association, or have committed to be associated, with the University.

Professor Jao's lifelong academic pursuits and his passion for art and culture have earned him a worldwide reputation. His research is broad and diverse, covering history, archaeology, literature, culture, education, religion and art. His pioneering research on Dunhuang materials has firmly established Dunhuang studies as a major discipline in modern Sinology. Teaching at HKU from 1952 to 1968, Professor Jao has been associated with HKU for more than sixty years. The Jao Tsung-I Petite Ecole was established in 2003 with a generous donation by Professor Jao of his collection of over 40,000 books and about 200 of his artworks.
From left: HKU Chair of Education Professor Cheng Kai-ming, Director of Jao Tsung-I Petite Ecole Professor Lee Chack-fan, Professor Jao Tsung-I, Vice-Chancellor Professor Lap-Chee Tsui and President of China Institute of Culture Professor Xu Jialu.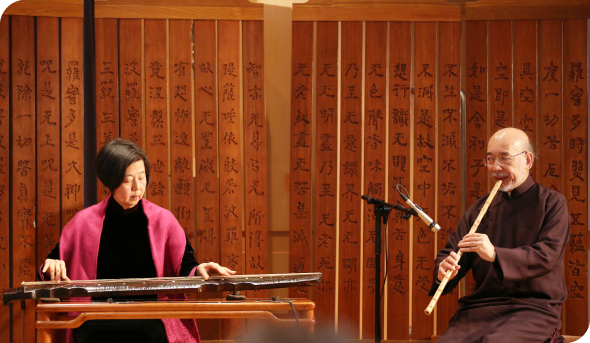 Three variations on the plum blossoms - Qin and Xiao Duet by Professor Lau Chor-wah (left) and Mr Sou Si-tai (right) on the occasion.