HONORARY DOCTORATES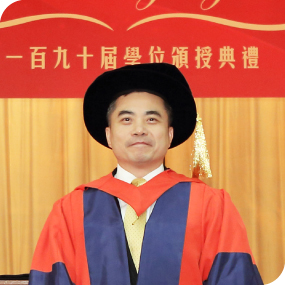 The Honourable Wong Yan-lung
Doctor of Laws honoris causa
The Honourable Wong Yan-lung has travelled far, from helping his father hawk ice creams and soft drinks when he was a boy, to becoming the youngest Secretary for Justice in the Hong Kong Government. It was a journey made possible by his remarkable talents.

Mr Wong was an outstanding student who earned a scholarship to study law at Magdalene College at the University of Cambridge, forfeiting his place at HKU to do so. He earned BA and MA degrees there and returned to Hong Kong in 1986 to pursue a career at the Bar. He gained a pupillage with Andrew Li who, some years later, would be Chief Justice when Mr Wong was Secretary for Justice.

While practising law, Mr Wong did not forget those less fortunate and he has been deeply committed to the Hong Kong Christian Concern for the Homeless Association. He and his wife even donated their wedding gifts to this charity.

In 2005 he was appointed Secretary for Justice, a post he held for seven demanding years that included significant constitutional challenges, a reform to the legal framework for mediation and international arbitration, and expanded reciprocal cooperation with the Mainland. He was awarded the Grand Bauhinia Medal in 2012.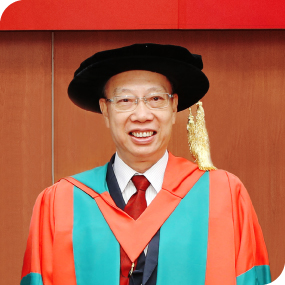 Professor Huang Jiefu
Doctor of Social Sciences honoris causa
One of the last wishes of the father of Professor Huang was to see his son become a doctor. The young boy more than amply fulfilled that promise, becoming not only a doctor but a significant figure in China's healthcare reform.

Professor Huang performed the first liver transplantation in China in 1994 and the first combined liver-kidney transplantation in Asia in 1997. In 2001 he was appointed Vice-Minister of Health and held that post until 2013, during which time he set his sights on modernising China's medical system.

Among his many achievements, he founded and still chairs the National Organ Donation and Transplantation to establish a national system of organ donation. He took the first steps towards introducing a system for accrediting doctors with specialist skills. He espoused greater central government support for private hospitals in China. And he was instrumental in founding the Hong Kong University-Shenzhen Hospital, which provides first-class medical services to anyone in need, irrespective of wealth or status.

His work has been underpinned by a vision: "My dream as a transplant surgeon is to establish an ethical, sustainable and healthy organ transplantation system consistent with internationally accepted ethical standards to meet the needs of the Chinese people."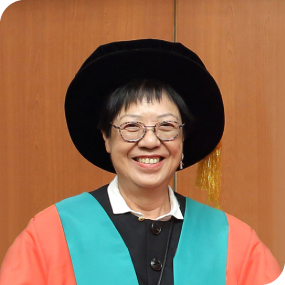 Dr Ann Hui On-wah
Doctor of Social Sciences honoris causa
One of Hong Kong best-known film directors, Dr Ann Hui On-wah is a graduate of HKU and the London Film School. In a career spanning more than 40 years she has made 24 full-length films, as well as countless TV dramas, documentaries and comedies, won numerous awards and is renowned as one of Hong Kong's most influential film-makers.

Her first movie, a thriller called The Secret, attracted a lot of attention and that fascination has continued through movies as varied as Boat People (1982) filmed on Hainan island and dealing with the Vietnamese refugee problem, Love in a Fallen City (1984), Summer Snow (1995), Ordinary Heroes (1999) and July Rhapsody (2002). Her 2011 movie A Simple Life called for respect for long-forgotten values and, put Dr Hui right back in the spotlight, garnering many awards including her fourth for Best Director at the Hong Kong Film Awards.

Dr Hui has made an impact through the social relevance of her movies, the variety of genres in which she has worked, her courage and sensitivity when tackling controversial themes, and the excellence of her directing.

In 2008 she was awarded the Grand Prize at the Fukuoka Film Festival for her outstanding contribution to Asian culture. Her work has played a significant role in presenting Hong Kong's identity to the outside world.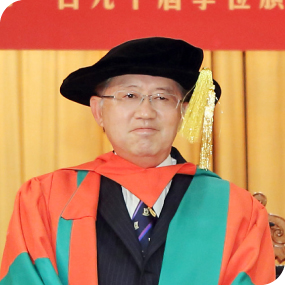 Dr Walton Li Wai-tat
Doctor of Social Sciences honoris causa
Dr Walton Li Wai-tat was presented for the degree of Doctor of Social Sciences honoris causa in recognition of his contributions to medicine and society.

Dr Li comes from a remarkable medical family with strong connections to the University stretching back nearly a century. He has received much recognition for his work in the advancement of ophthalmology as well as establishing the Department of Ophthalmology at the Hong Kong Sanatorium and Hospital in 1980, after returning from his studies in the United States.

Since 2005, he has been Chairman of the Board of Directors of the Hong Kong Sanatorium and Hospital where his uncle, Dr Li Shu-fan, and then his father, Dr Li Shu-pui, were in charge for more than 80 years.

A great believer in devoting time, effort and money to the education of doctors and nurses, Dr Li is Chairman of the Li Shu Fan Medical Foundation, which was established in 1963 by his uncle, who was the first Minister of Health in Dr Sun Yat-sen's government.

The Foundation has made various donations to the University and over the past nine years, established seven Endowed Professorships at HKU, one of the most notable being the Li Shu-Pui Professorship in Surgery, to commemorate Dr Li's father.
Zen Master Thich Nhat Hanh
Doctor of Social Sciences honoris causa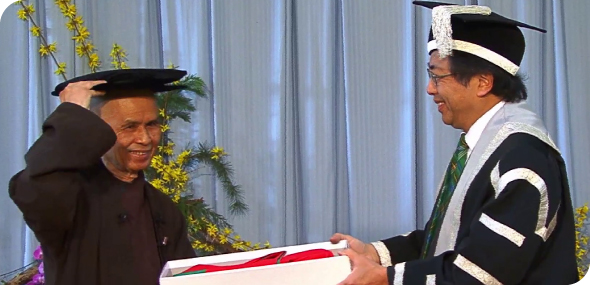 Zen Master Thich Nhat Hanh putting on the cap when Professor Lap-Chee Tsui presented a set of academic gown to him in the Plum Village, the Buddhist retreat he founded in southern France.
Zen Master Thich Nhat Hanh was presented for the degree of Doctor of Social Sciences honoris causa in recognition of his contributions to world peace and humanity.

Thich Nhat Hanh, the world-renowned spiritual leader, prolific writer and global peace activist, was born in Vietnam in 1926, became a Buddhist monk at 16 and was fully ordained seven years later.

During the Vietnam War, he was a champion for peace and a key organiser and provider of social services for the needy, prompting American civil rights leader Martin Luther King Jr to nominate him for the Nobel Peace Prize in 1967, but also resulting in 29 years of exile after the war in 1973.

Since then he has published more than 100 works on meditation, mindfulness and peace, as well as poems and children's stories, which have become best sellers in Europe and America. In 1982 he founded the Buddhist retreat in southern France known as Plum Village where the Vice-Chancellor was given the warmest of welcomes during his brief visit in March to bestow the honour.

Thich Nhat Hanh's devotion to the work of inner transformation for the benefit of individuals and society through meditation has resulted in him being invited to address the United States Congress, the House of Lords in the United Kingdom and the Irish Parliament. Listed by TIME magazine as one of the 'Heroes of Asia', he has also been a frequent visitor to this University where he has given several very popular lectures hosted by the Centre for Buddhist Studies.■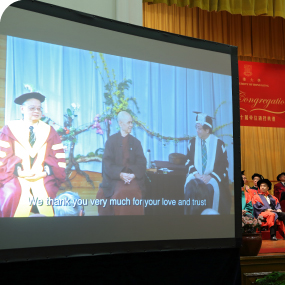 Thich Nhat Hanh, in absentia, presented a video message at the 190ᵗʰ Congregation.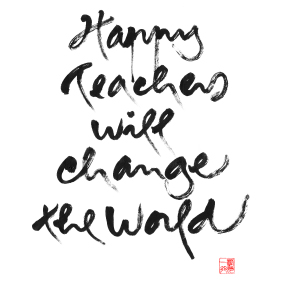 A gift given by Thich Nhat Hanh to the University.