We all know exercise is good for us. But it is even better for the more than 50,000 people in Hong Kong who suffer from psychosis. That's the finding of recent studies by the Department of Psychiatry, which is also acting to apply its results to as many patients as possible.

The studies are part of a larger, ongoing project on early intervention in psychosis that actively treats patients in the first three years of their illness, when they are more susceptible to change.

While delusions and hallucinations can be controlled by medication, dysfunctions such as memory and attention impairment, low motivation and social isolation are not as easily medicated. The latter can have a bigger impact on patient outcome, so finding ways to improve functioning is a priority.

"Psychosis patients can be very isolated, doing nothing, staying at home. You hear of occasional incidents of suicide or violence, but they are only the tip of the iceberg. The more serious thing is people wasting away their lives. A lot of our patients are suffering silently, and we are looking at how to break that," said the study's principal investigator, Professor Eric Chen Yu-hai.

Exercise is one promising lead towards that goal. Surprisingly, it was only three years ago that the link between exercise and psychosis started to be investigated, after a German study found aerobic exercise had a positive impact on a small group of chronic male psychosis patients.

Researchers at HKU saw potential for this to be applied to their early intervention work, so they set up a larger-scale study with female patients and introduced yoga as an additional variable.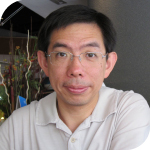 Yoga and aerobic exercise not only helped to improve cognitive function but they reversed some
of the changes in patients' brains, and they did it in a very short time.
Professor Eric Chen Yu-hai

Evidence in brain scans
Working with colleagues in the Institute of Human Performance and the Departments of Diagnostic Radiology, Anatomy and Social Work and Social Administration, they tracked three groups over 12 weeks – one doing yoga, the other aerobic exercise and the third treated only with medication. Brain scans were taken before and after and patients were also assessed on their functioning. The results were hugely encouraging.

Both the yoga and aerobic groups experienced significant improvements in both their long- term memory and working memory, and the yoga group also saw improvements in attention and visual-motor coordination. Moreover, the related areas of the brain increased in size.

"With psychosis there is a widespread decrease in the volume of people's brains, but in those areas related to these cognitive functions, it seems that exercise helps some of the lost volume to be regained. Not all, but some. There was also a correlation in that people who improved in their cognition and symptoms also tended to have more pronounced structural changes.

"So yoga and aerobic exercise not only helped to improve cognitive function but they reversed some of the changes in patients' brains, and they did it in a very short time."

The findings were so striking that Professor Chen and his team decided to act immediately on initial results, before the study was written up. But they did have a problem to overcome.

"The study worked well in a controlled, university setting, but how do you translate this into real life? It is difficult enough for healthy people, but psychosis patients also have problems with motivation and organising their lives," he said.
Findings put into action
The solution was to give them an exercise plan and pair them with volunteer coaches, who would stay in weekly contact and encourage them to keep at it. This would not only help patients to exercise, but also reduce the stigma attached to psychosis as more volunteers came into contact with patients.

The FitMind Movement programme was launched early last year with the Early Psychosis Fund, focussing initially on aerobic exercise. More than 160 coaches have been trained and more than 190 patients enrolled. Early this year FitMind Yoga was also launched along the same principles, providing 23 postures, a video and a volunteer coach.

FitMind aims to recruit 400 patients by August and to also recruit more volunteers. HKU students have volunteered, as have yoga teachers and health professionals. Events, such as a Yoga Mega event, have been staged to drum up support.

Ultimately, Professor Chen said they wanted to benefit as many patients as possible. "This is the first study to look at both yoga and aerobic exercise in early intervention. Normal people can benefit from these activities, too, but we've shown patients with mental illnesses can also benefit."

Volunteers are welcome to enrol through online application at http://bit.ly/coach-reg or enquire at 6908-3570.■

Founded in 2007, the Early Psychosis Foundation promotes the importance of exercise to psychosis patients via various campaigns. Above is the 'FitMind is Attitude' leaflet with the instruction of 23 yoga postures.