Main content start

名譽大學院士
楊紫芝教授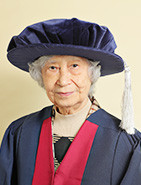 2019 Honorary University Fellow
楊紫芝教授
楊紫芝教授是世界知名醫學教育家,並且是全球內分泌學的研究先驅兼權威人物,亦是香港大學榮休教授和名譽臨床教授。
楊教授是香港大學內外全科醫學士及醫學博士。她於1954年加入港大內科學系,1974年獲晉升為醫學教授。她於1983年獲任命為醫學院院長,是第一位擔任該職位的女性。1985至1993年間,她先後擔任港大副校長及高級副校長。
作為世界領先的內分泌學專家之一,楊教授在國際同行評審科學期刊發表的論文逾100篇,涵蓋內分泌學、糖尿病和碳水化合物代謝等領域。她在糖尿病、肝病的碳水化合物代謝、甲狀腺毒症和甲狀腺毒性陣發性麻痺症的研究上貢獻至巨。
楊教授曾在多個委員會中擔任主席,包括香港醫務委員會、基層健康服務工作小組及教育統籌委員會,亦是醫療研究教育及培訓工作小組、香港內科醫學院院務委員會及醫院管理局的成員。
香港大學於1995年頒授名譽博士學位予楊教授。她亦獲香港公開大學、香港城市大學及香港樹仁大學授予名譽學位,並且是香港內科醫學院、香港家庭醫學學院及香港醫學專科學院的榮譽院士。國際方面,她是英國倫敦皇家內科醫學院院士、愛丁堡皇家內科醫學院院士、英國格拉斯哥皇家醫學院院士、澳洲皇家內科醫學院院士,以及愛丁堡皇家內科醫學院的海外顧問和澳洲皇家內科醫學院委員會委員。
楊教授於1971年獲委任為太平紳士,1987年獲授大英帝國勳章,1996年獲得大英帝國司令勳章,2002年獲授金紫荊星章,並於去年獲頒大紫荊勳章。
Citation delivered by Professor Richard WONG, Provost and Deputy Vice-Chancellor
Mr Pro-Chancellor, in the world of education we often hear about lifelong learning, and indeed, this University is a great advocate of it. Today, however, we will learn about lifelong dedication, service and compassion – through the life of Professor Rosie Young Tse Tse.
Professor Young is a world-renowned medical educationist and researcher, and one of the foremost authorities on endocrinology globally. She is an Emeritus Professor and an Honorary Clinical Professor at the University of Hong Kong.
Many here know of how Professor Young's decision to study medicine at the University of Hong Kong was based on her perception that she would be disadvantaged if she chose a discipline requiring either a strong language base or laboratory skills. As it turns out, the loss to the Arts and Sciences would be Medicine's gain. She was conferred an MBBS in 1953 and an MD in 1959.
It is also widely known that Professor Alec MacFadzean, the founding Chair of HKU's Department of Medicine, had great faith in Professor Young's abilities and was a stalwart mentor of her professional development as a researcher. He cared so deeply about his patients that he would sometimes pay for their treatment when they couldn't afford it themselves – this left a deep impression on Professor Young. These are qualities that she never forgot, and indeed, they have shaped the way she herself has lived and worked.
Mr Pro-Chancellor, Professor Young also has a habit of being first! She wants to be first, but not in an aggressive or superior manner. In many cases, she was just ahead of the curve, or started before everyone else.
Professor Young joined the University's Department of Medicine in 1954, and was appointed Professor of Medicine in 1974. In 1983, we witnessed one of her 'firsts' – she became Dean of the Faculty of Medicine, the first woman to hold the position. She also served the University from 1985-1993 as Pro-Vice-Chancellor and Senior Pro-Vice-Chancellor.
She ploughed new ground as a researcher and became one of the world's leading authorities in endocrinology, Professor Young has published over 100 papers in international peer review scientific journals, on endocrinology, diabetes, and carbohydrate metabolism. She has made immense contributions to research in diabetes mellitus, carbohydrate metabolism in liver disease, thyrotoxicosis and thyrotoxic periodic paralysis.
Another first was in 1959 when Professor Young became the first Hong Kong medic to qualify for Membership of the Royal College of Physicians in London and Edinburgh in 1959. She subsequently contributed to the profession and by 1995, she had served as Chairman of, inter alia, the Medical Council of Hong Kong, the Working Party in Primary Health Care in Hong Kong, the Hospital Governing Committee of Princess Margaret Hospital, and the Education Commission.
It was in that same year, 1995, that the University of Hong Kong conferred upon her an honorary degree, to recognise and celebrate her already considerable achievements.
What we perhaps didn't realise was that Professor Young was just getting started! Early in her career, she may have seemed to be a star sprinter. She turned out to be a champion long-distance runner.
Teaching and research continued to be her priorities. Indeed, many of Professor Young's students have gone on to become not just medical practitioners or academics, but also leaders in other fields as well. These include the Honorable Dr York Y N Chow, Former Secretary for Food and Health; the Honourable Dr Ko Wing Man, the former Secretary for Food and Health of the HKSAR government; Professor John Leong, Chairman of the Hospital Authority, and many others in Hong Kong and around the world.
Her students remember her as relentlessly dedicated to her work. She spent long hours in the hospital each day, almost every day of the week, looking after patients and performing laboratory work long after everyone had gone home.
In another first, some eighty of Professor Young's former students, patients and friends came together in 2005 to establish an HKU Endowed Professorship in her name – the Rosie T T Young Professorship in Endocrinology and Metabolism – a moving and powerful testament to their deep respect and affection for her.
Her commitment to her students and her discipline has been matched by her loyalty to her alma mater, which has also been lifelong and exemplary. She was the first at HKU to be presented with the forty years' Long Service Award, having started her career at a young age for academics. After four decades of dedicated service at HKU that included teaching, research and administrative leadership, Professor Young retired in 1999. Yet her involvement with the University continued. She was appointed Emeritus Professor in 2000, and is currently a member of the University's Council. She is also the Chairman of the HKU Foundation, and diligently meets with alumni in Hong Kong and overseas – travelling to visit alumni groups in the UK, Canada, Australia and New Zealand.
She has continued with her public service, too, and has served as a member of the Chevening Scholarship Board of Admission of the British Council, and of the Health, Welfare and Food Bureau's Research Council for Health and Health Services Research Fund, its Research Fund for the Control of Infectious Diseases, and its Medical Assessment Board.
She has been a member of the HKSAR appointed SARS Expert Committee, and the HKSAR appointed Monitoring Committee on Implementation of the SARS Expert Committee Report's Recommendations.
Professor Young's achievements and contributions have been widely recognised in the Hong Kong and international communities. She has been conferred honorary degrees by the Open University of Hong Kong, the City University of Hong Kong and Hong Kong Shue Yan University, and is an Honorary Fellow of the Hong Kong College of Physicians, the Hong Kong College of Family Physicians and the Hong Kong Academy of Medicine. Internationally, she is a Fellow of the Royal Colleges of Physicians of London and of Edinburgh, the Royal College of Physicians and Surgeons of Glasgow and the Royal Australasian College of Physicians. Professor Young has been an overseas advisor to the Royal College of Physicians of Edinburgh and a Council Member of the Royal Australasian College of Physicians.
Professor Young was also appointed a Justice of the Peace in 1971, and awarded an OBE in 1987, a CBE in 1996, a GBS in 2002 and GBM in 2018.
Mr Pro-Chancellor, in recognition of her exemplary contributions to medicine, her lifetime of loyalty to the University, and her boundless compassion and humanity, it gives me great pleasure to present our distinguished colleague and loyal alumna Professor Rosie Young for the Honorary University Fellowship.
Back