內容開始

名譽大學院士
何超蕸女士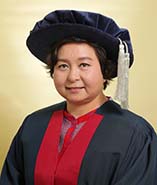 何超蕸女士為信德集團有限公司執行董事。信德集團是香港上市的綜合企業,經營房地產發展、交通運輸、酒店及消閒和投資等業務。
何女士畢業於美國加州佩珀代因大學,獲授文學士學位,主修電訊學及心理學。
何女士深信年輕人是社會未來的棟樑,因此致力發展青年事務,透過與學院、非牟利組織及非政府機構的合作,籌劃各種有利青少年成長發展的活動,包括交流、社區服務及學長計劃等。何女士自2010年起擔任香港未來之星同學會的榮譽主席,積極促進中港青少年交流,協助年輕人拓闊眼界,建立正面的人生態度。
何女士延續了家族熱心慈善的傳統,多年來大力支持港大在不同方面的發展。2017年,「信德集團何鴻燊博士基金會」慷慨支持李嘉誠醫學院舉辦「全球醫療衛生領袖香港峰會」,成為醫學院130周年慶典的重點學術活動,饒富意義。
何女士現時亦為香港中文大學新亞書院校董,以及香港演藝學院校董會成員。
何女士曾擔任東華三院董事局總理及董事局主席,竭力貢獻社會,幫助香港弱勢社群。何女士同時熱心投入社會服務,現時是平等機會委員會委員,以及公民教育委員會委員。
何女士於2016年獲授銅紫荊星章。
Citation delivered by Professor Andy HOR, Vice-President and Pro-Vice-Chancellor
Mr Pro-Chancellor, distinguished guests – may I begin with this quote:
"It doesn't matter who we are – whether we're rich or poor, educated or not. We all deserve to be loved, respected and cared for."
This is how Ms Maisy Ho Chiu-ha describes her core passion in life.
Ms Ho is the Executive Director of Shun Tak Holdings Limited, a Hong Kong-based conglomerate with core businesses in property, transportation, hospitality and investments.
Most of us can pinpoint certain people who significantly affected our lives. Often, we met them in childhood; sometimes later in life. But reminders of their words and deeds come back to us throughout our lives, shaping what we do and how we view the world.
For Ms Ho, there were three people – three women in fact – who were the foundation of her life.
First was her maternal grandmother, who lived a life of kindness, compassion and self-sacrifice.
Second was her mother, who planted in her a deep respect for the value of discipline and hard work.
And third was her kindergarten class mistress, who was patient, caring and nurturing; and who demonstrated the crucial qualities of a great teacher.
To remember her kindergarten experience so clearly, demonstrates not only Ms Ho's remarkable memory, but also the depth of influence a teacher can have on a young child's mind and the importance education has played throughout her life.
While Ms Ho holds a Bachelor of Arts in Telecommunications and a Bachelor of Arts in Psychology from Pepperdine University, USA, it should be noted that some twenty years ago, she also took a short certificate course at HKU.
She recalls fondly not only the academic experience but also the strong sense of fellowship that campus life at HKU is known for.
Perhaps this is not that unexpected, as Ms Ho describes her father – our loyal and legendary alumnus, Dr Stanley Ho – as "the first person I met from HKU!"
Ms Ho continues her family's distinguished philanthropic tradition by supporting the University's endeavours through the Shun Tak Holdings - Dr Stanley Ho Hung Sun Foundation. And just last year the Foundation sponsored the "Hong Kong Summit of Global Health Leaders", the signature academic event of the Faculty of Medicine's 130th anniversary celebrations.
The work Ms Ho undertakes for the community confirms and underscores the lessons of her childhood and on the importance she places on helping improve the lives of others.
She is extremely active in the community, serving on various boards and committees, including as a Member of the Board of Trustees at New Asia College of the Chinese University of Hong Kong, and as a Council Member of the Hong Kong Academy for Performing Arts. She also currently serves as a Member of the Equal Opportunities Commission, and on the Committee on the Promotion of Civic Education.
As Honorary Chairman of the Hong Kong Future Star Federation of Students since 2010, she promotes youth exchange activities between Mainland China and Hong Kong, to broaden teenagers' horizons and help them build a positive attitude towards life. And she also advocates for youth development through collaborations with other academic institutions, non-profit organisations and NGOs.
Ms Ho has been both a Member and Chairman of the Board of the Tung Wah Group of Hospitals, during which she spearheaded many initiatives to contribute to the social good and to help the disadvantaged in Hong Kong.
These included the setting up of the "Tung Wah Group of Hospitals' Student All-rounded Development Fund"; the organization of the first study tour to the US and China for secondary school students, and the appointment of the students as Tung Wah Group of Hospitals Student Ambassadors"; and the establishment of the Tung Wah Group of Hospitals Lucina Laam Ho Kindergarten to offer quality kindergarten education to children in public housing estates.
In 2016, Ms Ho was recognised for her services to Hong Kong when she was awarded a Bronze Bauhinia Star by the Hong Kong SAR Government.
The idea that being kind and giving to others makes our lives more meaningful has been around for as long as people have been sharing stories.
We all find meaningfulness in our own way, and for Ms Ho that has meant being truly committed to making a difference in the lives of others, and in her own words: "to add a bit more warmth and caring to the community, and to make the world a bit better of a place to live."
It gives me great pleasure, Mr Pro-Chancellor, to present Ms Maisy Ho Chiu-ha for the Honorary University Fellowship, in recognition of her longstanding contributions and excellent service to Hong Kong and to academia.
返回