內容開始

名譽大學院士
梁高美懿女士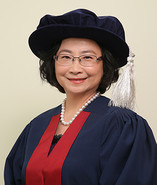 梁高美懿女士現為創興銀行行政總裁。她獲香港大學社會科學學士學位,畢業後投身銀行業,成就卓越,曾任香港上海匯豐銀行董事及恒生銀行行政總裁。
梁女士積極提倡社會多元性及鼓勵女性投入社會,以身作則,多次參與本地及海外之社會共融活動並擔任講者。
梁女士熱心支持港大事務,現為港大司庫、校務委員會成員以及香港大學深圳醫院專責小組主席;並曾任港大新建中的醫院督導委員會主席及「師友計劃」導師。
梁女士亦對香港科技大學、香港中文大學、香港理工大學、香港浸會大學和恒生管理學院等教育機構建樹良多,擔任多個顧問委員會委員及其他職務,對推動教育不遺餘力。
梁女士同時出任多項公職,現為香港交易所獨立非執行董事及香港賽馬會董事,曾任醫院管理局大會成員、證券及期貨事務監察委員會諮詢委員會委員、銀行業覆核審裁處成員及香港公益金董事兼執行委員會主席。
梁女士於2009年獲委任為太平紳士, 2012年獲香港特區政府頒授銀紫荊星章。
Citation delivered by Professor Terry AU, Vice-President and Pro-Vice-Chancellor
Mrs Margaret Leung is a respected leader in the banking sector and currently the Chief Executive, Deputy Chairman and Managing Director of Chong Hing Bank.
She graduated from HKU with a Bachelor of Social Sciences degree, majoring in Economics, Accounting and Business Administration.
Over the course of her long and distinguished career in banking, she has served as the Vice-Chairman and Chief Executive of Hang Seng Bank Limited, Group General Manager of HSBC Holdings plc, Global Co-Head of Commercial Banking at the HSBC Group, and Director of Wells Fargo HSBC Trade Bank N.A.
Mrs Leung is also currently the Vice-Chairman, Executive Director and Chief Executive of Yuexiu Financial Holdings Limited, and an Independent Non-Executive Director on numerous boards, including the HKEX Group, First Pacific Company Limited, Li & Fung Limited, QBE Insurance Group Limited and Sun Hung Kai Properties Limited.
Mrs Leung is a Steward of the Hong Kong Jockey Club, and has served as a Board member of the Hospital Authority, a member of the Advisory Committee of the Securities and Futures Commission, a member of the Banking Review Tribunal, and a Board member and Chairman of the Executive Committee of the Community Chest.
She was appointed a Justice of the Peace in 2009 and awarded a Silver Bauhinia Star in 2012.
Mr Pro-Chancellor, this is a stellar curriculum vitae that few could match and even the best of Mrs Leung's peers must respect -- if not envy!
But while Mrs Leung's career and the long list of distinguished titles she holds is nothing short of exemplary – there is certainly another side to Mrs Leung that I would like to share with you.
Early on in her career, Mrs Leung had a chance to relocate from Hong Kong to Melbourne, Australia, with HSBC, as a credit controller.
About this, she has said: "I was told it would not be right for a woman to leave her family in Hong Kong … Throughout my career, my good friends and competitors have told me to take an easier path."
However,she also added: "But I don't give up easily. Nor do I accept stereotypes."
It should be no surprise then, that she went to Melbourne!
Throughout her career, Mrs Leung has had to face and overcome similar gender expectations, while always pushing herself to embrace change and try new things.
Today, we can see that she has blazed a trail for herself in the highly competitive world of banking. Her ambition, self-respect and determination to broaden her horizons should serve as an inspiration to us all. Mrs Leung is a strong promoter of diversity and women in business, and in addition to acting as a role model, she takes part in local and overseas diversity events as speaker as well as participant.
Here at HKU, we are very fortunate that Mrs Leung is an active supporter of her alma mater. She is a Court and Council Member, the University's Treasurer, and has helped encourage and guide our students as a Mentor. In 2013, she chaired the Steering Committee on the Gleneagles Hong Kong Hospital Project. She now chairs a Review Panel on HKU's participation in the HKU-Shenzhen Hospital.
Mrs Leung also contributes to education through other institutions, including the Business School Advisory Council of the Hong Kong University of Science and Technology, the Chinese University of Hong Kong (until 2015), the Hong Kong Polytechnic University's International Board, Hong Kong Baptist University, and the Hang Seng Management College.
It gives me great pleasure, Mr Pro-Chancellor, to present Mrs Margaret Leung Ko May Yee for the Honorary University Fellowship, in recognition of her contributions to Hong Kong and academia.
返回