內容開始

名譽大學院士
譚榮芬先生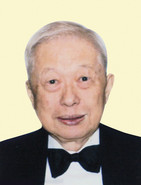 譚榮芬先生是香港傑出建築師及慈善家。
譚先生是香港大學建築學學士,於1950年入讀香港大學,是首屆建築學課程的學生;當年的建築系隸屬於工程學院。
譚先生熱心工作,積極經營,在建築界建樹良多,其公司在行內享負盛名。他於1974年成為香港建築師學會會員。
譚先生不僅在工作上成就卓越,亦為社會作出了重大貢獻。他曾出任東華三院董事局成員,任內主張為社群提供適切的福利服務,例如為弱勢社群提供免費醫藥、教育、安排殯葬禮儀,救助天災受害者等。他亦曾擔任保良局遴選會員、香港賽馬會名譽遴選會員,以及聖公會聖匠小學校董會成員。
譚榮芬伉儷大力支持香港大學的教研工作,於2017年宣布支持在工程學院成立「譚榮芬創科翼」,預計於2020年落成啟用。這項嶄新的設施有助開拓學生的想像力和實踐其所想,為學生提供適切的環境及技術資源,讓他們可以具備創新、跨學科的知識,掌握實際技術,為未來的問題謀求解決方案。此外,他們致力推動醫學研究,慷慨支持醫學院内科學系有關腎臟和神經系統疾病的研究工作。
他們亦透過捐助,支持香港理工大學康復治療診所(職業治療)的教研與發展,造福人羣。
譚榮芬伉儷關愛社會,在2019年初支持香港耀能協會成立「譚榮芬兒童發展中心」,為協會首間在新界區營運的兒童發展中心,致力為社區提供兒童及家庭支援服務。
Citation delivered by Professor Christopher CHAO, Dean of Engineering
Mr Tam Wing Fan is a distinguished philanthropist. As we celebrate his lifetime of contributions today, we shall learn that at the heart of great success lies vision and foresight.
Most of us know that Engineering was one of the founding faculties of The University of Hong Kong. Indeed, in the early twentieth century, the variety of disciplines covered by the Arts, Engineering, and Medicine were regarded as essential for nurturing young talent to serve society and build the city.
For engineers, this meant literally building the city: During the late 1940s and the 1950s, Hong Kong went through a period of great change, including rapid industrialization and a surge in population. This resulted in high demand for residential and industrial buildings.
Our Faculty of Engineering recognized the need for the education of professional architects to develop the necessary infrastructure, technology, and actual buildings. Thus, the Department of Architecture was established in the Faculty in 1950 under the Deanship of Professor R Gordon Brown.
Mr Tam foresaw the prospects of the architectural programme and joined the first cohort of students.
After graduation, Mr Tam's vision, dedication, and enthusiasm continued to help him flourish in his architectural profession and business investments. He set up his own firm, Edmund Wing-Fan Tam Architects. He became a member of the Hong Kong Institute of Architects in 1974, immediately after its formal establishment as an institute in 1972.
In addition to his professional vision, Mr Tam had the foresight to see the contributions he could make through community services. He served on the Board of Directors of the Tung Wah Group of Hospitals, where he demonstrated not only his visionary trait but also his sense of empathy for the less fortunate in society. He advocated for the provision of much needed welfare services for the community, such as free medication, education, and dignified burial for the underprivileged, as well as relief for victims of natural disasters.
He also served as a voting member of Po Leung Kuk, an honorary voting member of the Hong Kong Jockey Club, and a member of the School Management Committee of the Sheng Kung Hui Holy Carpenter Primary School.
Throughout the years, Mr Tam has had his beloved wife, May, by his side. Together, they have initiated many visionary philanthropic projects to foster the future of education. They hope that the next generations of students will be able to benefit and be inspired in the same way that Mr Tam had been during his studies at HKU.
In particular, Mr and Mrs Tam announced in 2017 their commitment to support the establishment of the Tam Wing Fan Innovation Wing in our Faculty of Engineering — an iconic state-of-the-art facility where students can expand their imagination and realize their ideas. The Inno Wing will provide the environment and technical resources to equip students with creative, interdisciplinary, and hands-on skills to offer solutions to future problems, and is targeted for completion by 2020.
More recently, Mr and Mrs Tam very generously provided the Faculty with additional support to establish Phase II of the Inno Wing. This second phase will focus on high-level research to bring impact to society, and will be a technology showcase for research in Engineering. It will be a place where students and senior researchers can work synergistically, and an incubation hub for impactful interdisciplinary research projects that tackle the grand challenges of the world.
Furthermore, Mr and Mrs Tam also provided our University with a magnanimous contribution to support research into kidney and neurological diseases in the Department of Medicine.
Mr Tam's alma mater is not the only institution that has benefitted from his generosity. In consideration of people with special needs, Mr and Mrs Tam generously backed the further advancement of a Rehabilitation Clinic in Occupational Therapy at the Hong Kong Polytechnic University.
In early 2019, they also supported the establishment of the Tam Wing Fan Child Development Centre of SAHK (which was formerly known as the Spastics Association of Hong Kong). This is the first child development centre in the New Territories operated by the Association, and will strengthen its ability to provide children-and-family support services to the community.
In summary, we salute Mr Tam for his visionary philanthropic altruism and his lifetime of achievements.
Therefore, Mr Pro-Chancellor, it is my great pleasure to present Mr Tam Wing Fan for the Honorary University Fellowship, in recognition of his contributions to Hong Kong and the academia.
As Mr Tam is not able to join us today for medical reasons, may I invite Mrs Tam to receive the Fellowship on his behalf.
返回