內容開始

名譽大學院士
黃啟民先生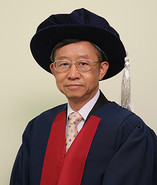 黃啟民先生為資深會計師,從事審計、上市及電腦審計等工作32年,經驗豐富。他畢業於香港大學,獲理學士學位,後獲香港中文大學工商管理學碩士學位;並分別於1977年及1979年成爲英國特許公認會計師公會以及香港會計師公會會員,現為資深會員。黃先生曾為香港羅兵咸永道會計師事務所合夥人,於2005年6月退休。
黃先生現為經綸慈善基金董事及財務匯報局成員。他曾服務多個政府諮詢及法定委員會,現為三所上市公司及一所香港銀行及多個非牟利機構的獨立董事。
黃先生現為港大校董會及校務委員會成員,並擔任大學審計委員會主席、商學院名譽副教授、港大亞洲環球研究所顧問委員會成員等,亦曾任港大「師友計劃」導師,對大學貢獻良多。
黃先生曾先後擔任嶺南大學及香港城市大學校董會成員,現為香港城市大學顧問委員會成員。他早年更與一群港大校友創辦港大同學會小學及港大同學會書院等兩所直資學校。
黃先生獲嶺南大學及香港城市大學頒授榮譽院士。他於2002年獲香港特別行政區政府委任為太平紳士,2007年獲頒授銅紫荊星章。
Citation delivered by Dr Steven CANNON, Executive Vice-President
Mr Wong Kai Man is an accountant with over three decades of professional experience in auditing, initial public offerings and computer auditing, and is a Fellow of the Association of Chartered Certified Accountants of the United Kingdom (the ACCA) and a Fellow of the Hong Kong Institute of Certified Public Accountants (the HKICPA).
Mr Wong is a graduate of the University of Hong Kong and was conferred a Bachelor of Science general degree in 1972 and a Bachelor of Science special degree in 1973. He received his professional qualifications from the ACCA in 1977 and the HKICPA in 1979. He received an MBA from the Chinese University of Hong Kong in 1985.
After graduating from HKU, he joined the international accounting firm Coopers & Lybrand, where he was trained as an accountant. When he went to work in their London office, Mr Wong specialised in computer auditing. He broadened his field of expertise to include the areas of initial public offerings, along with mergers and acquisitions in the early 1990s, responding to changes and trends in the market.
In 1998, Coopers & Lybrand merged with the accounting firm Price Waterhouse to become PricewaterhouseCoopers, one of the largest of the world's 'Big Four' accounting firms. At the time, the merger created a company with combined worldwide revenues of USD12 billion, over 130,000 employees, and more than 8,500 partners. It is a reflection of Mr Wong's talent and standing that he stayed withwithin the that firm in Hong Kong, and went on to become a member of its management board. In 2001, he founded the firm's Capital Market Services Group to oversee initial public offerings, capital market transactions, risk management and client acceptance. He was an Audit Partner at PricewaterhouseCoopers Hong Kong before retiring in 2005, having worked in its the Hong Kong and London offices for 32 years.
Mr Wong has served the University of Hong Kong in many different capacities. He is currently a Court and Council member, Chairman of the Audit Committee of the Council, an Honorary Associate Professor of the HKU School of Business, an Advisory Board Member of Asia Global Institute HKU, an Advisory Board Member of Lap-Chee College, Chairman of the Azalea Endowment Fund, and a Member of the Mrs Li Ka Shing Fund Committee of Management. He has been a mentor in the HKU Mentorship Programme, a Member of the Standing Committee of Convocation and a Director of the HKU School of Professional and Continuing Education.
Other educational institutions have also benefitted from Mr Wong's support. He has served as a Council member of Lingnan University and also of City University of Hong Kong, where he remains a Court member. With a group of HKU alumni, he helped establish two direct subsidy scheme schools: the HKUGA Primary School and the HKUGA College, and has been on their respective school management committees and Supervisor of the primary school.
Mr Wong is the Director of the Victor and William Fung Foundation Limited, which aims to promote leadership development, principally through scholarship programmes with universities, and thought leadership, principally through think-tanks and educational institutes.

Mr Wong is currently a member of the Financial Reporting Council. He has served government advisory committees and statutory bodies in the areas of land, immigration, energy, law-enforcement, and technology, including the Securities and Futures Commission and the Hong Kong Science and Technology Parks. He is an Independent Director of three listed companies, a bank in Hong Kong and a number of NGOs.
You may wonder how Mr Wong can cope with so many concurrent commitments -- I have not even mentioned his church and social activities! Those who know him will tell you that Mr Wong has a strong sense of responsibility: he is meticulous, highly disciplined and always strives for perfection.
Mr Wong is an Honorary Fellow of Lingnan University and City University of Hong Kong. He was appointed a Justice of the Peace in 2002 and awarded the Bronze Bauhinia Star in 2007.
It gives me great pleasure, Mr Pro-Chancellor, to present Mr Wong Kai Man for the Honorary University Fellowship, in recognition of his contributions to Hong Kong and academia.
返回