內容開始

名譽大學院士
文灼非先生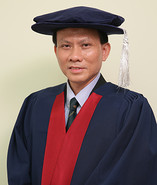 文灼非先生為傳媒界傑出人士,現任灼見名家傳媒社長及行政總裁。
文先生畢業於香港大學,獲文學士學位,後獲香港中文大學哲學碩士(政治與行政)學位。他不倦於學,先後獲獎學金赴美國佛羅里達州普爾特媒介學院 (The Poynter Institute for Media Studies)、史丹福大學和清華大學進修深造,並獲選為史丹福大學奈特新聞學人(Knight Fellow)及哈佛大學尼曼新聞學人(Nieman Fellow)。
文先生於1990年起加入傳媒業,曾任《壹週刊》政治記者, 於1992年加入《信報》,擔任日報政治評論版編輯,2000年初任助理總編輯,接著於2001年至2013年出任《信報財經月刊》總編輯。之後創辦灼見名家傳媒, 2014年10月啟動。他出版了5本作品,第6本將在年内出版。
文先生在港大就讀期間已積極參與學生組織,曾任港大學生會內務副會長及明原堂盧嘉翼導師等。畢業後繼續貢獻母校,曾任港大校董會及校務委員會成員、港大畢業生議會常務委員會委員,亦擔任其他委員會或小組成員,包括歧視投訴委員會、職員申訴小組、校委會聆聽紀律委員會案件小組、舍監及舍堂導師遴選委員會、百周年校慶典禮檢討小組等,並於2012年任牙醫學院新院長物色委員會委員,2013年任港大新校長遴選委員會委員。
此外,文先生熱心公務,擔任公職多年,為香港新聞工作者聯會、港大畢業同學會及其教育基金管理委員會、香港理工大學、嶺南大學、香港教育大學和恒生管理學院等多個組織或機構提供顧問意見。
Citation delivered by Professor Derek COLLINS, Dean of Arts
"News is what someone doesn't want printed. All else is advertising." This quote has been attributed to many, including the renowned author George Orwell. But if its attribution is uncertain, its exhortation to question, to challenge and to investigate is not, and it is surely a mantra the best journalists know and live by.
Mr Man Cheuk Fei is a distinguished journalist, Publisher and Chief Executive Officer of Master Insight Media Limited and an outstanding example of this spirit of inquiry.
Mr Man is a graduate of the University of Hong Kong, studying here in the Department of Chinese, and was conferred a Bachelor of Arts degree in 1987. His loyalty to HKU began during these undergraduate years, when he participated in different student bodies, including as the elected Internal Vice-President of the Students' Union and a Tutor of the Old Halls.
In 1990, he joined Next Magazine as a political reporter – thus beginning his career in journalism. He subsequently became the founding Editor-in-Chief of Teacher Plus, a monthly magazine for Hong Kong educators. In 1992, he joined the Hong Kong Economic Journal (HKEJ) as Editor/Writer of the Commentary section. He became Assistant Chief Editor in early 2000 and served as Chief Editor of HKEJ Monthly from 2001 to 2013. He launched Master Insight Media in 2014, and is Publisher and CEO of the media group.
He has published five books and is currently completing his sixth.
A believer in lifelong education, Mr Man received a scholarship in 1994 for a media management program at the Poynter Institute for Media Studies in St Petersburg, Florida, in the United States. In 1999, he received his MPhil in Government and Public Administration from the Chinese University of Hong Kong. In 2000, he was offered both a Knight Fellowship from Stanford and a Nieman Fellowship from Harvard. He chose Stanford. From 2011-2012, he attended on scholarship an EMBA media course at Tsinghua University's School of Economics and Management.
In spirit, you could say that Mr Man never left HKU. He served as a Convocation Standing Committee Member from 2003-2013, a Court Member from 2004-2016, and Council Member from 2007-2016. During his service at Council, he was appointed Chairperson of the Discrimination Complaints Committee, and has served on the Grievances Panel for Staff, the Council's Group to Hear Appeals of Disciplinary Committee Cases and the Committee for the Selection of Wardens and Hall Tutors.
He was a member of the Review Panel on the Centenary Ceremony in 2011, the Search Committee for the Dean of Dentistry in 2012 and the Selection Committee for the next HKU Vice-Chancellor in 2013.
Other organisations and institutions that have had the benefit of Mr Man's leadership and support include the Hong Kong Federation of Journalists, the Hong Kong University Graduates Association, the HKUGA Education Foundation, Hong Kong Polytechnic University, Lingnan University, the Hong Kong University of Education and the Hang Seng Management College.
Mr Pro-Chancellor, we have seen how the need to question and inquire has permeated so much of Mr Man's life. But perhaps there is another way to look at it.
Can we say instead that his has been a lifelong quest for answers? And in that quest, he has touched many lives along the way. He has provided – if not always answers – then at least objective analysis, intellectual inquiry and greater clarity to the issues at hand. In this sense, he is not telling us what we want to hear, but what we need to hear.
Perhaps Mr Man might agree with CNN's Christiane Amanpour when she says: "I believe that good journalism … can make our world a better place."
It gives me great pleasure, Mr Pro-Chancellor, to present Mr Man Cheuk Fei for the Honorary University Fellowship, in recognition of his contributions to Hong Kong, to academia and to making the world a better place.
返回