內容開始

名譽大學院士
沈向洋博士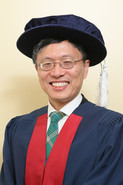 沈向洋博士是微軟人工智能及研究事務部執行副總裁。
沈博士是港大校友,於1991年獲香港大學頒授哲學碩士學位,專修電機電子工程,亦是柏立基學院太古學人。其後他往美國卡內基梅隆大學深造,獲頒哲學博士學位,專攻機械人學。
沈博士現時負責推動微軟公司在人工智能方面的整體策略及其前瞻性研發工作,以及其涵蓋的基建、服務、應用程式和代理等項目。他主理監督與人工智能相關產品的群組,亦領導「微軟研究院」這所聞名世界的計算機科學研究機構。
出任現職前,沈博士於2007至2013年擔任微軟全球資深副總裁,專責開發微軟必應(Bing)搜尋引擎。在帶領Bing和線上服務的工程前,沈博士主理「微軟亞洲研究院」的工作,並與亞太區大學開展合作研究計劃,他並且掌管互聯網服務研究中心,此為微軟旗下一個專門為搜尋和廣告提升技術的應用研發機構。
沈博士於1996年加入美國「微軟研究院」任研究員,於1998年成為「微軟中國研究院」其中一位創辦人(其後改名為「微軟亞洲研究院」); 期間,他獲長期聘任為研究員達九年之久,之後升任該院研究經理、副院長、院長及微軟企業的傑出工程師。
香港大學電機電子工程系獲沈博士慷慨支持,除擔任學系顧問委員會委員,帶領學系發展、分享經驗外,並且多次捐款支持學系研究工作及設立獎學金,亦在校內主持公開講座,包括2006年蒙民偉傑出學人講座及2012年工程學院百周年傑出學人講座。
沈博士是美國電氣電子工程協會院士及國際計算機協會院士,並於2017年獲選美國國家工程學院成員。
Citation delivered by Professor Norman TIEN, Dean of Engineering

Dr Harry Shum is Executive Vice President of Microsoft's Artificial Intelligence and Research group.
Dr Shum studied at the University of Hong Kong, earned an MPhil degree in Electrical and Electronic Engineering in 1991, and was a Swire Scholar at Robert Black College. He was conferred a PhD in robotics from Carnegie Mellon University in 1996.
Dr Shum is currently responsible for driving Microsoft's overall Artificial Intelligence strategy, that is, its 'AI' strategy, as well as Microsoft's forward-looking research and development efforts - which covers infrastructure, services, apps and agents. He oversees AI-focused product groups, and also leads Microsoft Research, one of the world's premier computer science research organisations.
Previously, Dr Shum served as the Corporate Vice President responsible for development of Microsoft's Bing search engine from 2007 to 2013. Prior to his engineering leadership role at Bing and online services, he oversaw the research activities at Microsoft Research Asia and the lab's collaborations with universities in the Asia Pacific region. He was also responsible for the Internet Services Research Center, an applied research organisation dedicated to advanced technology investment in online search and advertising at Microsoft.
After his PhD in 1996, Dr Shum joined Microsoft Research. In 1998, he moved to Beijing as one of the founding members of Microsoft Research China (later renamed Microsoft Research Asia). There he began a nine-year tenure as a researcher, then Research Manager, Assistant Managing Director and Managing Director of Microsoft Research Asia, and a Distinguished Engineer of Microsoft Corporation.
Dr Shum is a Fellow of the Institute of Electrical and Electronics Engineers and of the Association for Computing Machinery. In 2017, he was elected to the National Academy of Engineering of the United States.
Mr Pro-Chancellor, one of the greatest assets of the University of Hong Kong is our alumni, and Dr Shum is an outstanding example. For while his work and responsibilities seemed global in scale, his loyalty has remained focused on HKU.
Far from being drawn further and further away from his alma mater by his career and obligations around the world, he has unwaveringly supported the University and the Department of Electrical and Electronic Engineering.
He has provided the Department with his counsel and leadership as a member of its Advisory Board.
He has personally delivered public lectures on campus, including the William Mong Distinguished Lecture in 2006 and the Engineering Centenary Distinguished Lecture in 2012.
He has supported the Department's research in a manner that goes beyond the personal: such has been his belief in our research that he committed Microsoft to donate matching bids on more than one significant research funding opportunity.
And perhaps most movingly, in 2014 he established a scholarship in the Department as a way of paying tribute to his former MPhil supervisor, Professor Tso Shiu Kit, who has retired from the Department.
In fact, true to form, Dr Shum has spent most of today at HKU, talking with our engineering students, and meeting with our academics!
In Dr Shum's earlier lectures at HKU, the themes of 'vision' and 'searching' have often been present. Those listening to him would have recognised that he was speaking in technological terms. But today, we honour Dr Shum's own visionary leadership and his lifelong quest, or search, for research innovations that will make a difference in our lives.
It gives me great pleasure, Mr Pro-Chancellor, to present Dr Harry Shum for the Honorary University Fellowship, in recognition of his contributions to Hong Kong and academia.
返回