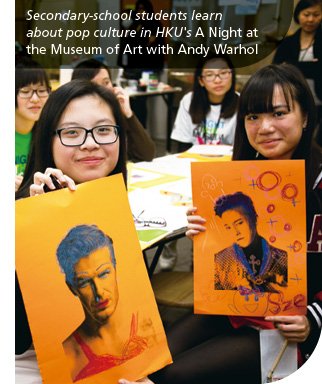 How universities utilise their resources is of growing interest around the world. Scholars face increasing expectations to go beyond simply publishing their findings and to translate their research into the community for greater impact. Students, too, are increasingly expected to go beyond a university's brick walls and share their new knowledge and skills with others. At HKU, 'KE', or knowledge exchange, has become the third pillar in our mission, alongside research and teaching and learning.
KE activities are happening at all levels of the University, locally, regionally and internationally. This is having mutual benefits, as implied by our decision to adopt the term 'knowledge exchange' rather than 'knowledge transfer'. Students get rich opportunities to be innovative and apply their knowledge and values, while scholars can apply their research and develop new insights through interactions in the community. The latter is also becoming increasingly important in research funding exercises, which require applicants to address the potential impacts of their work beyond academia.
The growing recognition of KE's importance is helping to spur new activities on campus. Some of the best achievements were honoured in March 2013 when, for the first time, KE Awards were included in the University's annual Award Presentation Ceremony for Excellence.
The Knowledge Exchange Office is the central support unit working closely with all Faculties in promoting KE activities at HKU, and its focus has turned very much to partnerships. In 2012-13 a Partnerships webpage was launched to help external organisations find out how they can collaborate with HKU. The KE Office also helped to secure approval for community scholarships in 2013, in which community partners will help fund an MPhil or PhD student to work on a project of interest to the partner.
Translating Research
Partnerships are critical to other KE activities, too, for example, in translating research into the community. In 2012, our Technology Transfer Office formed a strategic alliance with Sinopharm, the largest pharmaceutical group in China, on the distribution of our oral drug for acute promyelocyctic leukaemia (APL), and on developing drugs for atrial fibrillation. Organisations seeking contract research, expertise, media commentary and other input from our academic staff are also making increasing use of the HKU Scholars Hub, a one-stop online platform that had more than one million views by the end of June 2013.
Partnerships are also part of KE at the institutional level. The University is keen to share its expertise with other educational and professional organisations in the region and globally, and to develop ties with them. In 2013, the Faculty of Law and the Journalism and Media Studies Centre jointly organised an international conference on Media Law and Policy in the Internet Age, which facilitated vibrant discussions of the complex issues concerning press freedom, public access to information and human rights. The participants included senior judges from the UK as well as legal and media professionals from Europe, North America, Australia, New Zealand, Southeast Asia, Mainland China and Hong Kong. The University was also the first in Asia to host the IB World Student Conference, which attracted 150 secondary school students from around the world. HKU also organises local outreach programmes to secondary school students, such as the Academy for the Talented, which offers university-level courses to high-achievers.
The Knowledge Exchange Fund is a competitive scheme that provides up to $100,000 for projects in the community. In 2012-13, 39 projects by faculty members were funded, including the conversion of roof spaces into landscapes for growing food and facilitating community interaction, and a capacity-building programme for migrant workers featuring sessions on workers' and women's rights, ICT education and other issues of interest.
KE and the Student
Student-initiated projects are also supported by the KE Fund. This started on a pilot basis in 2011-12 and was continued in 2012-13, when 18 projects were supported. Examples of student projects include curating an exhibition of high quality reproductions of artworks by Austrian artists Gustav Klimt and Egon Schiele, developing an app to advance psychological health in cancer patients, and implementing a screening project on speech sound development for local kindergarten children.
These projects are not confined to Hong Kong. A holiday trip to a Cambodian orphanage inspired Cherry Zhang Yingying to found the Children's Health, Education and Environment Rescue Association with four fellow students. Their first project was a return visit to the Cambodian orphanage to perform health checks and improve sanitation, which won the 2012 Best Student and Youth Volunteering Project awarded by a Hong Kong government committee. Cherry, who has now completed her PhD studies at HKU, said: "As a student, we don't have a lot of money to donate, but we can share what we see, hear and experience, and be a bridge to tell more powerful people outside that there are children needing help here."
Apart from the KE Office, faculties are also engaged in ongoing community and cultural exchanges, such as the University Artists Scheme and Summer Institute in the Faculty of Arts and continuing professional development and public lectures in the Faculty of Law and Faculty of Medicine. In early 2013 the University and the Hong Kong Museum of Art organised A Night at the Museum of Art with Andy Warhol for 600 secondary-school students and teachers, which featured workshops on art and the integration of art and technology.
HKU has a long held vision and determination to transfer and share knowledge of healthcare best practices and systems to the region. This year saw two noteworthy developments towards that goal. The HKU Shenzhen Hospital completed its first year of operation in July 2013. The hospital is providing world-class clinical care, research opportunities and continuing professional development for all categories of staff, and it has generated intense interest on the Mainland and internationally. The second development was the announcement in March 2013 that the Hong Kong government had given approval to build the Gleneagles Hospital, a private hospital at Wong Chuk Hang. The Faculty of Medicine is the sole clinical partner in this venture and will draw on teaching and research to benefit healthcare in the community.
All of these initiatives are enabling HKU to harness its value in research and teaching, and use it to benefit the community in the broadest possible way.