Factory conditions in China have been under a harsh spotlight over the past few years, particularly after a spate of suicides in the 2010s at Foxconn, the world's largest electronics contract manufacturer. In response, and on the back of scholarly studies and media scrutiny, workers' wages have been improved and mental health support provided. But Dr Bin Jiang in Landscape Architecture wondered if the environment might not be a problem, too.
He took as his reference point a Foxconn factory settlement in Shenzhen that accommodates up to 60,000 people onsite and in a nearby urban village. The village consists of 'hand-shake' buildings, so named because they are tightly packed together and contain small apartments accommodating six to 10 people. The people often work 10-hour shifts, six days a week.
"The factory itself was designed for manufacturing and logistics but not for humans. The buildings are homogenous and artificial and crowded, and all the roads are covered in concrete. This is a very stressful environment. As a landscape architect, I thought what can we do to improve this? We're not economists or politicians and we cannot change the economy system, but maybe we can do something from our perspective," he said.
He steered his students and research to this goal, gaining unprecedented access to the Foxconn industrial park in the Longhua District, Shenzhen, and through interviews, questionnaires and an interactive design process, showed a connection between the physical environment and workers' mental health status.
The work started about three years ago when Dr Jiang arranged for each student to shadow a worker during repeated visits over a semester and see the site through the workers' eyes. Students and workers then collaborated on ideas for improving the urban space and landscape. "This was a special practice, different from the conventional top-down process. We set it up to be participatory so the workers worked with the student designers to create design solutions," he said.
For example, one worker liked to spend time by a nearby river to listen and watch its flow. This inspired the student to create a shiny flexible structure that could be set up by the river bank, reflect the sunset and sky, and be reconfigured into a theatre, exercise frame, bench or other uses.
Another project focussed on the area immediately around the factory, where workers crouched against walls during their breaks. The road there has a fenced-off central median with trees. Students proposed opening this up to the workers, laying soft surfaces on the ground such as wood, sand and grass, and using restorative colours to provide a peaceful and relaxing place for taking short breaks. This design won a silver award in the 2017 Asian Design Award.
The impacts on mental health
On the research side, Dr Jiang asked 100 factory workers to take photos with their phones of places they felt affected their mental state positively or negatively. He and his team then met with each worker, asked them to select the three most important photos and interviewed them about their choices. The workers also completed a questionnaire on their levels of anxiety and stress and their degree of preference for each place they photographed.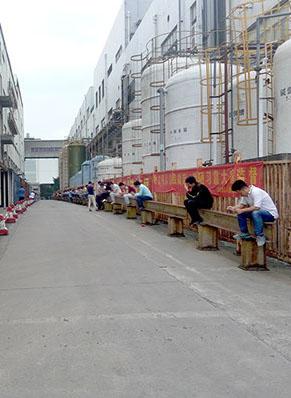 Workers sitting beside dangerous alkali tanks to take a short break in the factory.
(Courtesy of an anonymous worker)
The data was then collated to discern the different impacts on mental health. Socio-demographic factors such as age, gender and education explained 11 per cent of the mental health outcomes. When this was added to work-related factors such as job satisfaction, position and whether they worked the day or night shift, it explained 21 per cent outcomes. But when environmental factors such as having adequate natural distractions, a sense of control, and room to move and exercise were added in, the correlation shot to 84 per cent.

"People don't think the landscape, the plaza, the street are very important to mental health. But our research shows that to some level it is more important than conventional factors," Dr Jiang said.
Workers told the interviewers that they wanted more space for small-group gatherings, more natural light, more opportunities to gaze at the sky and river, and more variety of colours than the grey steel, concrete and other artificial materials they stared at all day.
The findings have been shared with the factory, local community and government and, after initial scepticism, they are slowly starting to take notice. "It will take time to change things," Dr Jiang said. "The important thing is that this is not just a problem in China – it is an international problem. The economy and salaries are growing in China and manufacturers will move to cheaper places where other workers will experience the same conditions. We have given strong evidence to show that if you can't increase the salary, please create a better working environment for the workers."