A recent study by HKU's Swire Institute of Marine Science (SWIMS) and School of Biological Sciences, has yielded exciting results – Hong Kong accounts for around 26 per cent of the total marine species recorded in China, plus its biodiversity is comparable to many other regions even though its marine area is hundreds to thousands of times smaller than those regions.
"The numbers are impressive," said Dr Terence Ng Pun-tung. "The review, which was funded by the Environment and Conservation Fund (ECF) reveals that Hong Kong has more hard corals than the entire Caribbean Sea, hosts more mangrove tree species than the whole of East Africa and contributes to more than 30 per cent of the species records for several groups of organisms such as polychaetes, fish, cephalopods and amphipods in the South China Sea."
The study took 18 months to complete and is the first of its kind since the 1940s, when marine science began in Hong Kong. It was recently published in Biodiversity and Conservation.
China signed the United Nations' Convention on Biological Diversity (CBD) in 1993 and it was extended to the HKSAR in 2011, sparking the recent launch of Hong Kong's first Biodiversity Strategy and Action Plan (BSAP). "This felt like a unique opportunity for Hong Kong to 'keep up the pace' and prompted us to embark on this comprehensive survey," said Dr Ng. "The five-year BSAP aims to help conserve marine life, but if you don't know what is there how can you know what needs protecting and how to prioritise what needs help first?"
The findings reaffirm Hong Kong's proximity to the Western Indo-Pacific region, the world's marine biodiversity hotspot. Hong Kong lies in a transitional geographic position between the temperate and tropical regions, and the mixing of the Kuroshio, Taiwan and Hainan ocean currents, plus a climate that blends temperate-like winters and tropical-like summers, bring together both tropical and temperate species to live here. In addition, complex geology, proximity to the Pearl River (which creates an estuarine environment in western waters), a relatively long 1,189-km coastline and diverse marine ecological habitats all contribute to the highly diverse marine life.
Dr Ng initially took on the role of Project Manager for a year, but compiling the data took longer than first estimated. The team discovered a long history of documenting local marine species, mostly in literature published during the 1980s and 1990s. These documents were among conference proceedings, government reports, student theses and text books. "Some of the data were incorrect or outdated," he said. "There was no DNA testing then – scientists identified species based on their morphological characteristics and sometimes they got it wrong. For others, the names have changed or there are synonyms for the same species."
The team also sought help from the World Register of Marine Species (WoRMS), a global database which was launched because its Founder saw that some problems would be on a global scale. "We asked their advice on how to compile our study," said Dr Ng, "as well as to initiate our online platform, the Hong Kong Register of Marine Species (HKRMS), which is operated under WoRMS umbrella but is regional."
Dr Ng is now Chief Editor of HKRMS and has gathered biologists (locally and internationally) with specific knowledge to focus on each group of species. At the moment, it is simply a checklist comprising three bits of information: a classification of the species, pictures, and literature relating to said species.
"The study is a starting point for local biologists, environmental consultancies and government departments who can check any species they encounter against our database. In future the goal is to develop the database into a marine GIS [Geographic Information System]. Then if someone were studying, for example, impacts of any environmental stressors on the white dolphin, they could consult the GIS on where is it usually found, and compare with their own studies to extrapolate if there were any changes in dolphin distribution related to particular stressors."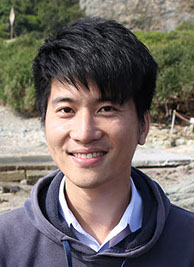 ​

Hong Kong has more hard corals than
the entire Caribbean Sea, hosts more mangrove tree species than the whole of
East Africa and contributes to more than
30 per cent of the species records for
several groups of organisms… in the
South China Sea.

Marine Biodiversity Centre
Following the survey, SWIMS' next plan is the establishment of a Marine Biodiversity Centre. "Hong Kong is lacking a natural history museum," said Dr Ng, "We have nowhere to keep specimens and disseminate data about local species, and so it's difficult to confirm the validity of past records and keep track of the status of our marine species. But now SWIMS is expanding its capacity to include storage and displays of local marine species. We will also link this to the GIS."
One aim is to use the Centre for education outreach and conservation programmes. "We're trying to help educate the public about the marine environment and the Government is keen to collaborate with us on this. We and many other local marine biologists and several green groups are urging the Government to create more marine parks and reserves – our aim is achieving at least 10 per cent marine protected area by the year 2020 (which is also a global target of the CBD).
"We are aware that it is us versus stakeholders such as developers, but we hope the survey's revelations on just how rich Hong Kong's marine biodiversity is will encourage people to want to protect it," added Dr Ng. "The Government is already becoming more positive on this and recently provided more than HK$4 million funding for a mega project on marine biodiversity in Tolo Harbour that involves 25 marine biologists, and six universities. It's a step in the right direction."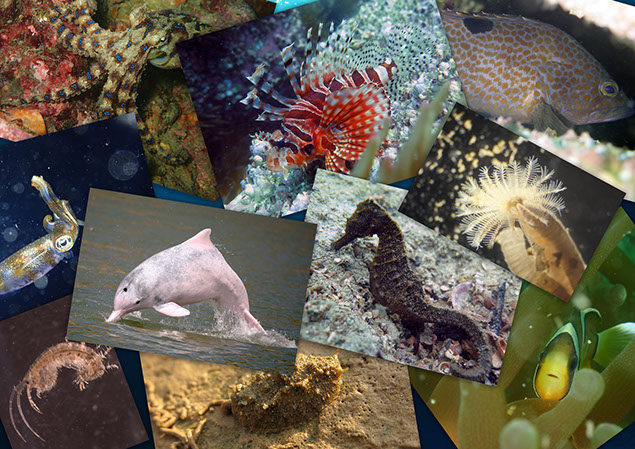 The first comprehensive review of Hong Kong's marine life in 70 years, shows that this relatively small place is punching above its weight where biodiversity is concerned.
The research team – (from left) Mr Martin Cheng, Professor Gray Williams and Dr Terence Ng Pun-tung.
Three common high shore snails.
Back