"The University is in the process of transforming into a truly global player," Professor Matthew Evans said, when asked what had drawn him to take up his new role. "It has the capability to do it – the right world-view, the right mindset and the right attitude. It is a renowned institution in its own right, there is the legacy of the British within its foundations, it is on China's doorstep and it is within reach of Asia and Australia – all factors which stand it in very good stead to be a truly international institution."
Professor Evans comes to HKU from Queen Mary University of London where he was Head of the School of Biological and Chemical Sciences, and Professor of Ecology. Prior to that he founded the Centre for Ecology and Conservation at Exeter University's then new campus in Cornwall. He is also an accomplished scholar, specialising in ecology, evolutionary biology and conservation biology.
With both of their children now at university, Professor Evans and his wife felt the time was right to broaden their horizons and go outside the UK, and soon Hong Kong beckoned. "The attractions of HKU are many: not only is it one of the world's most important universities, but it is located in a fascinating place in what are very interesting times," he said.
​

The attractions of HKU are many: not only is it one of the world's most important universities, but it is located in a fascinating place in what are very interesting times.

Inviting alumni in
"I hope to make these events quarterly," he said. "In Hong Kong there is no problem with distance – many alumni still live and work here. I'm inviting them to come in and see what we are doing now, to learn how things have evolved since they were students here and to engage them in what we are doing today. The initial aim is not fundraising, it is retaining connections. But if, somewhere down the line, people also feel they are able to donate, that is good news."
Another area Professor Evans will be reviewing is taught programmes. "We need to think clearly about what we are doing with our taught programmes, and to make sure our courses remain pertinent to what is needed now. The HKU model is more Americanised than I am used to – and that's very interesting to me, it's a learning curve. I feel the Faculty is doing really well in some sections – particularly in the Common Core courses we offer. We were also at the forefront of experiential learning, which is now standard practice across HKU. We can build on that."
In his first few months in the five-year term as Dean, Professor Evans has also been making connections within the Faculty. "I've been busy putting together a new team. I've held town hall meetings, as well as individual one-on-ones and I have gone out into the departments many times, simply getting to know people and inviting them to get to know me. It's also an opportunity to listen to their opinions on and ideas for the Faculty."
Finally, Professor Evans emphasises once more the importance he places on collaboration,
whether between departments within the Faculty, between faculties within HKU, or with academic institutions and businesses across the world: "As a Faculty, we should have the confidence to say that we are the best at some things, but also be humble enough to admit that in some areas others are better. Then we can enter into the spirit of collaboration with the attitude that between us we can do even more."
Enhancing a strong reputation
One of his goals is to enhance the Science Faculty's already strong reputation in the region and globally, by building on existing international collaborations and facilitating new ones. He was at University College London and the University of Southampton over Christmas doing just that, namely: "Talking about future collaborations between the respective Biology and Chemistry departments. We need to be integrated with the rest of the world."
"The Science Faculty has many strengths, and is a source of well-trained people for government and businesses within Hong Kong," Professor Evans continued. "It also has a good reputation around the world, with the Chemistry department and individuals within it enjoying particular renown.
"But there is some room for improvement – we want not only to be the best in Hong Kong and Asia, but to compete globally. Right now some of what we do does that – my job is to make sure all of it does."
Among the key things he will be addressing is the quality of the Faculty's infrastructure. "We need international standard, state-of-the-art equipment. And for that we need money. All universities face this – the sciences are expensive. It's important to have the instruments with which to move forward so our research can evolve and keep up with the latest developments in the field."
This brings us to that old chestnut, funding, towards which his approach is pragmatic. "You have to work out what funding there is and use it, but you also need to make people aware that funding is required." To this end, Professor Evans has organised an alumni event – "the first of its kind for years, I understand" – to which around 50 alumni are coming.
Professor Matthew Evans at the alumni gathering in January, 2017.
Professor Matthew Evans meeting students at the tea reception after the Inauguration Ceremony for new students.
From left: Professor Che Chi-ming, Professor D Michael P Mingos, FRS, Emeritus Professor of Inorganic Chemistry at University of Oxford, Professor Vivian Yam and Professor Matthew Evans at a public lecture co-organised by Faculty of Science and Graduate School.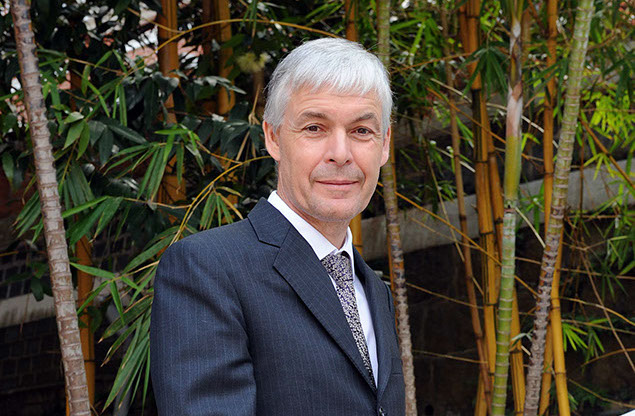 At a time when many universities around the world are staking their claim to be global institutions, the new Dean of Science Professor Matthew Evans believes that HKU is one of the few that really has the capability to achieve it.